Early voting has started. Here's where you can cast a ballot before election day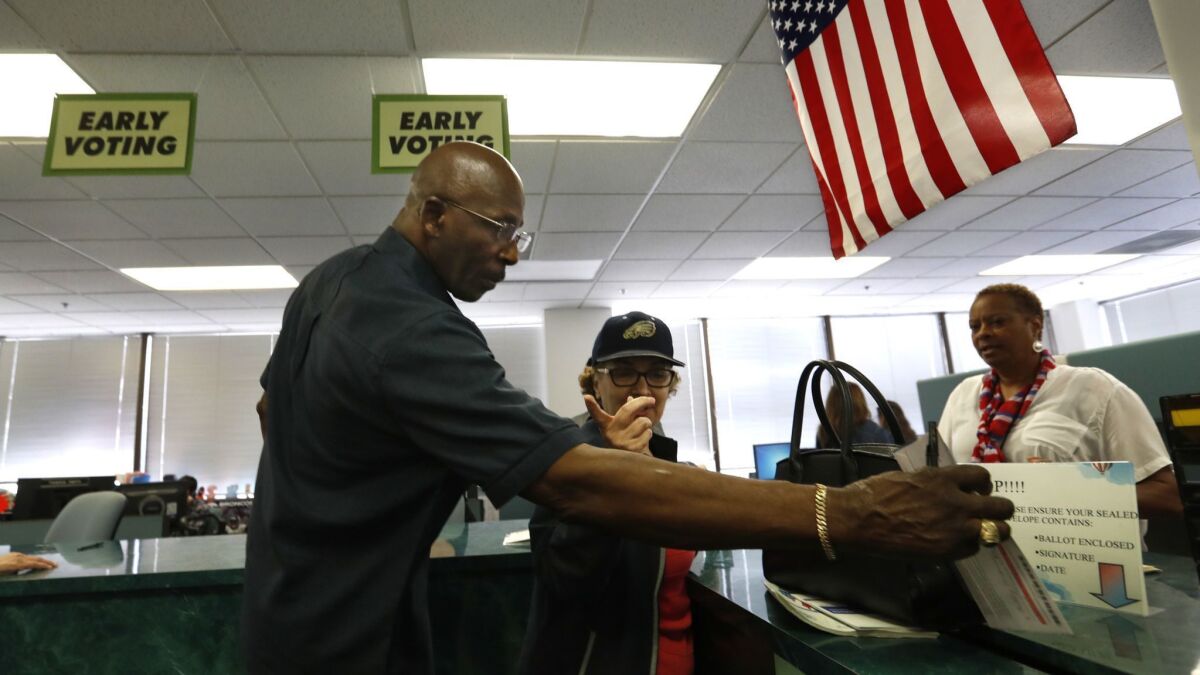 If making it to the polls on Nov. 6 will be a challenge — or if you're eager to cast your vote — you can go to a number of of early voting locations around Southern California.
Every county has slightly different offerings, so check the secretary of state's website and your county's specific information, which can also be found below.
Los Angeles County
Los Angeles County will open 10 early voting locations Saturday and Sunday and Nov. 3 and 4 from 8 a.m. to 4 p.m. Early voting at the registrar-recorder/county clerk office in Norwalk is available Monday through Friday from 8 a.m. to 5 p.m. As of Oct. 25, more than 1,000 people have cast ballots in person.
The nine other early polling places are: East Los Angeles Library, Jackie Robinson Community Center, Lake View Terrace Library, Lancaster Public Library, Long Beach City College, West Covina Library, West Los Angeles College, West Valley Regional Library and Willowbrook Library. Mail-in ballots can also be dropped off at these sites.
After mailing out 2.6 million ballots — the highest in its history, according to the registrar's office — the county has received 225,364 back as of Thursday. A breakdown of returns by party registration was not yet available.
Additional information, including addresses and parking availability, can be found on the county election website. All L.A. County locations offer conditional voting registration, so people who missed the registration deadline can register to vote and cast a provisional ballot. Once their registration is approved, their ballot will be counted.
Orange County
Orange County has eight early voting locations open daily starting on Saturday; three also serve as drive-through ballot drop-off sites. From Oct. 27 to Nov. 2, the centers are open 8 a.m. to 5 p.m. Between Nov. 3 and 5, they are open from 7 a.m. to 8 p.m.
The locations: Anaheim City Hall, Costa Mesa Senior Center, Huntington Beach Five Points Plaza, the Capistrano Collection, the Orange County registrar of voters' office, Fullerton Community Center, Irvine Civic Center and Mission Viejo City Hall. The latter three are taking drive-through ballot drop-offs. More information is available at the Orange County registrar of voters website.
San Diego County
San Diego County opened its early voting on Oct. 8 at the San Diego County elections office on Overland Avenue. Its hours for both early voting and ballot drop-off are 8 a.m. to 5 p.m., Monday through Friday. The location will also be open those hours on Nov. 3 and 4. Conditional voter registration will be available. More information can be found here.
San Diego County has already received one-eighth of its mail-in ballots: Of the 1.2 million sent out, nearly 170,000 have come back, according to the registrar's office, including about 65,000 ballots from registered Republicans and 63,000 from registered Democrats; more than 34,000 ballots came from voters registered as independent.
Conditional voter registration may not be available at all early voting locations, so if you need to apply, call your county office first. If you're not sure whether you're registered, check your voter status at the California secretary of state's website.
Information on early voting in Riverside County can be found here and for San Bernardino County here.
Twitter: @mayasweedler
---
UPDATES:
2 p.m.: This article was updated with party registration information for the mail-in ballots received by San Diego County.
This article was first published at 11:05 a.m.
---
Life is stressful. Our weekly mental wellness newsletter can help.
You may occasionally receive promotional content from the Los Angeles Times.