Newsletter: Essential Politics: The numbers show California is coalescing behind Hillary Clinton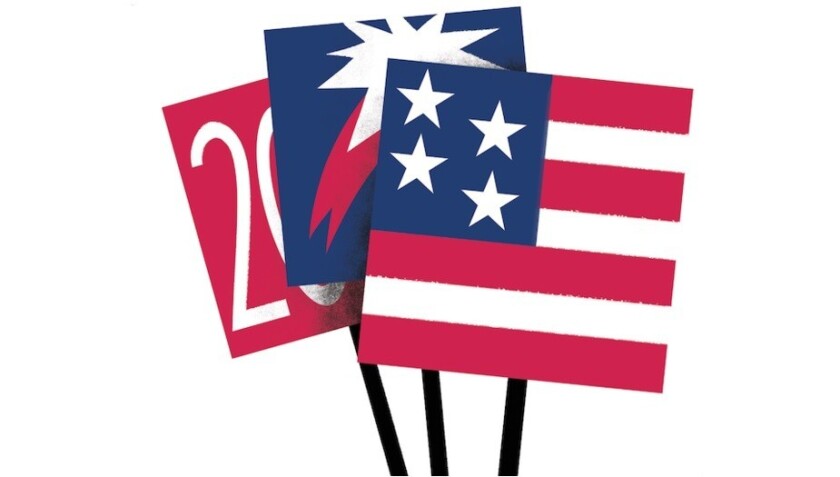 I'm Christina Bellantoni, and today's Essential Politics gets your week started with a look at the big numbers in California.
59%
That's the percentage of California's vote Hillary Clinton held over both Donald Trump and Sen. Ted Cruz in hypothetical match-ups posed by the USC Dornsife/Los Angeles Times poll.
80%
The percentage of Sen. Bernie Sanders' voters who told pollsters they would cast ballots for Clinton in November.
David Lauter gets to the heart of what the figures suggest about the race, where Clinton holds a modest 45% to 37% lead over Sanders. Those findings show the reality underlying the still-heated rhetoric of the Democratic primaries: By contrast with the civil war that divides Republicans, Democrats in the country's largest state have begun to coalesce behind their front-runner.
Then there's the Republican side.
37%-30%
That's Trump versus Cruz in the Republican primary among registered voters.
36%-35%
That's Trump and Cruz among the most likely voters identified in the USC/LAT poll, a key distinction that is going to matter a lot come June 7, as Cathleen Decker reported for our Sunday front page.
Decker sees the Republicans as living in two worlds: One for Trump supporters, the other for supporters of everyone else.
3
That's the number of possible scenarios for how this Republican nomination brawl could end, as explained by Mark Z. Barabak.
Finally, a number that's going to matter a lot to the 5 million people in California who are considered low-wage workers.
$15
That's what the minimum wage would be boosted to by 2022 under a deal lawmakers in Sacramento struck with labor unions. John Myers, Liam Dillon and Melanie Mason scooped over the weekend that the compromise means voters won't be considering the question at the end of an already crowded ballot on Nov. 8.
But the possible boost has some fearing they'll be put out of business.
As the Metro staff reports for today's front page, some restaurants are saying this minimum wage hike would mean they would be forced to rethink what they serve and how many people they employ.
As the deal unfolds, keep an eye on our Essential Politics news feed for the latest from Sacramento and breaking news on California politics.
THE SANDERS TRIFECTA
Sanders pulled off huge caucus wins in Washington state, Alaska and Hawaii Saturday, but even after those victories, Clinton holds a lead of more than 260 in the count of pledged delegates to the Democratic nominating convention, not including her lead with superdelegates — party leaders and elected officials who can vote as they choose at the convention.
As Lauter cautions, the 260-delegate lead is a big one — bigger than what then-Sen. Barack Obama amassed over Clinton in 2008.
You can follow the delegate race here.
We're tracking news from both primaries all day via Trail Guide, and make sure you are following @latimespolitics.
TOBACCO MEASURES DELAYED
Weeks have passed since the Legislature approved a package of anti-smoking bills, and they still haven't landed on Gov. Jerry Brown's desk for his signature. Patrick McGreevy reports that tobacco industry lobbyists are calling the delay strategic, making the argument that political gamesmanship stands in the way of a referendum to overturn the measures.
HOLIDAY PARDONS
Just before Easter, Brown again issued a spate of holiday pardons. The governor has long embraced a tradition of granting clemency around holidays. This time he pardoned 59 people, most of whom were convicted of nonviolent crimes. Last Christmas, Brown's highest profile pardon was for actor Robert Downey Jr., who spent time behind bars in the late 1990s after a series of drug-related offenses.
HIGH-SPEED RAIL KEEPS MOVING
Foes of high speed rail just didn't have enough money to get their initiative to divert funds for the bullet train to water projects qualified for the fall ballot, Myers reports.
Ralph Vartabedian explains that had voters approved the plan, it would have delivered a virtual death blow to the $64-billion bullet train project by taking away the biggest source of its funding. What's more, the California rail authority is facing hundreds of millions of dollars in potential change orders and other prospective cost increases on the first 29 miles of the bullet train system, state and private contractor documents show.
CRUZING TO THE O.C.
We've been reporting about Cruz headed to Los Angeles next week for a series of fundraisers. He'll also appear on "Jimmy Kimmel Live!" and we wouldn't be surprised if he added a rally to start his campaign ahead of California's June 7 primary.
The most interesting thing about Thursday's big event at the Pacific Club in Newport Beach is that former foe and now booster Jeb Bush is expected to attend, according to a copy of the invitation.
Other major players attending the $1,000-per-ticket fundraiser are Carly Fiorina, California Rep. Dana Rohrabacher and Paul Laxalt, the attorney general of Nevada.
CLINTON'S DAY IN L.A.
Seema Mehta spent the day with Clinton as she hopped between two Los Angeles-area fundraisers and an appearance on Jimmy Kimmel's show herself.
While on the show, Clinton railed against the laxness of campaign finance laws, calling the Citizens United decision by the Supreme Court "wrong."
"We have to raise money. I raise a lot of money at events and I raise a lot of money online, but there should not be these huge loopholes for corporations and billionaires to just put as much money as they want to and not even have to tell you who it comes from or really disclose very much at all," Clinton told Kimmel.
The former secretary of State will be back in Southern California for a "cocktails and dinner" fundraiser at the home of George and Amal Clooney on April 16. To be a co-host of the event, donors must give $100,000 per couple, according to a copy of the invitation. Regular attendees must pay $33,400 per person.
Also that day, the Clooneys will host "a conversation" with Clinton, along with Steven Spielberg and Kate Capshaw, at the home of Jeff and Marilyn Katzenberg. That event costs $353,400 per person.
TODAY'S ESSENTIALS
-- Here's the full transcript of Sanders at the Los Angeles Times.
-- Federal prosecutors investigating the possible mishandling of classified materials on Clinton's private email server have begun the process of setting up formal interviews with some of her longtime and closest aides. That's an indication that the inquiry is moving into its final phases but isn't over, all but guaranteeing that the investigation will continue to dog Clinton's presidential campaign through most, if not all, of the remaining presidential primaries.
-- Chris Megerian documented a running collection of Sanders T-shirts in Seattle.
-- Ro Khanna, who is challenging Democratic Rep. Mike Honda (D-San Jose), submitted 30 times as many valid signatures as the congressman to qualify for the ballot. It saved him the $1,750 filing fee and gave him yet another bit of momentum heading into the June 7 primary.
LOGISTICS
Did someone forward you this? Sign up here to get Essential Politics in your inbox daily. And keep an eye on our politics page throughout the day for the latest and greatest. And are you following us on Twitter at @latimespolitics? Please send thoughts, concerns and news tips to politics@latimes.com.
---
Get our Essential Politics newsletter
The latest news, analysis and insights from our politics teams from Sacramento to D.C.
You may occasionally receive promotional content from the Los Angeles Times.