Washington holds its breath, waiting for Trump to fire: What? Or whom?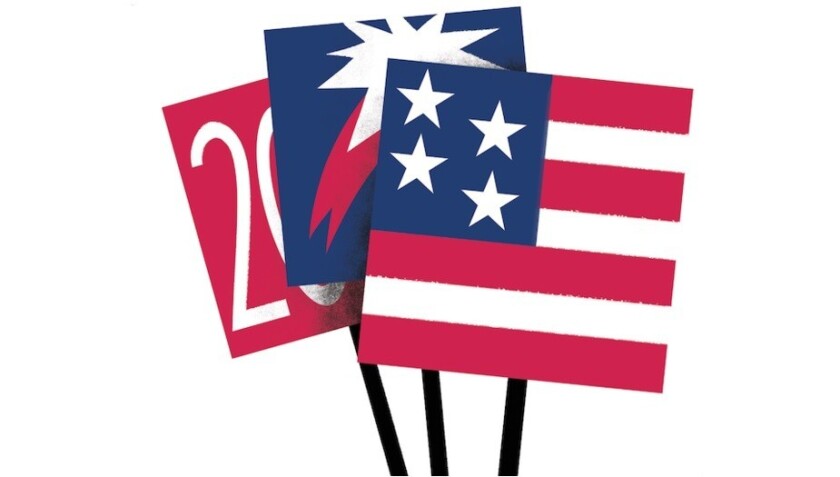 Reporting from Washington —
All week, Washington has seemed to hold its collective breath waiting for an angry President Trump to lash out.
Robert S. Mueller III, Deputy Atty. Gen. Rod Rosenstein, Syrian President Bashar Assad: In tweets and comments to friends and aides, Trump repeated his desire to punch back against one or more of his perceived foes.
Friday morning came with calm still prevailing, but more storms ahead — a new book by former FBI Director James B. Comey, whom Trump denounced as an "untruthful slime ball."
Thanks for reading. Tell your friends to subscribe, here's how »
INESCAPABLE SYRIA
Two acts, thousands of miles apart and vastly different in content — one lawless, the other just the opposite — kindled Trump's anger.
The first came in Syria, over the weekend, when government forces launched an attack against one of the last areas still held by rebel groups near the capital, Damascus. According to witnesses, the attack included the use of poison gas, Alexandra Zavis, Nabih Boulos and Tracy Wilkinson wrote. U.S. and French intelligence agencies now say they have proof.
As images of children suffocating circulated on social media, Trump fired off an angry tweet, denouncing the Syrian president as "animal Assad."
The same president, only days earlier, had ordered his national security officials to get the U.S. out of Syria within six months, if not sooner. Sen. John McCain (R-Ariz.), was one of many who said that Trump's words had "emboldened" Assad, an allegation the White House rejected.
Whether stung by McCain or by the images of dying children, Trump vowed retaliation.
"This is about humanity … and it can't be allowed to happen," Trump told reporters, vowing there would be a "big price to pay" and pledging a "major decision" within 24 to 48 hours.
As is often the case, Trump's words ran well ahead of his administration's ability to make policy. The deadline came and went.
At the Pentagon, military planners prepared for a strike, but top generals worried about a key issue, David Cloud reported: Could the U.S. attack Syria without killing Russians?
Russia has about 2,000 official troops in Syria — slightly fewer than the U.S. does — as well as numerous civilian contractors and unofficial mercenaries fighting on behalf of Assad, who is a Russian ally. Syria's air defenses are Russian made, and Russian contractors help maintain them.
In early February, U.S. soldiers and their Kurdish allies attacked a group of Russian mercenary fighters who threatened a U.S.-held position in eastern Syria. Russia has publicly admitted that five of its citizens were killed, but U.S. officials say the toll was higher.
On Wednesday, as Defense Secretary James N. Mattis tried to tamp down talk of imminent war, Trump fired off another tweet, threatening a barrage of "nice and new and 'smart!' " missiles, Noah Bierman and Cloud wrote.
White House officials, meantime, tried to defend Trump against accusations that his earlier "24 to 48 hours" remark had telegraphed the timing of a strike, something he repeatedly — and harshly — criticized President Obama for doing.
"Never said when an attack on Syria would take place. Could be very soon or not so soon at all!" Trump tweeted on Thursday.
Setting aside the political score settling, Trump, with all his bluster, has run up against the precise problem that Obama faced when he, infamously, went back on his declaration that Syrian use of chemical weapons would cross a "red line."
The U.S. and its allies have the power to blow up Syrian air bases and destroy other valuable property, but the bigger the strike, the more the risk of provoking a wider conflict with Syria's allies, Russia and Iran. The only way to truly guarantee an end to chemical warfare attacks would be an invasion to overthrow Assad, something on the scale of the Iraq war, which neither president has wanted to contemplate.
As the world waits for the U.S. response, Trump's goal of an early exit from Syria seems more distant than ever.
INESCAPABLE MUELLER?
Distant, too, was Trump's goal of bringing a quick end to the investigation being led by Mueller, the special counsel who is examining Russia's interference in the 2016 election and allegations that people close to Trump collaborated.
On Monday, a new shoot of that investigation suddenly broke through the surface as FBI agents raided the office, home and hotel room of Trump's personal lawyer, Michael Cohen.
As Chris Megerian and Joe Tanfani wrote, the agents were not working directly for Mueller, but for the U.S. Attorney's Office in Manhattan. But that distinction meant little to Trump, who talked for the first time publicly about firing Mueller as he denounced the raid as an "attack on our country, in a true sense. It's an attack on what we all stand for."
One target of the agents' search was evidence related to Cohen's payments of hush money to women who claimed to have had affairs with Trump.
Speaking of the women, Maura Dolan and Michael Finnegan took a close look at Michael Avenatti, the lawyer for Stormy Daniels. It's a great read.
On Thursday, another long-hushed story became public, Michael Finnegan reported. A former doorman at Trump Tower said he had been paid $30,000 by the company that publishes the National Enquirer for a story, which it never published, alleging that Trump had fathered a child with one of his employees.
No one has offered evidence that the child exists, but the former doorman, Dino Sajudin, confirmed the payment.
As Megerian and Tanfani wrote, Cohen has long served as Trump's "fixer" and would know many of the president's most intimate secrets.
The prospect that some of those secrets now sit in the files of prosecutors clearly enraged Trump, who denounced the raid repeatedly as part of a plot by his opponents, even though it had been signed off on by a federal magistrate and senior officials of the Justice Department, Trump appointees.
"Attorney–client privilege is dead!" he lamented in one tweet.
In fact, as David Savage wrote, the privilege has always had limits, the most notable of which is the so-called "crime-fraud exception." In simplest terms, your communications with your lawyer aren't privileged if you've hired the lawyer to help you carry out a crime.
What might be the crime here? One possibility: If Cohen's payments of hush money were aimed at helping Trump win the presidency, the money might be considered an illegal campaign contribution.
A lawyer's documents also aren't privileged if the lawyer was acting on his own, not working for a client. That could be an issue in this case because Trump claims that Cohen's payment of $130,000 in hush money to Daniels, a porn movie actress, was done without his knowledge.
Federal agents in New York will now have to sort through the documents they took from Cohen (according to the Washington Post, those may include audio recordings, perhaps of Trump) to decide what's covered by privilege and what isn't. A federal judge was scheduled to hold a hearing on the case Friday.
EXIT RYAN, STAGE RIGHT
In the midst of all that, House Speaker Paul D. Ryan (R-Wis.) announced he would not run for reelection.
As Cathy Decker wrote, Ryan's decision highlighted the grim position of the GOP majority in Congress even as it made their situation worse.
Ryan was the GOP's top fundraiser for the House. His decision to step down will dramatically weaken his ability to get money from donors. The move certainly will encourage other Republicans to quit — already a record number have announced their intentions to go, and 19 states have not yet hit the deadlines for candidates to file for election.
Ryan's departure could open the way for Rep. Kevin McCarthy of Bakersfield to move up — assuming that Republicans can hold their majority. But, as Sarah Wire reported, Rep. Steve Scalise of Louisiana is hovering in the wings, waiting to see if McCarthy will fall short.
In both parties, however, strategists are betting that McCarthy and Scalise will be competing for the minority leader's job, while the speaker's gavel will once more land in the hands of the woman Republicans love to hate, Rep. Nancy Pelosi of San Francisco.
Republican donors are increasingly focusing their money on trying to hold onto the party's majority in the Senate, calculating that the House may be a lost cause.
IT'S TRUMP'S PARTY
Whatever impact Ryan's departure may have on GOP election prospects in the short term, the longer-term message was that Trumpism has triumphed.
Ryan opposed Trump on and off in 2016, finally making an uneasy peace with him. He spent his career advocating tax reductions; cuts in Social Security, Medicare and other entitlements; free trade; immigration; and Republican outreach to minority groups.
Trump has reversed the GOP's positions on all but the tax cuts. On the rest of the issues Ryan cares about, the party now represents the preferences of its older, white, blue-collar, nativist voting base much more than its upper-class, college-educated, libertarian-oriented donors and ideologists. For Ryan, it's a good time to get out.
IT'S ZUCKERBERG'S HEARING
This week's House and Senate hearings featuring Mark Zuckerberg, the founder and chief executive of Facebook, got billed as a confrontation, but ended up as much less, as Evan Halper, David Pierson and Tracy Lien wrote.
Congressional hearings don't usually function as fact-finding efforts. Neither the time limits nor the members' desire to pose for cameras lends itself to effective cross-examination.
At their best, hearings can provide expository theater. But that usually works only when the staging allows for a hero confronting a clear villain. That format didn't fit this case: Facebook remains far more popular than Congress, so casting Zuckerberg as the villain wasn't in the cards.
As for posing as heroes, even if most members of Congress understood social media, which they clearly didn't, few have specific legislative solutions in mind. Many Americans worry that Facebook knows too much about its users' personal information and shares that data too widely. But government regulation aimed at fixing that problem remains controversial.
As Pierson and Lien wrote, Zuckerberg largely disarmed members of Congress by saying he could support some form of government regulation, without agreeing to any specifics.
NOMINEE VOWS DIPLOMATIC 'SWAGGER'
Mike Pompeo, Trump's nominee to replace Rex Tillerson as secretary of State, got through his Senate confirmation hearings with only minor bruises. As Tracy Wilkinson reported, he appears on his way to confirmation, barring a last-minute surprise.
Under his leadership, State will be a place that "finds its swagger once again," Pompeo said.
Next up, the potentially far more contentious nomination of Gina Haspel to head the CIA.
EPA SCALES BACK CLEAN-AIR REGULATIONS
EPA administrator Scott Pruitt took another whack at clean air regulations on Thursday, giving industry more leeway in getting permits to build new facilities in regions with dirty air.
As Tony Barboza and Evan Halper wrote, the new proposal will have the biggest impact in places like the Inland Empire and the San Joaquin Valley, which have some of the country's most intractable air quality problems.
LOGISTICS
That wraps up this week. My colleague Christina Bellantoni will be back Monday with the weekday edition of Essential Politics. Until then, keep track of all the developments in national politics and the Trump administration with our Essential Washington blog, at our Politics page and on Twitter @latimespolitics.
Send your comments, suggestions and news tips to politics@latimes.com.
If you like this newsletter, tell your friends to sign up.
---
Get our Essential Politics newsletter
The latest news, analysis and insights from our politics teams from Sacramento to D.C.
You may occasionally receive promotional content from the Los Angeles Times.