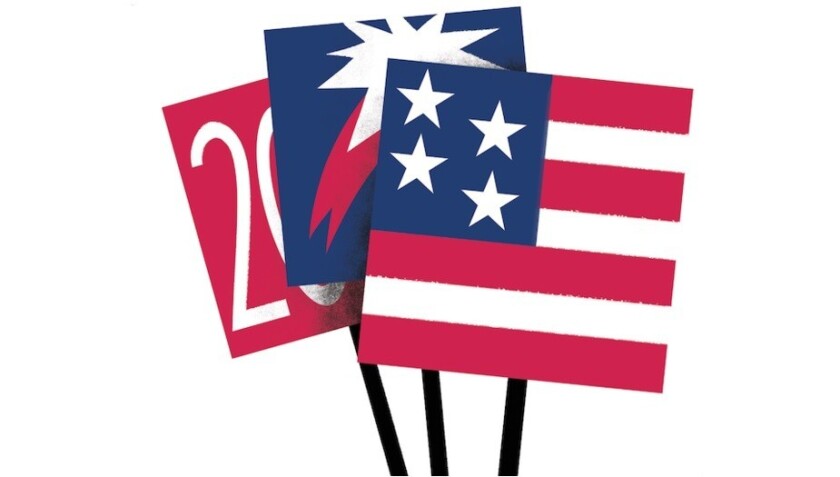 I'm Christina Bellantoni, the Essential Politics host today. Let's get started.
One month from now, California Gov. Jerry Brown, a cast of state lawmakers, a billionaire environmental activist and former Gov. Arnold Schwarzenegger will be mixing it up at the United Nations summit on climate change in Paris.
Reporter Chris Megerian, who will be in Paris to cover California's presence at the globally watched event, has a primer on Brown's goals as he attempts to make the battle against climate change a central part of his legacy.
He reports that Brown and Tom Steyer have been circulating a letter on the governor's stationery asking people to join them in Paris, to "share California's success stories with world leaders and to urge other business leaders to support similar efforts." They say government and business can "come together," and a Brown spokeswoman said the invited companies are involved in energy and technology, along with those who work in healthcare, banking and consumer product sectors.
Megerian also has a who's who of those making the journey, including Senate leader Kevin de León of Los Angeles, outgoing Assembly Speaker Toni Atkins of San Diego and her chosen replacement, Anthony Rendon of Lakewood.
Who is paying for the trip? Get the full story here.
A CONGRESSWOMAN'S PERSONAL BATTLE
Sarah Wire reports that Rep. Jackie Speier (D-Hillsborough), who once spoke on the House floor about her own abortion, asked to be assigned to a newly formed House Select Committee investigating claims that Planned Parenthood profited from providing fetal tissue to researchers.
"We should demand truth. Period," Speier said. "I'm actually pleased the committee has been created because I think it's going to once again put the spotlight on what has become a vicious campaign by some." Read the story.
DEMOCRATS WANT SYRIAN REFUGEES
Wire also reports that Reps. Adam Schiff (D-Burbank) and Dan Donovan (R-NY), along with 60 members of Congress, urged President Obama to move quickly to grant humanitarian parole to Syrians who have already-approved immigrant petitions and family in the United States.
In a letter, Schiff and Donovan write that such a parole program would provide emergency relief to more than 7,000 Syrian families — or an estimated 20,000 individual men, women and children — who already have passed initial background checks but for whom no visa is currently available due to annual numerical limitations on issuances. Twenty-three California members signed the letter.
DIWALI PARTY
Reps. Ami Bera (D-Elk Grove) and George Holding (R-N.C.), co-chairmen of the House Caucus on India and Indian Americans, celebrated the Hindu festival of Diwali at an event that drew hundreds to the Library of Congress Wednesday night.
This is the third year Bera, the only Indian American currently in Congress, has held the event.
TODAY'S ESSENTIALS
-- Voters will have a chance to decide if porn stars should be required to wear condoms.
-- Rep. Brad Sherman (D-Sherman Oaks) made a God joke, which Janet Yellen didn't seem to take into consideration.
-- Rep. Ted Lieu (D-Torrance) is asking for a Justice Department probe into why Chinese American scientists are being arrested and then released.
-- George Skelton writes in his column that Brown is complaining too much about opposition to his delta tunnels project, since disagreement is democratic, after all.
-- Seema Mehta looks at Ben Carson's evangelical base and asks if he can expand it.
-- Mike Memoli on Donald Trump taking part in the still-quaint tradition of filing candidacy papers in New Hampshire.
-- Voters in San Francisco kept their mayor and defended Airbnb, while Ohioans defeated a measure to legalize pot.
LOGISTICS
Miss yesterday's newsletter? Here you go. Did someone forward you this? Sign up here to get Essential Politics in your inbox daily. And keep an eye on our new politics page throughout the day for the latest and greatest. And are you following us on Twitter at @latimespolitics?
Please send thoughts, concerns and news tips to politics@latimes.com.
---