Gov. Brown unveils plan for global climate summit, further undercutting Trump's agenda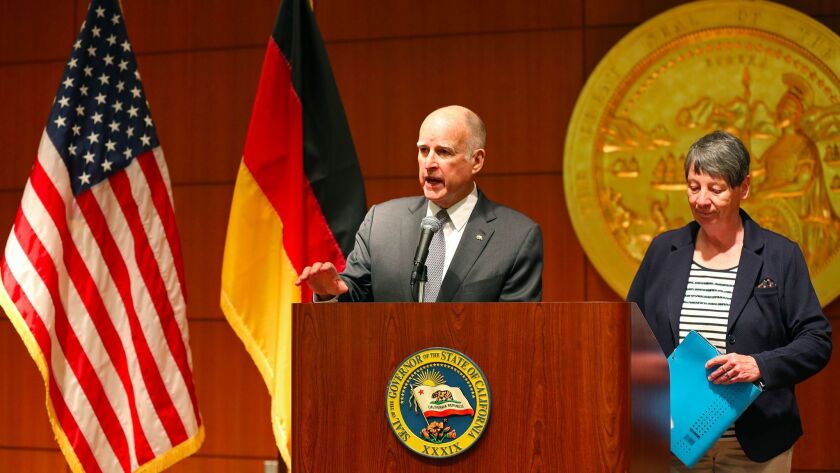 In a rebuke to President Trump's disengagement from worldwide climate change efforts, Gov. Jerry Brown told an international audience Thursday the president "doesn't speak for the rest of us" and unveiled plans for a global environmental summit in San Francisco next year.
The announcement, at a convening of climate activists in Hamburg, Germany, coinciding with Trump's arrival there for the G-20 summit of world leaders, signals once more how Brown and other American leaders aim to galvanize continued efforts against climate change, even as the federal government moves in the opposite direction.
"It's hard to grasp the mortal danger that climate change represents," Brown said in an interview with The Times. "I believe that California, New York, France and Germany and the other countries — we have to get our act together, strengthen our commitment and bring as many nations along as we can."
Whether Brown and his American cohorts, including Los Angeles Mayor Eric Garcetti and former New York Mayor Michael Bloomberg, will ultimately be able to take sufficient action to curb global warming is uncertain, but they are already succeeding in undercutting the authority of the White House to set the U.S. agenda on climate. Since Trump quit the Paris accord on climate change, California and a dozen other states have vowed to not only stick with the agreement, but also step up their emission reduction efforts to push the rest of the country along. A coalition of cities committed to the climate action outlined in Paris — led by Garcetti — has swollen from a few dozen members to 331 in the last few weeks.
Brown and other American climate crusaders see the G-20 meeting as a crucial moment. Several world leaders who will attend the summit have already signaled that they will confront Trump on climate issues during its proceedings, and a move is afoot to conclude the meeting with a written reaffirmation of commitment to the Paris guidelines that would ostensibly be signed by every G-20 every nation except the U.S. — underscoring how far out of alignment with the rest of the world Trump is on the issue.
But even before the summit began, unity among the other countries was already starting to fray. While Western European leaders vowed to push the issue, countries such as Russia, Indonesia and Turkey were expressing less bombast. Saudi Arabia — which is still bullish on climate action but is also eager to remain in good diplomatic standing with the U.S. amid its dispute with fellow American ally Qatar — is also hedging.
With his video announcement Thursday to attendees of the Global Citizen Festival in Hamburg, Brown aimed to shore up opposition to Trump's climate moves and send a signal that the U.S. can maintain a leadership role despite the president.
"It's up to you and it's up to me and tens of millions of other people to get it together to roll back the forces of carbonization and join together to combat the existential threat of climate change," Brown said in his video, appearing in a leafy setting with a blazer and no tie. "Yes, I know President Trump is trying to get out of the Paris agreement, but he doesn't speak for the rest of America…. We in California and in states all across America believe it's time to act, it's time to join together and that's why at this climate action summit we're going to get it done."
Host of next United Nations climate conference turns to California in the global warming battle »
Brown's message was projected into the arena, and the audience burst out in applause when the governor said Trump doesn't speak for the rest of the U.S.
Trump was not invited to speak at the festival because his policies don't align with its goal of supporting global health, climate and gender equality, said a source involved in organizing the festival. Canadian Prime Minister Justin Trudeau, Argentinian President Mauricio Macri and other leaders took the stage to speak about climate change and education to the crowd of 12,000.
The planned 2018 California summit, Brown told The Times, would signify "the biggest state in the union is the venue for a worldwide convocation of states, regions and entrepreneurs and others who want to do something serious about climate change."
This wouldn't be the first time San Francisco was home to a confab on climate, noted Tom Steyer, the hedge fund billionaire-turned-climate activist.
"What's different about this summit is it's a specific statement by Gov. Brown that the people of the United States do not follow the policies — do not believe the policies — on energy and climate espoused by our presidential administration," Steyer said.
Brown's role as a climate emissary predates Trump's presidency. In 2015, he helped start the Under2 Coalition, an international pact to reduce greenhouse gas emissions, and he traveled to the Paris climate talks later that year. But that global stature has taken on added significance under the new administration, which has so far signaled hostility to many of the climate and environmental policies that Brown has embraced.
Last month, Brown discussed climate change with Chinese President Xi Jinping in Beijing, an unusual level of engagement between the Chinese head of state and a governor. (Energy Secretary Rick Perry, by contrast, did not meet with Xi in a recent trip to China).
"He wants to make clear that if you can't look to Washington, you can look to California on progressive environmental policy," said Ann Carlson, professor of environmental law at UCLA.
Among the leaders working with Brown to ensure the U.S. is a de facto participant in the Paris accord is Bloomberg, the former New York City mayor. An official climate envoy to the United Nations, Bloomberg has been working to broker an arrangement with the world body in which America would stay in the agreement — even though Trump has opted out. Those involved in negotiating the Paris accord, which was signed by President Obama, have said there is no way the U.S. could formally participate. But the world leaders eager to keep the momentum in the fight against climate change have lately signaled they will work with the coalition of cities and states to keep the U.S. engaged.
U.N. Secretary-General António Guterres highlighted the effort in a speech in Lisbon this week.
"In the United States, this push is generating at the level of cities, in some states and in the business world a very strong commitment towards the green economy," he said, according to the Agence France-Presse news agency. He also remarked that Bloomberg "is convinced that the United States will be able to reach the targets it set itself under the Paris accord."
The federal government is crucial for policy to succeed in the long run, but states can fill a role while Trump is in office, said Jody Freeman, a Harvard law professor who served as White House counselor for energy and climate change in the Obama administration.
"This is just is of a piece of that effort to say, 'Look, the U.S. isn't stalling even though the Trump administration is committed to these rollbacks of climate and energy policy,' " Freeman said. "I think it's all for the good in keeping momentum going and signaling to the world that the subnational governments are still interested in moving forward."
While Brown has basked in his global climate role, closer to home he has strained to chart a path forward for California's signature tool to combat global warming, the cap-and-trade system, which requires companies to purchase permits to release greenhouse gas emissions.
The governor hopes to reauthorize the system through 2030, but securing a two-thirds vote in the Legislature to guard against potential legal challenges has led to a backroom tug of war pitting oil companies, manufacturers and agricultural interests against environmentalists and advocates worried about local air quality.
"Jerry Brown is working very hard to try to get to a compromise on extending California's flagship climate policy, but it is a compromise," said Michael Wara, a professor of energy law at Stanford. "It is complicated and messy. And it involves trade-offs that sometimes mean giving up environmental benefits in order to placate legacy fossil fuel industries that are still politically important in California."
Environmental justice advocates argue Brown's administration has hewed too closely to policies sought by industry groups.
"He is putting his political muscle behind a compromise that benefits, really singularly, [the oil] industry — the people who brought us this problem," said Parin Shah, senior strategist at the Asian Pacific Environmental Network. "Jerry Brown has the power to rally tens of thousands, hundreds of thousands, millions of Californians for truly transformative climate policy. He is not doing that."
Brown acknowledged cap-and-trade negotiations have been a struggle, but he pushed back against accusations that he is too aligned with oil industry goals at the expense of advancing the state's global warming fight.
"It's about taking steps that are moving decisively in the right direction but are the product of consensus and widespread negotiation," Brown told The Times. Given the scope of the challenges posed by climate change, he said, finding solutions will not be "a walk in the park."
"Decarbonizing the world — it's like going from the Roman Empire to Christianity," Brown said. "It's a total paradigm shift."
Mason and McGreevy reported from Sacramento, and Halper from Washington. Special correspondent Catherine Stupp in Hamburg contributed to this report.
melanie.mason@latimes.com, evan.halper@latimes.com, patrick.mcgreevy@latimes.com
Twitter: @melmason, @evanhalper, @mcgreevy99
Gov. Jerry Brown, America's unofficial climate change ambassador in the Trump era, heads to China
A California-led alliance of cities and states vows to keep the Paris climate accord intact
---
Get our Essential Politics newsletter
The latest news, analysis and insights from our politics teams from Sacramento to D.C.
You may occasionally receive promotional content from the Los Angeles Times.