Governor's budget gives a glimpse into challenges ahead for prison parole overhaul in California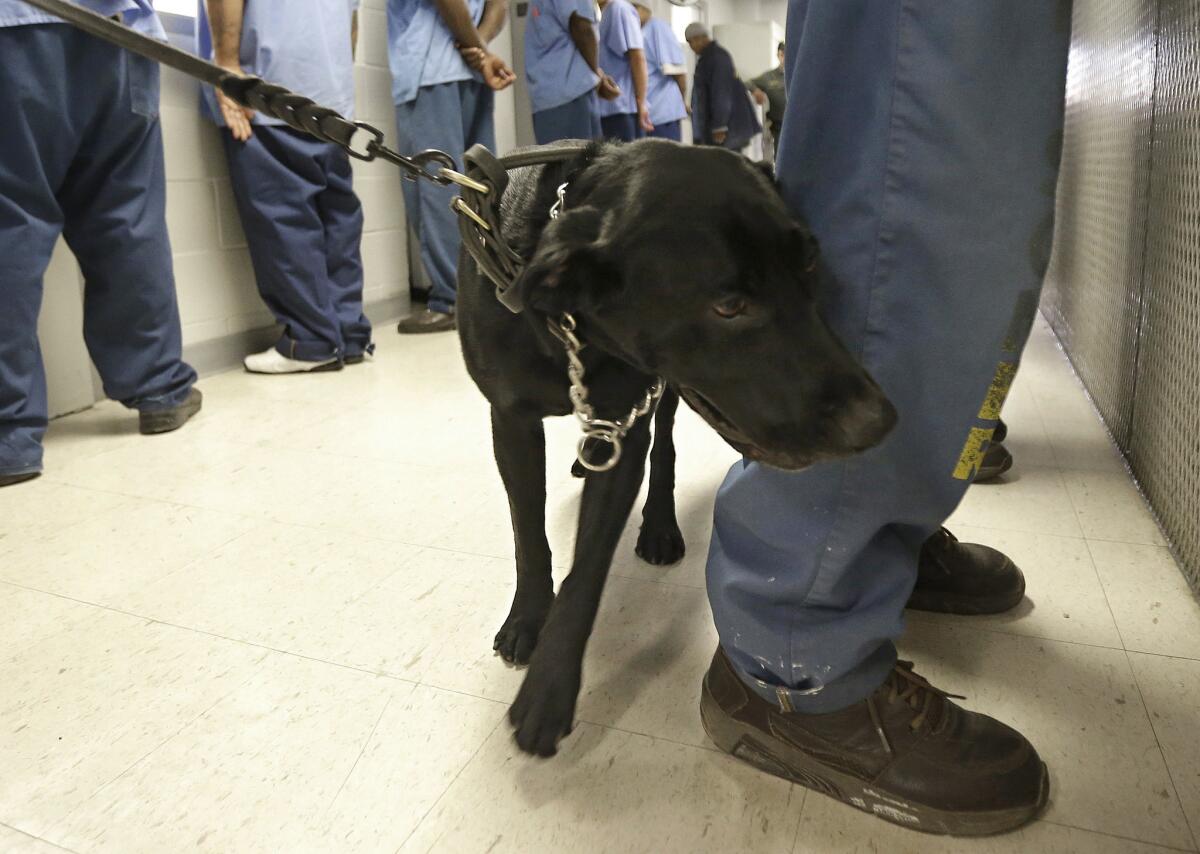 Reporting from Sacramento —
Gov. Jerry Brown is asking lawmakers to set aside $10.6 million to begin the sweeping overhaul of prison parole he convinced California voters to approve last fall, a proposal that corrections officials say reflects his continued commitment to public safety and reforms.
Scott Kernan, secretary of the California Department of Corrections and Rehabilitation, said the governor's new state budget lays out a primary framework for implementing Proposition 57, which seeks to reduce the state's inmate population by giving parole officials greater latitude to offer early release to thousands of prisoners.
But the budget released Tuesday gives only a glimpse into what's in store when it comes to its most contested details: a set of regulations still under deliberation that will expand prison programs that offer incentives for good behavior and participation in rehabilitation — and govern who is eligible for early parole and when.
"We are in the preliminary stages," said Kernan, whose agency expects to complete the new package of rules by the required October 2017 deadline. "Proposition 57 is a significant change for this department, and a significant change for the criminal justice system in California."
Proposition 57, which law enforcement officials fiercely opposed but voters overwhelmingly approved last November, has been billed by Brown as a solution for prison overcrowding, part of the state's response to a federal court-ordered population cap on the state inmate population.
The new law makes three major changes to the criminal justice system in California. First, the law requires a judge's approval before most juvenile defendants can be tried in an adult court, reversing a law approved by voters in 2000. It also will allow an expansion of good-behavior credits awarded by prison officials, and it will give new power to the state parole board to allow the early release of prisoners whose primary sentences are for crimes not designated as "violent" under the California penal code.
The last two of Proposition 57's provisions were the most in dispute during last year's campaign, because their implementation could result in adult prisoners serving less time than their maximum sentences. Among the issues that stirred the most debate among law enforcement officials was the possibility of early parole for certain sex offenders, as not all forms of rape fall under the state's list of "violent" crimes.
Law enforcement officials said this week that Brown's budget proposal seems to have assuaged at least some of those concerns.
The state corrections department currently allows inmates who have been charged with a second strike under the state's three-strikes law, but who are not sex offenders and haven't committed violent crimes, to be weighed for early parole after serving 50% of their sentences.
The new plan will permit prison officials to develop a similar process for nonviolent prisoners who have completed the full term of their sentence for their primary criminal offense — and excludes all inmates who must register as sex offenders from eligibility for early parole consideration.
Early projections show Proposition 57 also could result in state net savings of $22.4 million by 2018 as prison space clears, allowing officials to bring back prisoners who were transferred to out-of-state facilities due to overcrowding. And it could cut the California inmate population by as many as 9,500 within the next four years.
The budget includes $5.7 million to revamp the state prison computer system and hire additional staff to review and handle an increase in parole cases. Another $4.9 million will go to reopening two living facilities within the Division of Juvenile Justice to account for an expected uptick in juvenile court commitments.
But new tensions are expected to arise. Proposition 57 did not include language exempting sex offenders from early parole consideration, and inmates could file legal challenges against the exclusion, said Michele Hanisee, president of the Assn. of Deputy District Attorneys.
"I am happy sex offender registrants have been excluded and with the way [the initiative] is being rolled out," Hanisee said. "But that doesn't mean this is the final word."
Kernan, the state corrections secretary, said corrections officials also anticipate public input as they develop regulations that will allow inmates to earn credits toward the completion of their sentences for good behavior or for meeting certain goals or milestones, such as completing courses or training programs.
That could lessen the time served for many inmates, including those convicted of sex crimes and violent offenses, and lead to earlier release from prison.
For now, the budget proposal requires officials to increase and standardize "good-time credit earnings" awarded to inmates who avoid breaking prison rules. And it permits all inmates, except those serving life sentences and those who have been condemned, to earn "milestone credits" for completing a specific education or training program behind bars.
Officials also must create new types of milestone and achievement time credits to encourage inmates to participate in rehabilitation and educational activities.
In an interview with The Times in October, the governor said he is interested at looking at best practices for time-credit programs from other states. The regulatory process would be flexible, he said.
"It will be very public," Brown said at the time. "I have thought a lot about this, and I am going to be very involved in it."
Kernan said this week that the real goal of Proposition 57 was to create better opportunities for inmates to succeed in society.
"I think it's going to create hope among the inmates, and it's going to make my staff safer … and I believe it will enhance public safety at the end of the day," Kernan said.
Gov. Brown to seek November ballot initiative to relax mandatory prison sentences »
Follow @jazmineulloa on Twitter
ALSO
California's budget deficit is back, Gov. Jerry Brown says
Why Gov. Jerry Brown is staking so much on overhauling prison parole
Get our Essential Politics newsletter
The latest news, analysis and insights from our politics team.
You may occasionally receive promotional content from the Los Angeles Times.