Capitol Journal: As long as Trump is president, California lawmakers will keep building a wall against his policies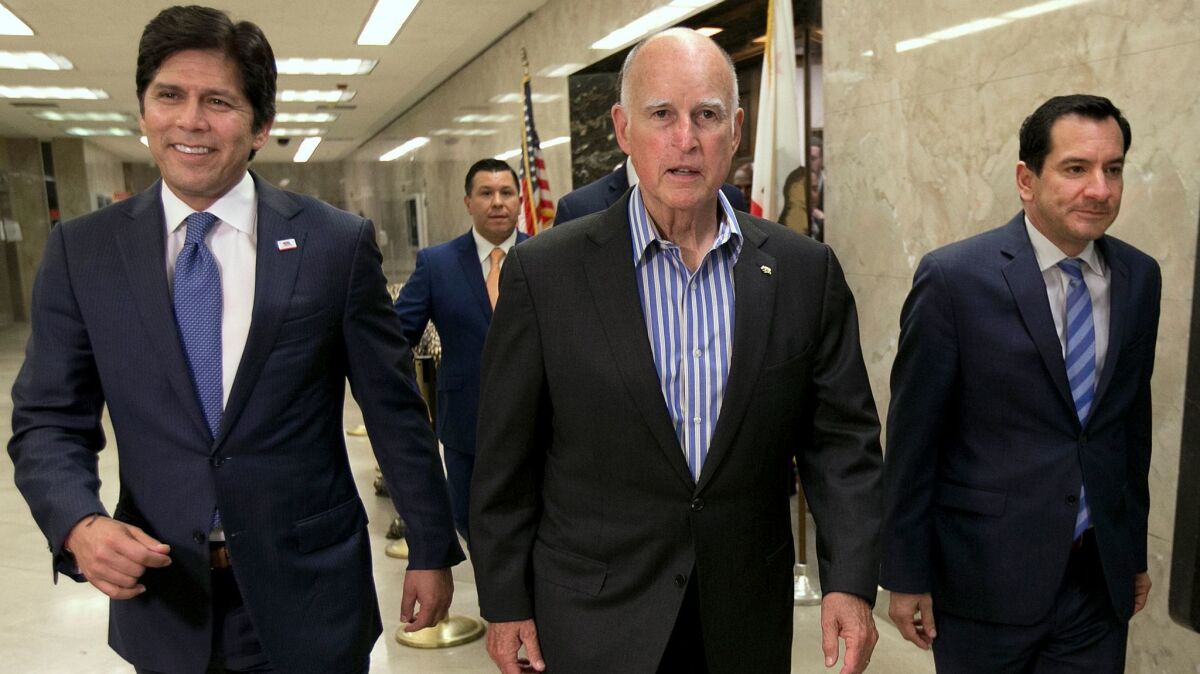 Reporting from Sacramento —
California state legislators ended their annual session the way they began it — building a wall to protect undocumented immigrants from President Trump.
Not an iron wall, as Trump promised to erect along the U.S.-Mexico border, but a legal barrier to prevent local police and sheriffs from teaming with the president's agents to enforce federal immigration law.
The legislators did a lot of other things, too, before adjourning early Saturday until January.
They sent Gov. Jerry Brown bills to address California's dearth of affordable housing, to borrow $4 billion for parks and waterworks, to spend $1.5 billion in greenhouse-gas pollution fees, to provide tuition-free community college for first-year students and to lift some secrecy from prescription drug pricing.
Earlier in the session, the heavily Democratic Legislature passed its boldest, most controversial bill of the year: A $5.2-billion annual increase in fuel taxes and vehicle fees to finance transportation infrastructure, especially to repair crumbling highways. Republicans will attempt to repeal the bill at the ballot box in 2018. Brown says that "borders on insanity."
The Legislature also extended Brown's unique cap-and-trade climate change program for 10 years until 2030.
So whether you love or hate what the Legislature did, the session was indisputably productive — and in stark contrast to the dysfunctional Congress and Trump's inability to deal effectively with federal lawmakers.
In Sacramento, Brown continued to act as the experienced, savvy adult and scold, keeping the left in line.
Still, Assembly Speaker Anthony Rendon (D-Paramount) was on target when he told his chamber at 2:30 a.m. Saturday that they were wrapping up perhaps "the most progressive" session in many years. That's "progressive" as in old-fashioned liberal.
And the dominant theme from start to finish was "thwart Trump," especially in his threat to deport immigrants in the U.S. illegally.
"Federal immigration law is the exclusive province of the federal government," Senate leader Kevin de León (D-Los Angeles) said during the floor debate over his so-called sanctuary-state bill, SB 54. "But what we can do is make sure [California law enforcement] is not an extension of Trump" and his deportation agents.
De León added, "We want to make sure [the feds] go after the bad guys, no question about that…. Those who commit crimes, we don't want you in this country."
But the "core mission" of his bill, the Senate leader said, "is to protect hard-working families that have contributed greatly to our culture and the economy."
The measure was significantly amended under a veto threat from Brown. When signed, the bill will prohibit law enforcement in California from joining federal agents on immigration raids or even inquiring about people's legal status. That's assuming the immigrants don't commit some crime.
The amended bill says that if an immigrant here illegally is convicted of one of roughly 800 crimes, he can be ratted out to the feds before his release from jail. Federal agents can interview the criminal behind bars. They're allowed access to local databases. And state prisons are exempted from the bill's restrictions.
"I'd like to give my grateful thanks to Gov. Brown," Republican Sen. Jeff Stone of Temecula said during the debate. "Our governor stood up to the plate and made our communities safer."
In today's polarized world, that's practically bipartisanship. But Stone still voted against the bill. No Republican senator voted for it. Every Democrat did.
The voting pattern was similar in the Assembly, but three Democrats opposed the bill.
The "sanctuary state" bill — a tag Brown and De León hate — was one of several the Legislature passed to help immigrants living here illegally.
It provided $45 million for legal services, plus an additional $20 million specifically for the "Dreamers" who were brought into the country illegally as children. Lawmakers also kicked in an extra $10 million in financial aid for undocumented college students.
The Legislature passed a bill to protect immigrants at work. Employers couldn't allow federal agents on business property without a judicial warrant. And workers would have to be notified 72 hours before their employee records were inspected by the feds.
None of this should surprise anyone who looks at the Legislature's makeup. The leaders of both houses are Latino.
De León, raised by an undocumented housekeeper, was an immigrant rights organizer before he was a politician. He jumped into politics because the 1993 Legislature cut off driver's licenses for people here illegally. (The licenses were restored two decades later.)
In 1994, De León helped organize a big downtown L.A. march to protest Proposition 187, which sought to deny public services, including education, to immigrants here illegally. It passed overwhelmingly but was ruled unconstitutional.
Several major legislative committees are headed by Latinos. Democratic Latinos make up 22% of the Legislature, and many tell stories of family struggle and dodging federal agents.
That percentage is slightly higher than the Latinos' 18% share of the state's likely voters, based on data from the Public Policy Institute of California. But it's fairly reflective of today's California electorate.
Democratic Latinos, African Americans and Asians constitute about 40% of the Legislature. In that mix, there's going to be a lot of empathy for undocumented immigrants.
"We didn't get everything this year, but we're going to come back," state Sen. Ricardo Lara (D-Bell Gardens) vowed during the sanctuary debate. "Because the more you attack us, the stronger we get."
As long as Trump is president, they'll keep building that wall.
Follow @LATimesSkelton on Twitter
ALSO
A good compromise will result in California becoming a 'sanctuary state'
When it comes to affordable college education, conservative Tennessee has so-called progressive California beat
With Chad Mayes' ouster, Assembly Republicans did what they often do: Dump their leaders
---
Life is stressful. Our weekly mental wellness newsletter can help.
You may occasionally receive promotional content from the Los Angeles Times.