Capitol Journal: Democrats won big in California. Now they've got no excuse to blow it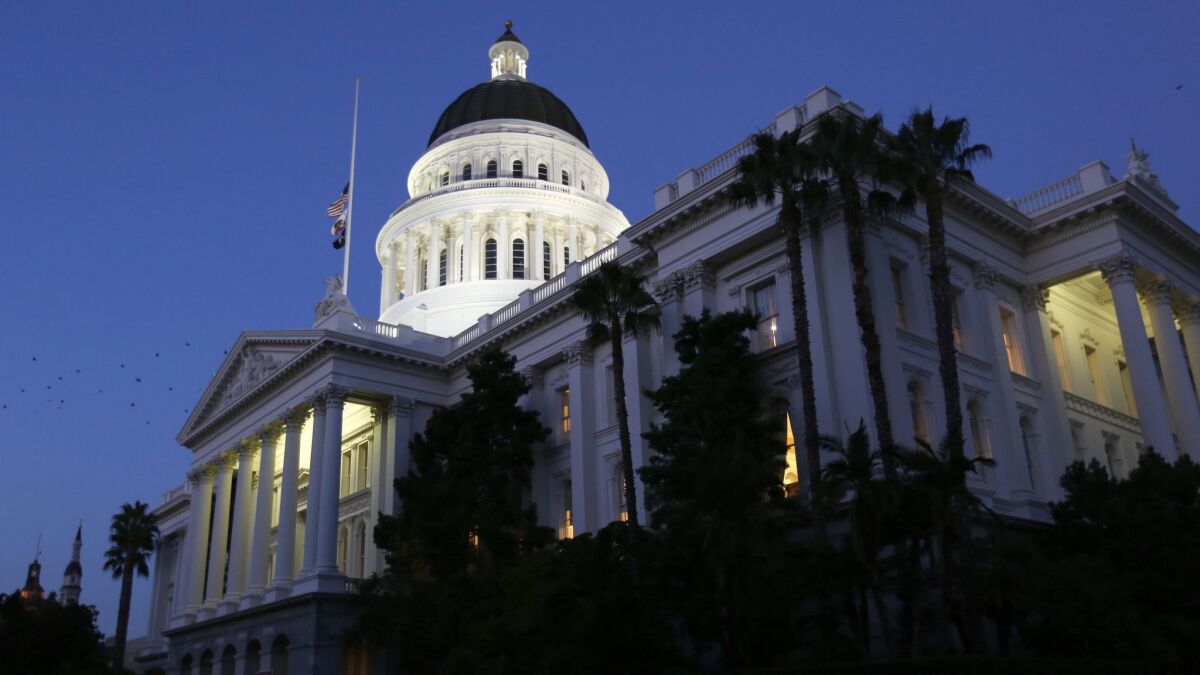 Reporting from Sacramento —
Even in this bluest of states, the one-party control of California just won by Democrats is phenomenal.
The 2018 elections fulfilled a best-scenario dream for the party and became a worst nightmare for Republicans.
The last time Democrats came this close to completely dominating the state Capitol was after the post-Watergate election of 1976. Democratic Gov. Jerry Brown was an ambitious young hotshot in his first term. Democrats won 57 Assembly and 26 Senate seats. The numbers needed for two-thirds supermajorities were 54 and 27.
There's a valuable lesson for Democrats to learn from that 1977-78 legislative session. They ruled the roost. And what did they do? They blew it.
Brown and the Legislature disastrously fumbled property tax relief as home assessments soared. They bickered over what kind of tax breaks to provide, while sitting on a multibillion-dollar revenue surplus that state Treasurer Jesse M. "Big Daddy" Unruh — a legendary former Assembly speaker — properly called "obscene."
As Democrats dawdled, apartment house lobbyist Howard Jarvis, who was dismissed by many Dems as a Los Angeles gadfly, moved swiftly with a ballot initiative that dramatically slashed property taxes for homeowners and businesses.
Proposition 13 passed by a landslide, slicing local funding for cities and schools, and heaping a heavier financial burden on state government. Democrats have been cursing the initiative ever since, mostly muttering to themselves.
So one-party control, even with hefty majorities, is not a magic bullet unless the governor and legislative leaders can coordinate their aim at a specific target.
Given the Democrats' strength entering the 2019-20 legislative session, there shouldn't be much excuse for failure.
Most bills require only a simple majority vote, virtually any measure can be passed with a two-thirds vote and Democrats will possess roughly three-fourths supermajorities in both houses.
These are the numbers as ballot counting nears an end:
• In the Assembly, Democrats apparently picked up five seats to hold 60 out of 80. That's the most for Democrats since 1883, when they held 61. And they've got a shot at winning No. 61. Republican Assemblyman Brian Maienschein of San Diego was clinging to a tiny lead over Democrat Sunday Gover.
• In the Senate, Democrats seem to have gained three seats to hold 29 of 40, the most since 1962, when they had the same number.
Here are some other numbers that torment Republicans:
• Democrats won all seven U.S. House seats they targeted in California. These were traditionally Republican districts that GOP candidates won in 2016, but President Trump lost to Democrat Hillary Clinton. In the next Congress, Democrats will hold a whopping 46 of California's 53 House seats, plus both U.S. Senate seats.
• Democrats again won every statewide office. And this time they also picked up a state Board of Equalization seat that long has been held by Republicans.
So why the Republican collapse? It certainly wasn't sudden.
The California GOP has been steadily trending downward, largely because of demographic changes. Increasing numbers of Latinos and Asian Americans have shunned Republican candidates and voted Democratic because they're repulsed by harsh GOP rhetoric and policies aimed at undocumented immigrants. And the party hasn't kept up with shifting, more moderate voter attitudes toward such topics as illegal immigration, abortion and gay marriage.
"On social issues, most Californians are pretty libertarian," says Darry Sragow, a longtime Democratic strategist, who publishes the California Target Book, which charts legislative and congressional races.
"We're not liberal. We're libertarian — the view that government should leave us alone and we'll figure out what we should do with our personal lives."
Only 25 years ago, Republicans won a brief one-vote majority in the Assembly before gradually descending into virtual irrelevancy. Since then, the GOP's share of voter registration has plummeted from 37% to 24%, while the Democrats' has slipped only from 49% to 43.5%. Voters with no party preference have rocketed from 10% to 27.5%.
In this year's elections, Democrats outspent, out-organized and outhustled Republicans. But the victors' chief asset was President Trump and his constant, uncivil bombasts.
"As one of the most polarizing figures in modern U.S. politics, Trump really did set the table for the blue wave that eventually swept the state," Mark DiCamillo, pollster for the UC Berkeley Institute for Governmental Studies, recently told the Sacramento Press Club. "He gave Democrats here an historic opportunity and they exploited it to the fullest….
Coverage of California politics »
"There was this extremely strong correlation between how voters were rating the job that President Trump was doing and who they were supporting for Congress."
Mark Baldassare, president of the Public Policy Institute of California, said "almost any time that Donald Trump talks about immigration he's offending a large number of people in California.
The nonpartisan pollster also said Republican House members badly wounded themselves by voting to repeal the Affordable Care Act because Democrats made healthcare a major campaign issue. And Republicans were hurt, he said, when they voted to raise taxes on many middle-income Californians by limiting their state and local tax deductions.
Then-Gov. Arnold Schwarzenegger said it best 11 years ago when he told a Republican state convention: "In movie terms … we are dying at the box office. We are not filling the seats." Few listened.
Now Democrats are filling different kinds of seats.
They'll have little excuse not to act on issues they've campaigned on: early childhood education, universal healthcare, homelessness — plus some things they should deliver, such as a major tax overhaul and wildfire prevention measures.
Follow @LATimesSkelton on Twitter
---
Life is stressful. Our weekly mental wellness newsletter can help.
You may occasionally receive promotional content from the Los Angeles Times.