California voters could be asked to borrow $450 million for updating aging elections systems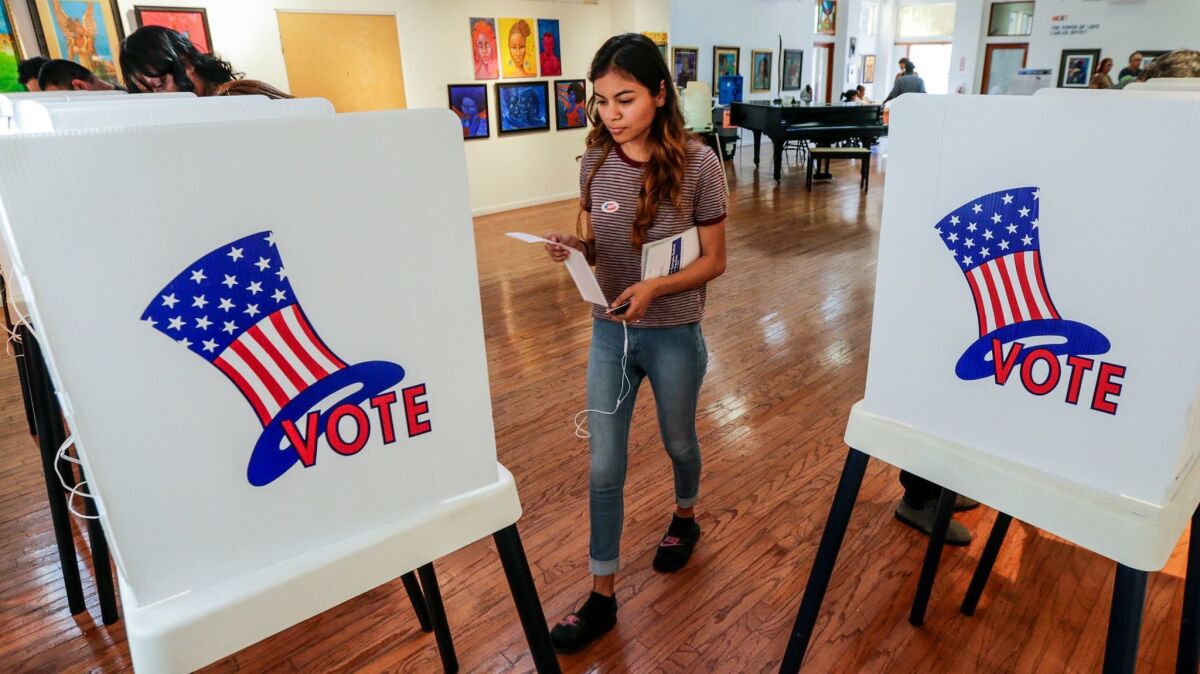 Reporting from Sacramento —
California's chief elections officer and an influential state lawmaker have crafted a $450-million bond to help pay for outdated and underfunded voting systems across the state, proposed borrowing that voters would have to approve next year.
The effort, unveiled Thursday in Sacramento, would be the first major infusion of cash into the administration of California elections in 15 years.
"The biggest threat is the age of our equipment," California Secretary of State Alex Padilla said. "Technology has certainly come a long way. No one would settle for a 15-year-old cellphone or computer."
The proposal is contained in a bill introduced by Assemblywoman Lorena Gonzalez Fletcher (D-San Diego), chair of the Assembly's appropriations panel, and is scheduled for its first legislative hearing next week.
"Voting is the most important right we have," she said in a statement. "Voting should be as easy as possible, and outdated and barely functioning voting systems discourage participation and present challenges to elections officials."
Like all bonds paid back with state general fund tax dollars, it would have to be approved by voters. The last significant investment in elections came in 2002, when voters approved a $200-million voting modernization bond through Proposition 41. Like that effort, the new bond would be doled out as matching funds to any of the state's 58 counties that put up a share of their own dollars for voting systems upgrades.
But unlike earlier efforts, there is no expectation of election subsidies from the federal government. In the wake of the 2000 presidential election and its high-profile errors in ballots cast and counted, Congress authorized the Help America Vote Act and sent $252 million to California for upgrading voting machines. No similar effort is expected this time.
Even so, a sizable portion of the earlier effort failed to create long-term elections improvement in California's counties. A number of local governments spent the money to purchase new voting systems that later were banned by former Secretary of State Debra Bowen in 2007 over concerns about accuracy and security of electronic-based machines.
Political Road Map: Without money, California counties can ignore a half-dozen election laws »
The money in the 2018 bond measure also would help implement a sweeping new election law signed last year by Gov. Jerry Brown, one that will change voting for millions of Californians by closing neighborhood polling places and asking voters to cast their ballots by mail.
Any county that adopts the new rules, which are not mandatory, must open new "vote centers" where citizens can check or change their registration up until election day. Had the rules been mandatory, the state would have been required to send new subsidies to the counties to cover costs.
Padilla said that's where the proposed bond, Assembly Bill 668, could make a major impact. The bill's current language allows funds to be spent on some of the specific tasks associated with the new election law, including the purchase of electronic tablets or laptops used at the satellite vote centers to confirm a person's registration.
"It's a significant incentive," Padilla said.
Meanwhile, the burden of paying for recent California elections has fallen almost solely on the shoulders of counties and their own budgets. The state currently owes $76 million to counties for previous elections. And a recent report by the independent Legislative Analyst's Office found some counties still conducting elections that rely, in part, on computer software dating to the late 1990s.
"They've done a heroic job maintaining the systems that they have," Padilla said. "But time is not our friend."
Follow @johnmyers on Twitter, sign up for our daily Essential Politics newsletter and listen to the weekly California Politics Podcast
ALSO:
Political Road Map: California's electoral future depends on the old-fashioned absentee ballot
Gov. Jerry Brown signs law allowing more absentee voting, fewer polling places
Updates on California politics
---
Life is stressful. Our weekly mental wellness newsletter can help.
You may occasionally receive promotional content from the Los Angeles Times.