Two Giuliani associates involved in Ukraine probe arrested on campaign finance charges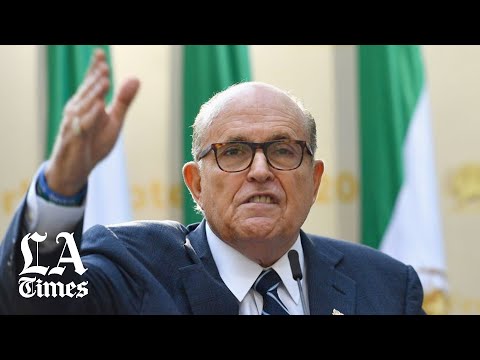 WASHINGTON —
With public support for the House impeachment inquiry ticking up, two Soviet-born political donors who assisted Rudolph W. Giuliani, President Trump's personal lawyer, in pushing Ukraine to investigate alleged corruption were themselves hit with federal charges Thursday, providing Democrats with more allegations of wrongdoing within the president's inner circle that could spur their investigation.
Lev Parnas and Igor Fruman were arrested late Wednesday night on charges of violating campaign finance laws in connection with their efforts to funnel foreign money from Russia into Trump's campaign. The two were arrested at Dulles International Airport as they tried to flee the country, according to a U.S. law enforcement official.
The two Florida-based businessmen are also accused of being involved in efforts to oust the then-U.S. ambassador to Ukraine, Marie Yovanovitch, who was removed from her job by the Trump administration earlier this year. House Democrats are examining whether she was recalled from Kyiv because she opposed Giuliani's efforts to put pressure on the Ukrainians to investigate Joe Biden and his son Hunter.
According to the indictment the two men made large donations to "a then-sitting U.S. Congressman," referred to as Congressman-1, and sought to enlist him in the campaign against Yovanovitch. The indictment does not identify the former congressman, but it provides details of his connections with the two that allow him to be identified as former Rep. Pete Sessions (R-Texas).
"They sought political influence not only to advance their own financial interests, but to advance the political interests of at least one foreign official — a Ukrainian government official who sought the dismissal of the U.S. ambassador to Ukraine," Geoffrey Berman, U.S. attorney for the Southern District of New York, said at a news conference.
Neither Berman nor the indictment named the Ukrainian official, but Yovanovitch was known to be at odds with Ukraine's former chief prosecutor, Yuri Lutsenko, who met with Giuliani.
The four-count indictment comes as Trump maintains his "absolute right" to ask a foreign leader to investigate a political rival.
The case offered a reminder of how the U.S. attorney's office in Manhattan, which Giuliani used to lead, continues to be a major source of risk for the president and those in his circle. Prosecutors there have already won a guilty plea from Trump's former attorney, Michael Cohen, and could potentially produce more evidence that broadens or accelerates the already fast-developing Ukraine scandal.
Trump, speaking to reporters Thursday afternoon before leaving the White House for a rally in Minneapolis, claimed not to know Parnas and Fruman, though the two posted a photo with him after a meeting last year.
"I have pictures with everybody," he said by way of explanation.
"I don't know about them; I don't know what they do," he continued. "I don't know — maybe they were clients of Rudy [Giuliani]. You'd have to ask Rudy."
John Dowd, a lawyer for the two men, said in a statement that "Mssrs. Parnas and Fruman assisted Mr. Giuliani in connection with his representation of President Trump."
Giuliani has publicly said that the two helped connect him with Ukrainian prosecutors. At the time, Giuliani was pushing the Ukrainians to open an investigation into Biden. Parnas and Fruman helped arrange a January meeting in New York between and Giuliani and Lutsenko, as well as other meetings with top government officials.
Constitutional lawyers say Trump's unprecedented vow to refuse to cooperate with the House impeachment inquiry may only increase the odds he is impeached.
Shortly after arrests were announced Thursday, both were subpoenaed by House Democrats to provide documents and depositions in the impeachment case. Dowd had previously written to House committee chairmen that the men would not respond by a House deadline to a request for documents that he called "overly broad and unduly burdensome."
In their subpoena letter, Democrats warned against further stonewalling.
"Your clients are private citizens who are not employees of the Executive Branch," the letter stated. "They may not evade requests from Congress for documents and information necessary to conduct our inquiry."
The federal indictment charges Parnas and Fruman with conspiracy, making false statements to the Federal Election Commission and falsification of records. Parnas is identified as a businessman and U.S. citizen who was born in Ukraine. Fruman is described as a businessman and U.S. citizen who was born in Belarus.
Two other men, David Correia, a native-born U.S. citizen, and Andrey Kukushkin, a U.S. citizen born in Ukraine, were also charged. Kukushkin was arrested in Northern California. Correia remained at large but was expected to turn himself in, according to a federal law enforcement official.
According to the indictment, Parnas and Fruman attempted to mask $325,000 in donations to a pro-Trump super PAC by funneling the money through a business they created, Global Energy Partners, "a purported liquefied natural gas (LNG) import-export business," which at the time the contributions were made "had not engaged in the LNG business, and had no income or significant assets."
Beginning in March 2018, Parnas and Fruman began attending fundraisers and making substantial contributions "with the purpose of enhancing their influence in political circles and gaining access to politicians," prosecutors stated.
The two were not shy about their relationship with the Trump, posting pictures from a May 2018 dinner with him on Facebook (the post was later deleted), as well as a photo from a breakfast later that month with the president's son Donald Trump Jr. at a fundraiser in Beverly Hills.
In a statement released through a spokesman Thursday, Sessions did not concede that he is Congressman-1, but pointed to a passage in the indictment that says Parnas and Fruman "concealed the scheme from the candidates, campaigns and federal regulators."
"Therefore, if I am 'Congressman One', I could not have had any knowledge of the scheme described in the indictment or have involvement or coordination of it," Sessions said, adding that he met with the two men but "took no action" after any of the meetings.
Sessions acknowledged having written a letter urging Yovanovitch's ouster, which he said stemmed from reports that she had criticized Trump, not because she was seen to be resistant to Giuliani's pressure campaign on Ukrainian officials.
"My entire motivation for sending the letter was that I believe that political appointees should not be disparaging the President, especially while serving overseas," Sessions stated.
Yovanovitch, who could possess firsthand knowledge of Giuliani's dealings with Ukrainian officials in Kyiv, is scheduled to testify behind closed doors Friday morning, according to a House committee aide. It's still possible, however, that the State Department could order her not to appear, as it did last week with Gordon Sondland, U.S. ambassador to the European Union.
The indictment also charged that Parnas and Fruman had worked with the two other men indicted on Thursday, Correia and Kukushkin, to funnel Russian money to state and federal candidates in an attempt to buy influence that might eventually enable them to get licenses to launch recreational marijuana businesses in Nevada and other states.
Atty. Gen. William Barr was briefed about this investigation in February and was informed Wednesday night that Parnas and Fruman were about to be arrested, according to a Justice Department official. Barr visited with prosecutors in the Manhattan office on Thursday, part of what aides said was a routine check-in visit.
Times staff writer Del Quentin Wilber contributed to this report.
Get our Essential Politics newsletter
The latest news, analysis and insights from our politics team.
You may occasionally receive promotional content from the Los Angeles Times.