Trump launches a legal barrage in an effort to block a Biden victory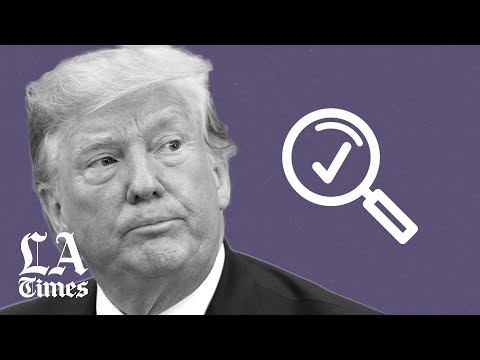 Facing a fast-shrinking path to a second term, President Trump baselessly accused his opponents of fraud Wednesday as he launched an aggressive legal effort to reverse or stop vote counts in four battleground states that could clinch the race for Joe Biden.
WASHINGTON —
Facing a fast-shrinking path to a second term, President Trump baselessly accused his opponents of fraud Wednesday as he launched an aggressive legal effort to reverse or stop vote counts in four battleground states that could clinch the race for Joe Biden.
Filing four lawsuits and joining a fifth, the president's campaign said it would try to halt state officials from counting mail-in ballots in Michigan, where Biden was well ahead, as well as in Pennsylvania and Georgia, where Biden appeared to be in striking distance.
Trump's team also said it would seek a recount of all votes cast in Wisconsin. The Associated Press called Michigan and Wisconsin for Biden on Wednesday, saying he had amassed insurmountable leads in both states.
The presidential race is still too early to call in Georgia, Nevada, Pennsylvania and North Carolina.
Trump fired back in a defiant tweet — which Twitter later flagged as misleading — in which he "hereby claimed for Electoral Vote Purposes" Pennsylvania, Michigan, North Carolina and Georgia. The declaration has no legal foundation.
While Trump's prospects in court were uncertain, his unsubstantiated claims of widespread vote fraud underscored his scorched-earth approach to the electoral process, and could delay a final result by days or weeks.
"It's not clear if he's doing this with a realistic expectation that it could flip the result, or to explain away his potential loss to Biden and try to undermine the legitimacy of Biden's election," said Richard L. Hasen, an election law expert at UC Irvine.
The president's strategy — a mix of legal challenges and deliberate disinformation — reflected increasing desperation as his reelection bid threatened to slip away hours after he prematurely declared victory at the White House at 2:20 a.m. Wednesday.
While the president and his top campaign aides publicly vowed to continue fighting, some senior advisors privately conceded that they were exhausted and running out of options as Biden continued to amass electoral votes.
"Everything has to break right" for Trump to win, one advisor said.
Some of Trump's supporters tried to take matters into their own hands.
In Detroit, scores of protesters demanded to be let into a convention center where election officials were counting ballots. When police barred them from entry because the room was at legal capacity — Republicans and Democrats already had dozens of observers inside — the protesters started chanting, "Stop the count."
The fate of the presidency still hangs in the balance as President Trump and Joe Biden duel over a few remaining battleground states.
Trump stayed holed up in the White House residence all day as he lobbed Twitter grenades and false boasts of success in battleground states.
Michael Waldman, president of the nonpartisan Brennan Center at NYU School of Law and author of "The Fight to Vote," said Trump's tweets were "nonsense."
"He can say 'I hereby declare myself to be the Emperor Napoleon,' but that doesn't make it true," Waldman said.
"He clearly wants to undermine the legitimacy of the election, but the winner of the election is not decided by one of the candidates. It's decided by the states and the laws and the voters," Waldman added.
Trump appeared to pin his hopes on the courts, and ultimately on getting a case before the Supreme Court, where he has handpicked half of the conservative majority.
The Trump campaign filed a lawsuit in Georgia after a Republican poll observer claimed to have seen 53 late absentee ballots mixed in with ones that had been submitted on time. The lawsuit, which asked election officials to weed out any late ballots, was filed as results from Democratic areas poured in. Trump was ahead by less than 1 percentage point with more than 100,000 ballots still uncounted.
Another lawsuit was filed in state court in Michigan to stop the vote count there, accusing officials of inappropriately barring the Trump campaign from observing the process, a charge state officials denied.
A similar lawsuit was submitted in Pennsylvania, along with another accusing the state of inappropriately changing the rules for voters to provide missing proof of identification.
The campaign also asked to join a lawsuit demanding that Pennsylvania discard properly postmarked mail ballots received up to three days after the election.
The Supreme Court has already rejected a previous attempt to block those ballots, but could rule differently now that Republicans have rushed Amy Coney Barrett onto the bench to replace the late Ruth Bader Ginsburg.
Even with hundreds of thousands of ballots left to count in Pennsylvania, Bill Stepien, Trump's campaign manager, told reporters, "We are declaring a victory" in the state.
The preemptive declaration sparked jubilation from the president's staff and family.
"We have won Pennsylvania!" tweeted Eric Trump.
Twitter slapped another warning label on the tweet — "official sources may not have called the race."
Rudolph W. Giuliani, Trump's personal lawyer and the former mayor of New York, decamped to Philadelphia, where he denounced what he called "a concerted effort of the crooks who run the Democratic Party," although he offered no evidence of wrongdoing.
"We're not going to let them get away with it," Giuliani said. "They're not going to steal this election."
Trump frequently and falsely suggested something nefarious was happening as returns came in Wednesday that showed Biden moving closer to victory.
"They are finding Biden votes all over the place — in Pennsylvania, Wisconsin, and Michigan," Trump complained on Twitter. He called the mail-in ballot counts "devastating in their percentage and power of destruction."
COVID-19 has led to a push for vote by mail, but advocates face logistical and legal hurdles — and "rigged election" claims from President Trump.
His tirade and his tactics were predictable. He had spent much of the campaign spreading baseless rumors that mail ballots were fraudulent, while Biden urged his supporters to send them in due to the COVID-19 pandemic.
Analysts accurately predicted that it could take days to count them all, which could lead some states to initially look like victories for Trump but ultimately shift to Biden as votes were tallied.
"Last night I was leading, often solidly, in many key States, in almost all instances Democrat run & controlled," Trump tweeted early Wednesday. "Then, one by one, they started to magically disappear as surprise ballot dumps were counted."
Twitter labeled the tweet as potentially "misleading about an election or other civic process," a slap on the wrist that did nothing to deter the president's later attacks.
Times staff writers Seema Mehta in Detroit, James Rainey in Milwaukee, Michael Finnegan in Philadelphia and Jennifer Haberkorn in Washington contributed to this report.
Get our Essential Politics newsletter
The latest news, analysis and insights from our politics team.
You may occasionally receive promotional content from the Los Angeles Times.