Biden to boost winter pandemic protections as Omicron arrives in the U.S.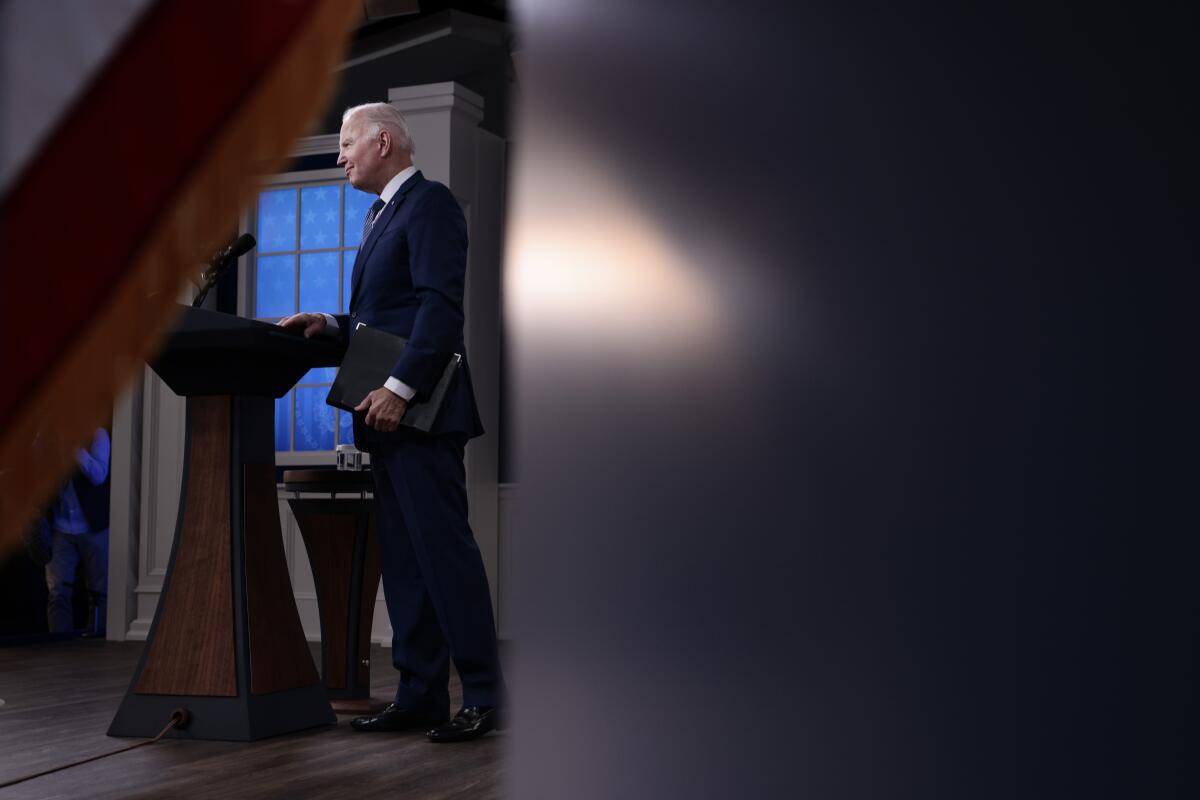 WASHINGTON —
As winter approaches and the Omicron variant rattles the globe, President Biden will announce expansive plans to increase the country's defenses against the coronavirus, including a campaign to convince Americans to get booster shots and a requirement that insurance companies cover the cost of home tests.
Biden's plans, which he is expected to unveil Thursday at the National Institutes of Health, do not include new restrictions on businesses or domestic travel. However, international visitors will be required to get coronavirus tests one day before boarding their flights to the U.S., rather than three days ahead.
In addition, Biden will extend the requirement to wear masks on public transit such as trains and airplanes until March 18.
The president's announcement comes a day after the first U.S. case of Omicron was confirmed in California. The patient had returned to San Francisco from South Africa on Nov. 22, two days before that country reported the existence of the variant to the World Health Organization.
Omicron's impact on the COVID-19 pandemic will depend on a variety of factors that will take days to weeks for scientists to untangle.
The WHO swiftly labeled Omicron as a "variant of concern" and suggested that, as a highly mutated version of the coronavirus, it could pose a "very high" risk of sparking new outbreaks.
Scientists, however, are still studying whether it is more contagious, more virulent or more resistant to vaccines than the variants already in circulation.
Biden has insisted the U.S. is prepared for Omicron, attempting to reassure Americans who might be frightened or simply fatigued by a pandemic that has lasted nearly two years.
"We'll fight this variant with science and speed, not chaos and confusion," he said Wednesday.
Pharmaceutical companies are examining whether new vaccines could be needed to defend against Omicron, but public health officials said they expect the current vaccines will still provide protection against severe disease.
"Get boosted now. We may not need a variant-specific boost," said Dr. Anthony Fauci, Biden's top medical advisor for the pandemic, at a White House briefing on Wednesday.
Roughly 100 million Americans have not yet received a COVID-19 vaccine booster despite being eligible, meaning it's been at least six months since their second Pfizer-BioNTech or Moderna vaccine, or two months since a Johnson & Johnson shot.
Biden plans to announce that pharmacies will reach out with text messages, calls and emails to encourage people to get their boosters and to help them schedule appointments.
The administration is also working with AARP on an education campaign to encourage seniors to get their booster shots and to provide them rides to appointments.
And more steps are being taken to prod people to get their initial shots. Hundreds of family vaccination clinics are being organized in hopes of providing a convenient way for children and their parents to get vaccinated at the same time.
Under Biden's plan, private insurance companies will be required to cover the cost of future home tests. Americans who previously purchased home tests should not expect reimbursement, according to one of the senior administration officials who requested anonymity to discuss details of the plan before Biden's announcement.
An additional 50 million home tests will be distributed to community health centers and rural clinics, where they will be available at no charge to people without insurance.
The emergence of the Omicron variant is a reminder of the dangers posed by the coronavirus' uncontrolled spread, which allows new mutations to develop. Biden has already pledged 1.2 billion vaccines to the global inoculation effort, with 275 million doses delivered so far. He plans to accelerate the process by having 200 million doses delivered in the next 100 days.
Although it remains unclear how damaging Omicron might be, the U.S. has already experienced destructive versions of the coronavirus. The Delta variant, which was first detected in India, has caused a surge in deaths this year, prolonging a pandemic that Americans had believed was on the verge of ending.
After the WHO raised alarms about Omicron, Biden quickly halted travel from South Africa and other countries in the region. The U.S. Centers for Disease Control and Prevention has asked airlines to provide lists of passengers who arrived before the ban to help with contact tracing.
J. Stephen Morrison, director of the Global Health Policy Center at the Center for Strategic and International Studies, said Biden's plans send a signal that Omicron could be a serious threat.
As expected, the Omicron coronavirus variant, first detected last month, has reached the U.S., with the first case found in California.
"What's the broader psychological and political message that this is conveying to the American people?" Morrison said, noting that the U.S. was already facing a challenging winter. "This is trying to convey that we are in a dangerous and very difficult situation, and hopefully that motivates people to get vaccinated and to get a booster."
Public health officials said that the California patient who tested positive for Omicron had been fully vaccinated — but not whether that included a booster shot — and that the patient had mild symptoms that are improving. They said people who came in close contact with the patient have been contacted and have tested negative.
Fauci said he wasn't surprised by Omicron's arrival in the United States.
"We knew that it was just a matter of time," he said.
Before the California case was announced on Wednesday, Biden spoke from the White House about how his administration had worked to untangle supply chains that became snarled during the pandemic. He said Americans should not be concerned about encountering empty shelves during the holiday season.
"For the vast majority of the country, that's not what's happening," he said.
However, it's possible that the Omicron variant might extend the supply chain issues. New outbreaks overseas could slow down manufacturing operations or shipping.
"The jury is still out," Biden said. "But am I concerned? Of course I am."
Get our Essential Politics newsletter
The latest news, analysis and insights from our politics team.
You may occasionally receive promotional content from the Los Angeles Times.