Rep. Barbara Lee kicks off Senate campaign to replace Feinstein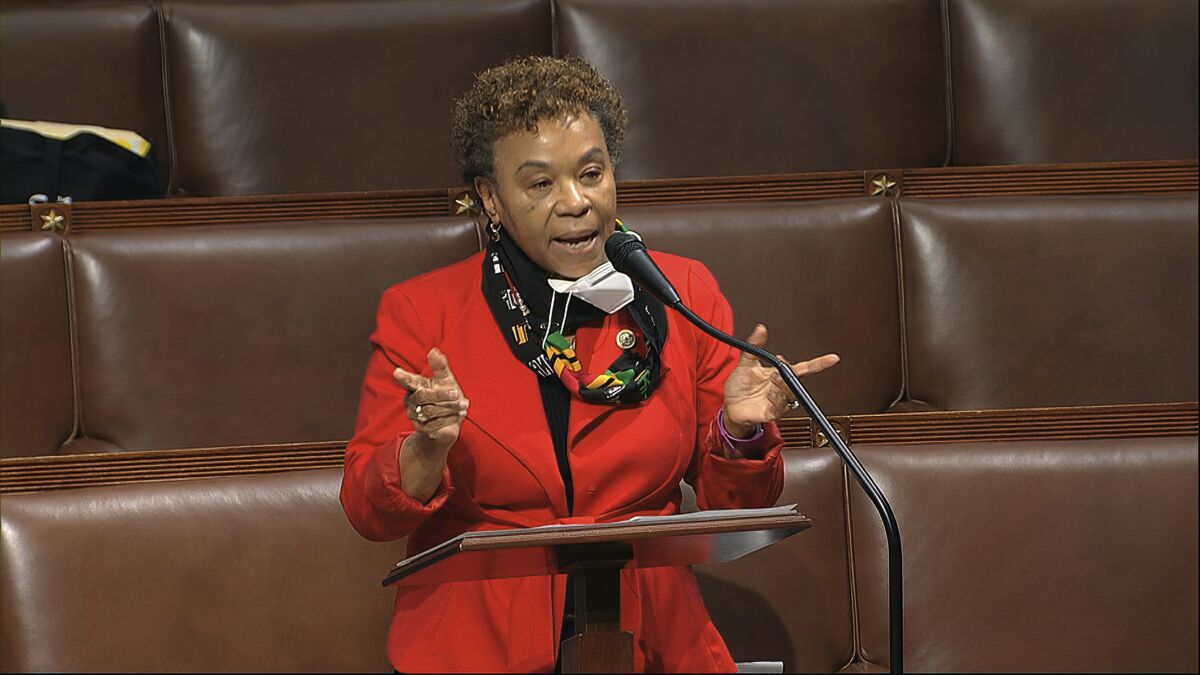 Rep. Barbara Lee, a longtime favorite of liberal Democrats, confirmed Tuesday that she is running for the U.S. Senate seat being vacated by retiring Sen. Dianne Feinstein.
"I think given the challenges that California faces, that our country faces, now is the time for someone like myself who has been a fighter and a champion for people who have no voice who really need a voice," Lee said in an interview after launching her campaign with an online video.
In her video and interview, she said her background, such as being a young single mother on public assistance and a domestic violence survivor, had informed her approach to legislation.
"It connects with voters, with people who have these challenges each and every day," she said. "And it's important to have representation from every background. My lived experience and the work I've done — trying to lift people out of poverty, addressing issues around reproductive justice, the climate crisis, public safety, and working to get the job done on behalf of people — is what the Senate needs at this point."
The announcement by the veteran Oakland politician, 76, was not surprising; she told the Congressional Black Caucus last month that she planned to run for the seat, and filed paperwork creating a Senate fundraising committee last week.
Democratic Rep. Barbara Lee of Oakland, a seasoned progressive with more than three decades immersed in California politics, on Wednesday told congressional colleagues she plans to run for Sen. Dianne Feinstein's Senate seat in 2024.
Lee's political activism dates back more than half a century. She worked on the 1972 presidential campaign of Shirley Chisholm, the first Black congresswoman, and on Black Panther Party co-founder Bobby Seale's mayoral race in Oakland the following year.
After serving in the California Legislature, Lee was elected to Congress in 1998. She gained notoriety as the sole member of Congress to vote against giving President George W. Bush authorization to use military force after the Sept. 11, 2001, terrorist attacks. More than two decades later, the concerns she expressed then are echoed by politicians on both sides of the aisle.
Although unsuccessful in past efforts to join House Democratic leadership, Lee has led the congressional Black and progressive caucuses.
Sen. Dianne Feinstein is not seeking reelection. Here are the candidates and potential candidates running to replace her as a California senator.
Lee will face challenges in what is expected to be a highly competitive race that already includes Democratic Reps. Adam B. Schiff of Burbank and Katie Porter of Irvine, who are among the top fundraisers in Congress. Lee has easily won reelection because of her district's overwhelming Democratic tilt.
"She hasn't been great at fundraising, and part of the reason is she hasn't really had to," noted Kim Nalder, a political science professor at Sacramento State. "I don't think that necessarily means she won't be a better fundraiser for this race. Nevertheless, she starts at a disadvantage fundraising-wise, and this is a very expensive state to run in."
To boost Lee's financial backing, prominent strategists last week launched the super PAC She Speaks for Me, which can accept unlimited donations.
"The idea is to help level the playing field for someone who hasn't had to raise huge amounts in the past for her races locally and doesn't have the war chest that her opponents have," said Brian Brokaw, an advisor to the political action committee.
Brokaw and Dan Newman, another longtime Bay Area Democratic operative who is leading the outside effort, have extensive ties with donors focused on criminal justice reform who could be key to boosting Lee's prospects, particularly against Schiff, a former federal prosecutor who faced criticism from reform groups in 2021 when he was being considered as a potential appointee for attorney general.
Brokaw has worked on multiple campaigns with Patricia Quillin, the wife of billionaire Netflix leader Reed Hastings. Quillin, who shuns the spotlight, spent millions to fight a proposition that would have reclassified some misdemeanors as felonies, to support a ballot measure that would have reinstated affirmative action in California, and to support the election of George Gascón as Los Angeles County district attorney in a race that was viewed as a referendum on law enforcement reform.
Quinn Delaney, founder and board chair of a foundation in Oakland focused on racial justice issues, has also donated millions to campaigns that Brokaw and Newman had roles in, including those to repeal California's ban on affirmative action, support changes to criminal sentencing and support Kamala Harris' 2020 run for president.
A question, one that few discuss openly, is Lee's age and whether voters will replace Feinstein, an octogenarian, with a septuagenarian.
Lee attempted to stymie this argument by telling supporters she would serve only one term, a gambit reported by the San Francisco Chronicle that puzzled many, including her supporters. Lee has denied making such a pledge in interviews, and pushed back against questions about her age in her three-minute campaign announcement video, posted online early Tuesday morning.
"For those who say my time has passed, well, when does making change go out of style? I don't quit. I don't give up. Come on. That's not in my DNA," Lee said. "Because when you stand on the side of justice, you don't quit. If they don't give you a seat at the table, you bring a folding chair for everyone."
Her backers say that ageist arguments are insulting given the congresswoman's decades of service and the number of seniors leading the nation, notably President Biden, 80.
In recent history, candidates from the San Francisco Bay Area have been much more successful than Southern Californians in being elected to California's premiere statewide political posts, among them Vice President Kamala Harris — previously elected as state attorney general and then to the U.S. Senate — Gov. Gavin Newsom, former Gov. Jerry Brown, Feinstein and former Sen. Barbara Boxer.
The region's dominance is partly driven by its concentration of liberal voters and its high voter turnout, even though it's less populous than Southern California, said San Francisco Democratic consultant Eric Jaye. The state's liberal voters will prioritize race and gender, and broadsides about Lee's age would backfire, he said.
"We're in an era where representation is frequently the most important criterion as we choose leaders," Jaye said. "If you put together the votes from Northern California and African American votes statewide, and you add to that progressives who remember her vote on the Iraq war, she's got a lane."
Life is stressful. Our weekly mental wellness newsletter can help.
You may occasionally receive promotional content from the Los Angeles Times.