Live
Washington and world await Trump decision today on Paris climate accord
Here's our look at the Trump administration and the rest of Washington
Boy Scouts: Top leaders didn't call Trump to praise speech as the president said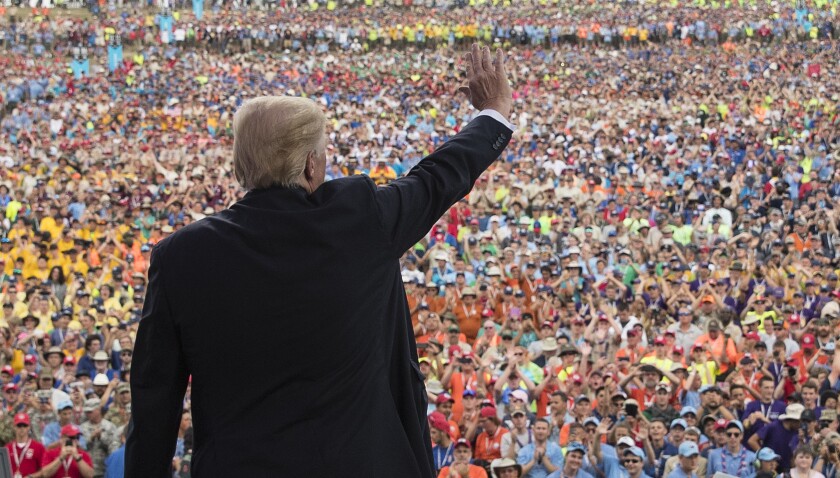 The Boy Scouts denied Wednesday that the head of the youth organization called President Donald Trump to praise his recent politically aggressive speech to its national jamboree.
Trump told the Wall Street Journal in an interview published Wednesday, "I got a call from the head of the Boy Scouts saying it was the greatest speech that was ever made to them, and they were very thankful." Politico published the transcript of the interview.
"We are unaware of any such call," the Boy Scouts responded in a statement. It specified that neither of the organization's two top leaders — President Randall Stephenson and Chief Scout Executive Mike Surbaugh — had placed such a call.
The White House had no immediate response to the Boy Scouts' denial.
Surbaugh apologized last week to members of the scouting community who were offended by the political rhetoric in Trump's July 24 speech in West Virginia.
Other U.S. presidents have delivered nonpolitical speeches at past jamborees. To the dismay of many parents and former scouts, Trump promoted his political agenda and derided his rivals, inducing some of the scouts in attendance to boo at the mention of former President Obama.
"I want to extend my sincere apologies to those in our Scouting family who were offended by the political rhetoric that was inserted into the jamboree," Surbaugh said. "That was never our intent."
Surbaugh noted that every sitting president since 1937 has been invited to visit the jamboree.
Stephenson told the Associated Press two days after the speech that Boy Scout leaders anticipated Trump would spark controversy with politically tinged remarks, yet felt obliged to invite him out of respect for his office.
Hoping to minimize friction, the Boy Scouts issued guidelines to adult staff members for how the audience should react to the speech. Any type of political chanting was specifically discouraged.
Stephenson, who did not attend Trump's speech, said the guidance wasn't followed impeccably.
Mayor of London again calls on Trump to cancel state visit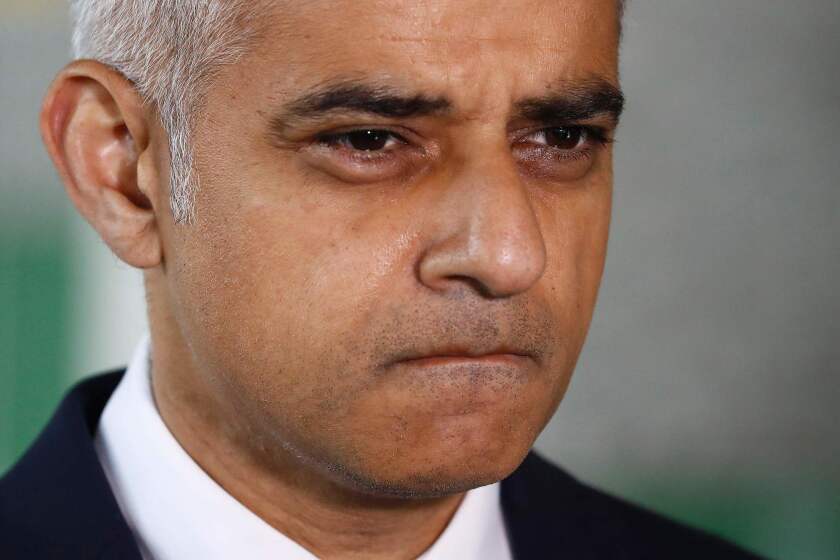 The mayor of London has reiterated his calls for President Trump's state visit to Britain to be canceled in the wake of the city's terrorist incident, saying his policies "go against everything we stand for."
The war of words between the two leaders intensified further Monday evening after Trump criticized Mayor Sadiq Khan's response to the London Bridge terrorist attack in two tweets, and the mayor said Trump should not be welcomed in the capital.
"Since Saturday I've been working with the police, with the emergency services, with the government and others to deal with the horrific attack on Saturday," Khan said Monday evening. "I just haven't got the time to deal with tweets from Donald Trump."
But when pressed on whether he thinks a state visit for later this year should go ahead as planned, Khan was unequivocal.
"My position remains the same. I don't think we should be rolling out the carpet to the president of the United States in the circumstances where his policies go against everything we stand for," Khan told Channel 4 news.
"When you have a special relationship, it is no different to when you have a close mate: You stand with them in times of adversity, but you call them out when they're wrong. And there are many things about which Donald Trump is wrong."
Trump initially criticized Khan hours after the London attack posting on Twitter: "At least 7 dead and 48 wounded in terror attack and Mayor of London says there is 'no reason to be alarmed!'"
Khan's office soon pointed out that the president had, in fact, misquoted Khan, who actually said that Londoners should not be alarmed by the increased armed police presence on the streets.
Trump took to Twitter again on Monday to slam the London mayor once more.
"Pathetic excuse by London mayor Sadiq Khan, who had to think fast on his 'no reason to be alarmed' statement. MSM [Mainstream media] is working hard to sell it!" the president wrote.
This is not the first time Khan, the first Muslim mayor of a major Western capital city, has called for Trump's state visit to be banned.
He previously branded Trump's policies on immigration and proposed travel ban on people entering the U.S. from predominantly Muslim countries "cruel."
An online government petition calling for the invitation to be withdrawn also gathered more than 1.8 million votes.
The visit was first announced during Prime Minister Theresa May's trip to Washington, where she became the first foreign leader to meet the newly-inaugurated president.
State visits are personal invites from the British monarch and involve a significant amount of pomp and ceremony, and usually a state banquet.
He helped bring down President Nixon. He thinks President Trump is even worse.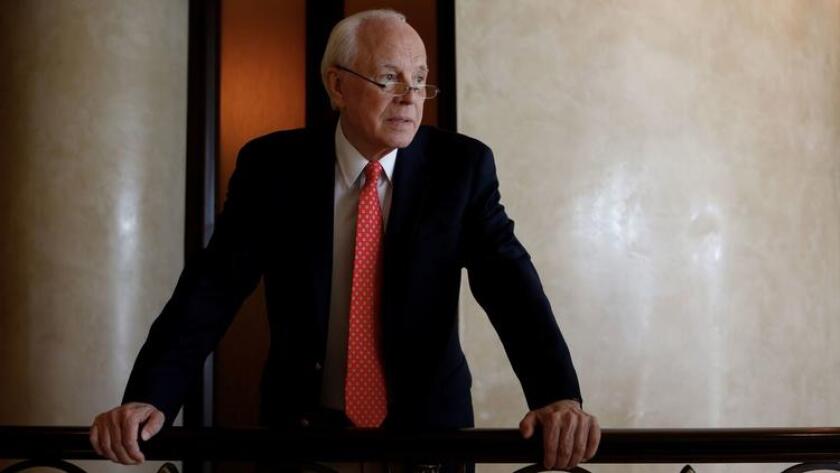 John Dean is a connoisseur of coverups, a savant of scandal, so he can more than imagine what it's like inside the Trump White House right now.
"It's a nightmare," he said, presiding in a high-backed leather wing chair off the lobby of the Beverly Hills Hotel. Not just for those in the headlines — political strategist Steve Bannon, jack-of-many-duties Jared Kushner — but for their unsung assistants and secretaries as well.
"They don't know what their jeopardy is. They don't know what they're looking at. They don't know if they're a part of a conspiracy that might unfold. They don't know whether to hire lawyers or not, how they're going to pay for them if they do," Dean said in a crisp law-counsel cadence. "It's an unpleasant place."
Dean was a central figure in Watergate, the 1970s political scandal against which all others are measured, serving at the tender age of 32 as President Nixon's White House attorney. In that capacity Dean worked to thwart investigators after the clumsy break-in at Democratic Party headquarters, then flipped and helped sink Nixon by revealing the president's involvement in the coverup.
Two decades ago, Washington state Republicans repealed and replaced a healthcare overhaul there. It didn't end well
Republicans in the state of Washington didn't wait long in the spring of 1995 to fulfill their pledge to roll back a sweeping law expanding health coverage in the state.
Coming off historic electoral gains, the GOP legislators scrapped much of the law while pledging to make health insurance affordable and to free state residents from onerous government mandates.
It didn't work out that way: The repeal left the state's insurance market in shambles, sent premiums skyrocketing and drove health insurers from the state. It took nearly five years to repair the damage.
Two decades later, the ill-fated experiment, largely relegated to academic journals, offers a caution to lawmakers at the national level as Republicans in the U.S. Senate race to write a bill to repeal and replace the federal Affordable Care Act.
"It's much easier to break something," said Pam MacEwan, who led a Washington state commission charged with implementing the law in the mid-1990s and now oversees the state insurance market there. "It's more difficult to put Humpty Dumpty back together again. … And that's when people get hurt."
The nonpartisan Congressional Budget Office echoed that warning last week, when it concluded that the healthcare bill passed by the House last month would destabilize insurance markets in a sixth of the country and nearly double the number of people without health insurance over the next decade.
Companies accelerate hiring, adding a robust 253,000 net new jobs, ADP says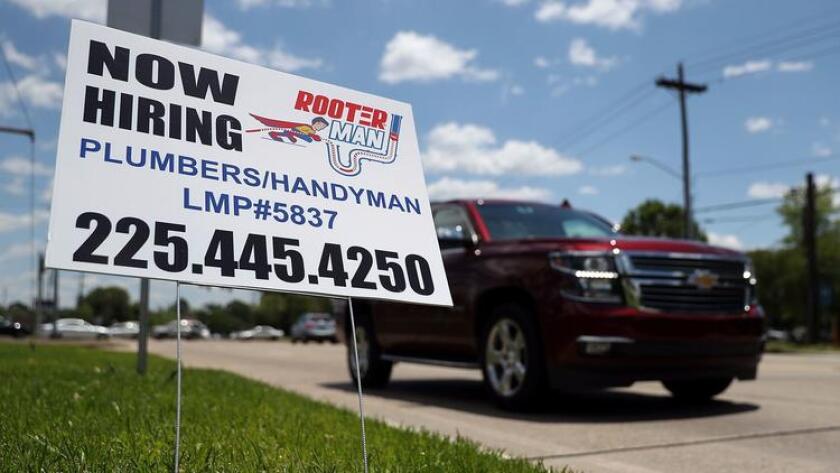 Companies accelerated their hiring last month, adding a robust 253,000 net new jobs in a sign the labor market remains healthy and the economy is strengthening after a weak winter.
The private-sector job creation figures reported Thursday by payroll firm Automatic Data Processing far exceeded analyst expectations and was well above the downwardly revised 174,000 net new positions added in April.
"Job growth is rip-roaring," declared Mark Zandi, chief economist at Moody's Analytics, which assists ADP in preparing its report.
Trump to announce decision today on climate pact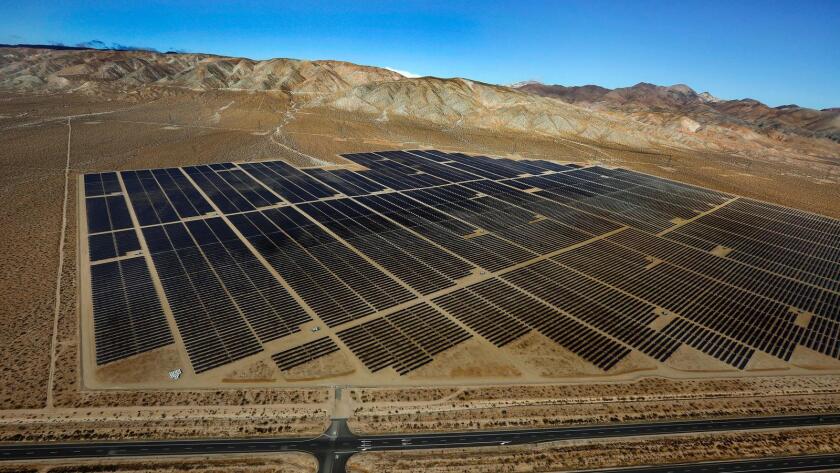 President Trump plans to bring weeks of indecision over climate change policy to a close this afternoon, announcing if he will withdraw the U.S. from the international agreement on climate change reached in Paris in 2015.
Read our coverage of the debate leading up to today's announcement:
The choice for Trump appears to be whether to quit the treaty entirely or stay with it but significantly scale back the U.S. commitment to combat global warming.
The debate has split Trump's advisors for months. He has also been heavily lobbied by other leaders, from the pope to California Gov. Jerry Brown, who weighed in Wednesday in an interview.
U.S. diplomats have been making clear to their foreign counterparts that the Trump administration believes that economic growth at home is a higher priority than fighting climate change.
But a large number of business leaders believe that the climate change agreement is good for the economy. They and their allies in the Republican Party have been making that case to the White House.
Regardless of what Trump decides, California and other states with Democratic majorities have made clear that they intend to continue state policies to combat climate change.
California leaders, in particular, have been taking the lead in building international support for efforts to convert to renewable energy and reduce use of coal and other fossil fuels.
All jokes aside, Trump's 'covfefe' tweet sparks questions too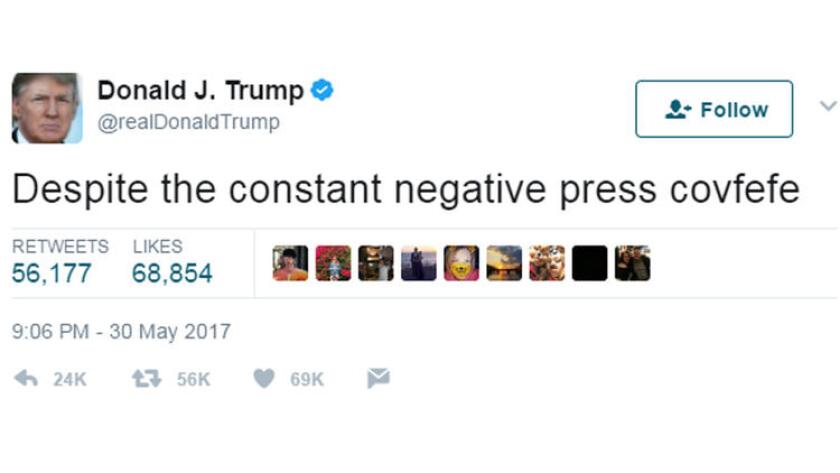 President Trump sparked a global kerfuffle over "covfefe" with his bizarrely truncated tweet just minutes into Wednesday, spawning countless jokes across Twitter but also more serious questions for which the White House gave no answers.
Press Secretary Sean Spicer, during an unusually short 11-minute briefing in which he insisted he not be on camera, declined to give any explanation for Trump's tweet posted just after midnight. Nor would he translate what the president was trying to say in the garbled message that broke off midsentence.
But Spicer told reporters that the public should not be concerned that the president sent what the questioner called "somewhat of an incoherent tweet."
"The president and a small group of people know exactly what he meant," Spicer said.
Biden launches new PAC, keeping the 2020 door open
Former Vice President Joe Biden is launching a new political action committee, a platform that will allow him to provide help to favored candidates and, inevitably, boost speculation about a possible run for the Democratic nomination in 2020.
The organization, which Biden is calling American Possibilities, will be staffed by a former top political aide to the vice president, Greg Schultz, who is also a veteran of President Obama's reelection campaign.
The PAC will allow Biden to raise money that he can use to travel the country, contribute to candidates in governor's races this year and congressional and state races in 2018 and generally do the sorts of things that aspiring politicians do to keep their names in the headlines.
All that can't help but nurture questions about whether Biden, 74, will try yet again to attain the office he first started running for in 1987.
In public appearances, which have taken him to electorally important states, and interviews since the 2016 election, Biden has been sharply critical of the Trump administration, but has also pointed to flaws in his own party. In one interview, he pointed to a "bit of elitism that's crept in" to the party's approach to working-class voters.
At the same time, he has given carefully ambiguous answers when asked about his plans. At a conference in Las Vegas earlier this month, he responded to the question about a presidential run by saying: "Could I? Yes. Would I? Probably not."
In the announcement for the new group, Biden said that "the negativity, the pettiness, the small-mindedness of our politics drives me crazy. It's not who we are."
"It's time for big dreams and American possibilities," he said.
U.S., region's foreign ministers debate Venezuela
The United States and foreign ministers from across the hemisphere met in Washington on Wednesday to attempt to force Venezuela's leftist government and its angry opposition into talks.
Hunger and violence have pushed Venezuela to the brink of humanitarian disaster, diplomats say.
But Wednesday's meeting of the Organization of American States faced unlikely prospects for success: Venezuelan President Nicolas Maduro does not trust the organization and has said his nation will withdraw its membership.
Some OAS nations, including several U.S. allies in the Caribbean, have criticized the regional body's efforts as intervention promoted by Washington.
But U.S. officials are hoping the sheer weight of the crisis will unite the region to put pressure on Venezuela.
"There's more and more concern about what we're seeing, and so more and more countries have gotten over their reluctance to question or go against the wishes of the Venezuelan government," a senior State Department official said in a briefing for reporters.
"It's really hard to stand by and do nothing in the face of the kinds of institutional steps we've seen in Venezuela, and the increasing humanitarian suffering," said the official, who spoke on condition of anonymity, in keeping with frequent administration practice.
Although the OAS periodically brings its members' foreign ministers together, this is the first time a meeting has been convened to deal with a single topic, U.S. officials said.
At the conclusion of Wednesday's session, diplomats said they had discussed two resolutions. One, promoted by Caribbean nations, called on Venezuela to reconsider withdrawing from the OAS.
A second more pointed resolution authored by the U.S., Canada, Mexico, Panama and Peru urged the Maduro administration not to go ahead with a constituent assembly that would rewrite the Venezuelan constitution. Many fear it would dissolve the few democratic institutions that remain and favor the ruling Socialist Party.
Separately, the Venezuela opposition, emboldened by a string of increasingly massive street demonstrations, sharply criticized Wall Street for extending what it called a "lifeline" to the Maduro government.
At issue is the purchase by Goldman Sachs of Venezuelan government bonds for a reported $865 million, a major discount for paper originally worth $2.8 billion.
Goldman Sachs confirmed the purchase of the bonds, issued in 2014 by the state oil company PDVSA, after it was reported in the Wall Street Journal.
"We are invested in PDVSA bonds because, like many in the asset management industry, we believe the situation in the country must improve over time," Goldman said in a statement. The firm added that it made the purchase through a secondary dealer to avoid direct interaction with the Venezuelan government.
That distinction meant nothing to the Venezuelan opposition, which accused Goldman of "making a buck off the suffering" of the Venezuelan people.
The Trump administration previously has targeted the Maduro government, slapping economic sanctions on its vice president and pro-Maduro Supreme Court justices.
Former FBI director spoke with new special counsel and is cleared to testify before Senate panel
The special counsel investigating possible links between Russia and the Trump presidential campaign has cleared former FBI Director James Comey to testify before a congressional committee about his contacts with President Trump, according to an associate close to Comey.
Comey met with Robert S. Mueller III, whom the Justice Department appointed on May 17 to investigate any Russian ties to the Trump campaign, and Mueller said he had no problems with Comey's testifying, the associate said.
Trump abruptly fired Comey as head of the FBI on May 9. The president later said in an interview on NBC News that he was concerned about the FBI investigation into what he called the "Russia thing."
Comey reportedly wrote internal memos after his meetings with Trump. In one, he wrote that the president had requested he ease up on the FBI probe of Michael Flynn, who served as Trump's national security advisor until he was ousted in February for lying about his contacts with Russian officials.
The Senate Intelligence Committee announced on May 19 that Comey had agreed to testify after the Memorial Day holiday. The hearing has not been scheduled.
The FBI separately declined a request from the House Oversight Committee to turn over Comey's memos. The bureau said it would need to consult with Mueller before making any decisions.
Rep. Jason Chaffetz (R-Utah), the committee chairman, said in response that he would not push the matter.
"The focus of the committee's investigation is the independence of the FBI" and the events leading to Comey's firing, he wrote.
In a separate development, a senior Justice Department lawyer with experience in complex financial fraud investigations has agreed to join Mueller's investigation.
Andrew Weissman has led the fraud section at Justice, where he oversaw probes into corporate wrongdoing at Volkswagen and Takata. Weissman also is a veteran of the FBI.
Weissman is the highest-ranking Justice Department official to join the special counsel office being set up a few blocks from the main Justice building in downtown Washington.
Mueller also hired two colleagues from the WilmerHale law firm, where he worked, and brought on a former Justice Department spokesman, Peter Carr, to handle media inquiries.
Analysis: In President Trump's wake, divisions mark both Democratic and Republican parties
Six months after President Trump breached long-standing political boundaries to win the White House, the nation's major political parties still muddle in his wake.
On the sun-swept lawn of the Hotel del Coronado two weeks ago, national Republican leaders sipped cocktails and listened to San Diego Mayor Kevin Faulconer, one of the party's brightest lights in the most populous state, praise a brand of moderate Republicanism that looks nothing like the versions coming out of Washington — either the populism of the president or the more orthodox conservatism of congressional leaders.
A week later, Democratic National Committee Chairman Tom Perez talked in a Sacramento interview of the "remarkably constructive" debate underway in his party, characterizing its divisio