CDC recommends masks indoors in U.S. where cases are surging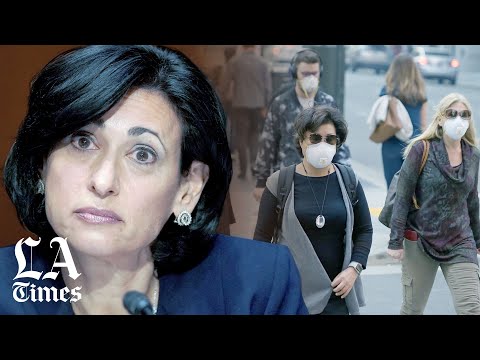 The CDC is expected to recommend that even vaccinated people wear masks indoors in parts of the U.S. where the coronavirus is surging.
In a move that mirrors a reversal in the nation's pandemic recovery, the U.S. Centers for Disease Control and Prevention on Tuesday recommended a return to indoor masking in public settings even for vaccinated Americans in places experiencing "substantial" or "high" coronavirus transmission rates.
The CDC also signaled that schools should implement universal face-covering policies for students and teachers regardless of their vaccination status.

For the record:
9:33 a.m. July 28, 2021An earlier version of this article said the CDC's new indoor mask guidance applied to counties where infection rates surpass 50 new cases per day per 100,000 residents. The threshold is more than 50 new cases per week per 100,000 residents.
The recommendations apply to counties where infection rates are higher than 50 new cases per week per 100,000 residents. That currently applies to roughly two-thirds of the nation's counties, some of which have seen infection rates surpass 300 new cases per 100,000 people.
Los Angeles County is one of them, according to the CDC's COVID Data Tracker. County health officials instituted a universal indoor mask mandate 10 days ago in an attempt to reverse an alarming increase in infections.
The federal turnabout comes just 10 weeks after the CDC declared it was safe for fully vaccinated Americans to stop wearing masks in most indoor settings. It reflects rising concern that the highly transmissible Delta variant is not only spreading rapidly among the unvaccinated but is also capable of being spread by immunized people who experience so-called breakthrough infections.
"This is not a decision we have made lightly," said Dr. Rochelle Walensky, director of the CDC. She cited "new science" showing that the Delta variant "behaves uniquely different from past strains" in its ability to spread among vaccinated and unvaccinated people.
Those data, collected since January 2021, have not yet emerged from the CDC or the labs it works with. Instead, Walensky said, she is relying on research that has found that viral loads in some vaccinated people with asymptomatic Delta infections "are quite similar" to those of infected people who have not been vaccinated. Viral loads are a reliable proxy for a person's ability to transmit the virus.
Medical and public health experts who have seen the emerging evidence "universally said this required action," Walensky said, adding that she reluctantly agreed.
"I know this is not a welcome piece of news," Walensky said. "Not only are people tired, they're frustrated."
President Biden learned of the new guidance on Tuesday morning, when he was briefed on the matter by Dr. Anthony Fauci, the nation's leading infectious disease doctor, according to White House Press Secretary Jen Psaki.
Psaki defended public health officials for changing their guidance on masking "based on evolving data."
"That's what they should be doing," she said.
Rules and guidance about face masks have changed throughout the pandemic. Here's how the CDC's advice has evolved.
The CDC's new guidance comes amid the nation's fifth substantial upturn in coronavirus infections since the SARS-CoV-2 virus began its spread across the nation in March 2020.
In the last week, the country has seen close to 58,000 new infections reported daily, and more than 80% of those cases are thought to be caused by the Delta variant.
Those infections are overwhelmingly reported in people who have not been vaccinated with any of the three COVID-19 vaccines authorized for emergency use in the U.S. Compared with the more than 163 million Americans who are fully vaccinated, those who are unvaccinated are thought to be seven times more likely to develop COVID-19 symptoms and 20 times more likely to be hospitalized with the disease or die.
The CDC's early efforts to track infections in fully vaccinated people suggest that breakthrough cases are rare. But they can be serious: As of July 19, 5,914 patients from 49 states have been hospitalized or died despite being vaccinated.
Tracking asymptomatic breakthrough infections is a more difficult task, because vaccinated people who are not sick probably would not be tested. That makes it challenging to gauge how often people with breakthrough infections might spread the virus to others.
While reports of fully vaccinated people occasionally getting the coronavirus may sound alarming, the shots dramatically reduce severe disease and death.
Walensky said the CDC is closely tracking 10 large study populations of healthcare professionals, essential workers and residents of long-term residential care facilities to glean how common such transmission events are. That data will be released soon, she promised.
She said the new mask recommendations were particularly important in circumstances under which vaccinated people are in contact with others who are medically fragile or have compromised immune systems. In areas where transmission rates are substantial, for instance, relatives visiting loved ones in nursing homes should consider covering their faces.
"Part of this guidance is to make sure we can protect" these vulnerable people, she said.
Also potentially vulnerable are millions of children who will return to classrooms in a matter of weeks without the protection of vaccines. The Food and Drug Administration has not yet authorized any COVID-19 vaccines for children younger than 12. And to date, fewer than 3% of adolescents who are eligible for the Pfizer-BioNTech vaccine have received both doses.
Still, the recommendations that most students and their teachers wear face coverings regardless of their vaccination status is likely to be deeply unpopular in districts across the country. In California, a universal mask mandate for schools quickly became a political hot potato.
State health officials are reviewing federal guidance that residents who are vaccinated should resume wearing masks in indoor public settings.
When the CDC withdrew its indoor mask recommendation for fully vaccinated people in mid-May, new infections were running at about 36,000 cases per day nationwide and more than 2.2 million Americans were getting COVID-19 shots daily. Public health officials hoped that the prospect of going maskless would induce vaccine holdouts to roll up their sleeves.
It didn't work. New vaccinations continued a downward trend in late May and have plateaued across the country since early July. As of Tuesday, only 49.2% of Americans are fully vaccinated, fewer than 500,000 people are being vaccinated per day, and resistance to the shots among those who have held out has hardened.
Biden may try to nudge those numbers upward by using his powers as chief executive to require all federal workers and contractors to either get vaccinated or submit to regular coronavirus testing, a more onerous prospect.
The CDC's recommendations are advisory, so state and local authorities are not compelled to adopt or reinstate mask mandates. But they do reflect concern on the part of federal public health officials that the Delta variant's untrammeled spread will thwart their efforts to bring the pandemic to a close.
Eight states, including California, Nevada, Washington and New York, require unvaccinated people to wear face coverings in most indoor settings. In several states, including Arkansas, Florida, Missouri, Tennessee and Texas, governors or legislatures have barred local authorities from instituting mask rules on their own.
The Delta variant of the coronavirus has taken on a decidedly American feel, mainly targeting those who just won't get vaccinated.
Walensky acknowledged the limits of the CDC's powers in the face of stiff political opposition.
"It's always a personal choice as to whether someone wears a mask," she said, and those who choose not to do so should not be stigmatized.
David Tannenbaum, a health messaging expert at the University of Utah, said that appealing to people's desire to protect others is a better strategy than shaming.
Health officials "should always be focusing on the idea that getting vaccinated is not just a personal choice," but something done to protect loved ones and the community, he said. "That's hopefully more motivating to people."
Pressed Tuesday on whether Americans will feel "whiplash" from changing recommendations, Psaki said the administration was acting "to save lives."
"We're not saying that wearing a mask is convenient, or people feel like it," Psaki said. "But we're telling you that's the way to protect yourself, protect your loved ones, and that's why the CDC is issuing this guidance."
The new guidelines have already had an impact in the corridors of power.
The District of Columbia has been designated a place of substantial transmission. As a result, the White House is requiring all visitors and employees to wear masks inside the building. Biden is expected to follow suit.