Comedian Brian Regan brings his view of life to Segerstrom Center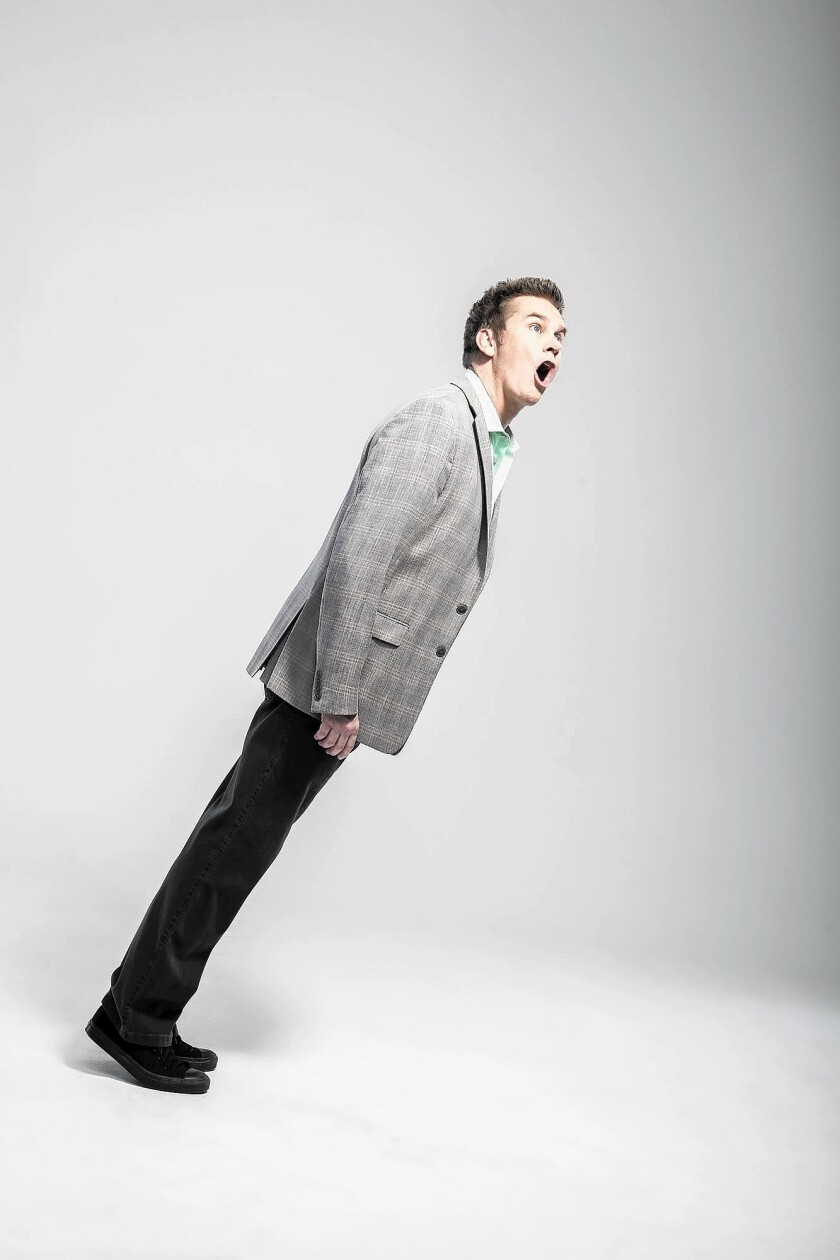 Comedian Brian Regan has a pre-show ritual. He looks down at his feet.
"I always retie my shoes because there's nothing more awkward than walking onstage with a lace untied and looking like a buffoon," Regan said. "I should just start wearing Velcro shoes."
Regan plans to deliver observational and self-deprecating humor — from remarking on foreign policy to sharing stories about his childhood — Saturday at the Segerstrom Center for the Arts.
Growing up with seven brothers and sisters, Regan would entertain the family by putting on plays and shows in the living room.
"With a bunch of siblings, I'd ask them to play roles," he said. "That was my start in show business."
Since his days of entertaining an audience of nine, he has enjoyed a decade of selling out theaters and has made a record 28 appearances on the "Late Show with David Letterman."
With his first appearance on Letterman in 1995, Regan won over peers with material that was relatable to a wide audience. One of them, Jerry Seinfeld, asked Regan to appear on his comedy series, "Comedians in Cars Getting Coffee."
But it's stand-up, Regan said, that is his focus, and he enjoys visiting new locations to share his insights and observations.
He takes new material to more than 100 cities each year. The Costa Mesa stop is in the middle of Regan's California run, which will be followed by shows in Pennsylvania, New York, Virginia, Florida and other states. The tour will finish at the end of the year..
One stretch will have him performing in five cities in five nights.
His teenage son and daughter will help him on that run.
"I think they're funny," he said. "They make me laugh, and it's good having them on the road."
It's a full schedule for the 57-year-old Las Vegas resident, who has scheduled several promotional radio and television appearances from coast to coast during the tour.
Though it's his first performance at Segerstrom, Regan said he has been to Orange County several times; he once lived in Los Angeles.
Regan, who made a cameo in the Chris Rock film "Top Five," has released two hourlong television specials, two CDs and three DVDs.
His first one-hour special for Comedy Central, "Brian Regan: Standing Up," ran in 2007. It was filmed at the Barclay Theatre in Irvine.
And his self-released DVD special "Brian Regan: I Walked on the Moon" was filmed at the Irvine Improv.
"I love performing anywhere and everywhere because I like the feeling of running on virgin snow and feeling that crunch," he said during a phone interview. "Sorry, it's hard for me to speak normally."
Regan is currently gearing up for the live broadcast of "Brian Regan: Live," from Radio City Music Hall on Sept. 26. It will be the first live broadcast of a stand-up special in Comedy Central history.
"I try to keep my options open," he said. "I try not to paint myself in a corner. I like to keep moving and changing it up."
Before Regan takes the stage in Costa Mesa, comedian Joe Bolster will open.
Bolster, who also grew up in a big family as the eldest of 14 children, has contributed his writing skills to television shows such as "Everybody Loves Raymond" and "The Academy Awards." He also has appeared on Letterman's and on Conan O'Brien's shows.
Regan said he always looks forward to entertaining audiences and enjoys hearing people react to his material.
"The best part of being a comedian is that the feedback is honest," Regan said. "People don't fake a laugh. You're in front of a group of at least 1,000 people, and it's just such a great connection."
If You Go
Who: Comedian Brian Regan
When: 7:30 p.m. Saturday
Where: Segerstrom Center for the Arts, 600 Town Center Drive, Costa Mesa
Cost: Tickets start at $49
Information: (714) 556-2787 or visit scfta.org
---
Get our daily Entertainment newsletter
Get the day's top stories on Hollywood, film, television, music, arts, culture and more.
You may occasionally receive promotional content from the Los Angeles Times.