Ex-Angel Doug DeCinces testifies in trial of neighbor accused of providing insider trading secrets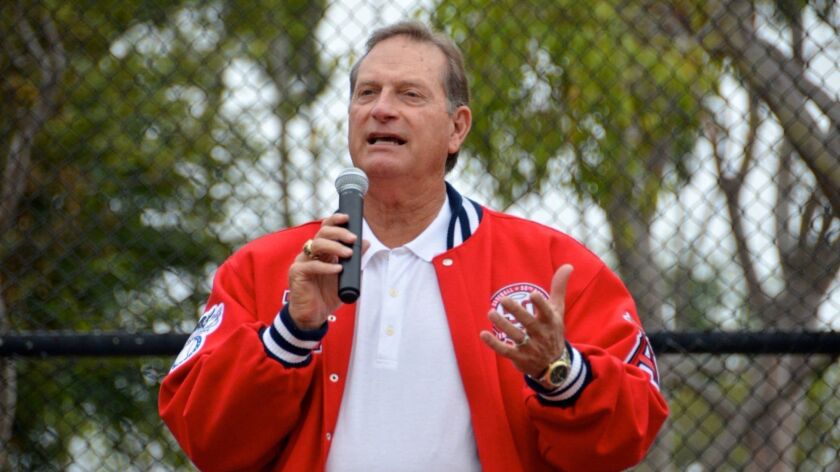 Former Angels infielder Doug DeCinces testified Wednesday in federal court as the U.S. government continued its case against his Laguna Beach friend and neighbor James Mazzo.
A jury convicted DeCinces in May of multiple counts of insider trading after prosecutors alleged he benefited financially from information from Mazzo, who at the time was chief executive of Advanced Medical Optics Inc.
Mazzo is accused of providing insider trading information to DeCinces, helping the ex-ballplayer reap a $1.3-million profit.
DeCinces, a real estate investor and business owner who spent six of his 15 seasons in major-league baseball with the Angels, confirmed to jurors Wednesday that he bought shares of Advanced Medical Optics on Jan. 5, 2009, the day after meeting Mazzo for dinner at Big Canyon Country Club, where the two were members.
"Based on what I heard the night before, I felt like I did not have enough stock," DeCinces said.
After dinner, DeCinces said, Mazzo leaned over and asked if he was comfortable with the amount of Advanced Medical stock he owned.
"Very comfortable," DeCinces said he replied.
Mazzo responded, "This is a once-in-a-lifetime opportunity," DeCinces said.
"As we were leaving he mouthed the words, 'Buy more,' " DeCinces said.
Prosecutors in DeCinces' trial claimed Mazzo tipped DeCinces about a potential buyout of Advanced Medical by Abbott Laboratories.
DeCinces bought additional stock in Advanced Medical and tipped off his friend David Parker, along with family members and his physical therapist, prosecutors said.
Abbott purchased Advanced Medical for about four times the price its stock was trading for. After the merger was made public, Advanced Medical's stock price increased by 143%, court filings state.
Prosecutors said DeCinces sold all his shares in the company, netting him about $1.3 million.
Richard Marmaro, Mazzo's attorney, questioned DeCinces' credibility Wednesday, asking him about his trial last year and what DeCinces' attorney said.
"When your lawyer said that Mr. Mazzo never provided insider information, was that the truth?" Marmaro asked DeCinces.
"No," DeCinces replied.
Marmaro pressed further.
"Was your attorney not acting without your authorization?" Marmaro said.
"I cannot control what my attorney says," DeCinces responded.
DeCinces testified that he was "very worried" after the 2009 trades.
"I felt I made a huge mistake," he said. "At that point, there was nothing I could do to take it back."
This is Mazzo's second round before a jury in this case. Jurors last year could not agree on whether he provided DeCinces with information related to the merger and deadlocked 8-4 in favor of conviction. Judge Andrew Guilford declared a mistrial.
Twitter: @AldertonBryce
---