Angels trade struggling Ernesto Frieri for struggling Jason Grilli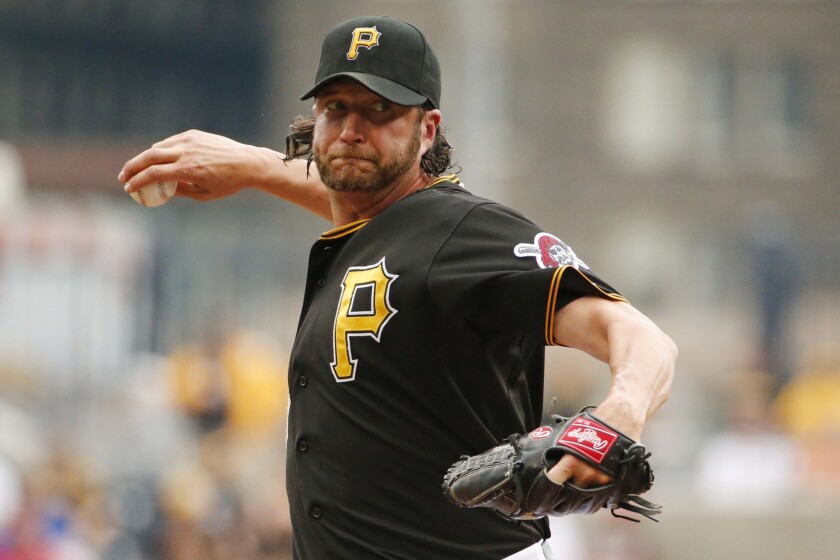 REPORTING FROM KANSAS CITY —
The Angels need help for their bullpen. On Friday, they acquired a guy who was an All-Star closer last season.
Whether the Angels actually got any help for their bullpen remains to be seen.
The Angels swapped one demoted closer for another, sending Ernesto Frieri to the Pittsburgh Pirates for Jason Grilli.
Of the 26 major league pitchers with at least 10 saves, Frieri has the highest earned-run average at 6.39, and Grilli the highest walks plus hits per inning pitched at 1.62, meaning he puts at least two men on base in most of the innings he pitches.
"We are trading a struggling closer for a struggling closer with the idea that a change of scenery will help both," said Angels General Manager Jerry Dipoto.
Dipoto said he is not finished working on trades to improve the bullpen. The Angels would like to add a veteran late-inning reliever, ideally a left-handed one, and they might still need a closer.
"This is a step," Dipoto said. "I'd be surprised if this is the only step."
While the Angels would like Grilli to establish himself as their closer, they are making him no promises.
"Whether Jason Grilli returns to the ninth inning will have to be determined by Jason Grilli," Dipoto said.
There is no significant salary difference. Grilli, 38, is owed $2 million for the balance of the season and can be a free agent thereafter. Frieri, 27, is owed $1.9 million.
Frieri is not eligible for free agency until after the 2016 season, but his salary could jump past $5 million next season if he can recover his form.
Frieri saved 70 games for the Angels over the last three seasons, but he was removed from the closer role four times. In his last appearance with the Angels, he was asked to pitch the ninth inning with a 6-1 lead Thursday. He loaded the bases, forcing them to rush Joe Smith into the game, and ultimately gave up three runs.
Grilli, who is expected to join the Angels on Saturday, will try to fortify a bullpen that has been reduced to two reliable late-game options — Smith and rookie Mike Morin.
The Angels' relievers are tied for the American League lead in blown saves. They have given up the second-most home runs of any AL relief corps, and their 4.38 ERA ranks 11th among the 15 teams.
"We need the group that is going to hold leads for us," said Manager Mike Scioscia.
Grilli was a career middle reliever until last year, when the Pirates traded Joel Hanrahan and made Grilli their closer. In his only season as a full-time closer, he posted a 2.70 ERA with 33 saves, and a career-best WHIP of 1.06.
Grilli was the fourth overall pick in the 1997 draft, selected between Troy Glaus and Vernon Wells.
---
Get the latest on L.A.'s teams in the daily Sports Report newsletter.
You may occasionally receive promotional content from the Los Angeles Times.