Angels pitcher Matt Harvey says he's 'right where I want to be'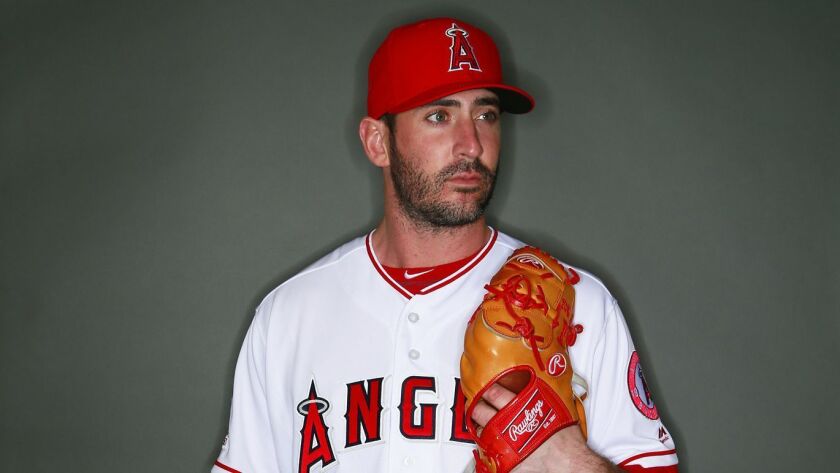 Reporting from TEMPE, ARIZ. —
With several dozen people either perched in the aluminum bleachers or standing behind the chain-link fences enclosing the minor-league field, Angels right-hander Matt Harvey made his first start of the spring late Saturday morning at the team's Tempe Diablo complex.
The "B" game against the Arizona Diamondbacks will not appear in Harvey's Cactus League game log, but it counted for peace of mind: Harvey showed no signs of discomfort related to a glute strain that sidelined him for three days last month and knocked him a tad off the spring training schedule of his fellow starters. He hardly even looked like he had missed any time on the mound at all.
Harvey threw 17 of 29 pitches for strikes. He issued only one walk despite falling behind in a few counts, allowed no hits and struck out three of the six batters he faced in 1 2/3 innings. He used his entire arsenal of pitches, too, and threw in the low 90s.
"I think with the start today and then kind of where we're at moving forward we'll be able to catch up pretty easy — if I'm even behind," Harvey said.
Harvey's progress is a positive sign for the Angels, who agreed to sign the former New York Mets ace to a one year, $11-million contract a week before Christmas.
The Angels wanted Harvey in part for what he had been — a one-time Cy Young Award finalist who had a 2.53 earned-run average in the first 65 starts of his career before injuries and off-field problems dulled his potential — and what he could still be. General manager Billy Eppler's staff identified things Harvey, who turns 30 on March 27, could improve to become an effective starter again.
A few of those things were on display Saturday. For one, Harvey used his curveball, a pitch from which he had strayed so dramatically that its usage dipped from 11.9% in 2015 to 5.4% last season.
But Harvey's changeup made the biggest impression. He had not thrown it regularly to right-handed batters in the past, according to MLB.com's Statcast system. He made it a weapon against two batters Saturday. Twice he struck out right-handers swinging at a changeup on the inner third of the plate.
"That's something that I think is going to be big for him this year," catcher Jonathan Lucroy said. "He hadn't really thrown them much but he threw some today and mixed them in well behind in the count. It was nice to see."
With the help of new pitching coach Doug White, the Angels believe Harvey can do better than the 4.94 ERA he posted in 32 games (28 starts) last season. In fact, Harvey was already on an upswing when the Angels signed him: Finally injury free for a full season in 2018, Harvey threw 155 innings and increased his strikeout rate by one batter, to 7.6 per nine innings, from the previous season. He cut his walks-per-nine-innings rate in half to 2.1.
He also rediscovered a gear on his fastball when he joined the Cincinnati Reds' pitching staff, which welcomed him when the Mets designated him for assignment in May. He gained nearly 2 mph on the pitch in Cincinnati, giving him a final average velocity of 94.6 mph.
At its best in 2015, Harvey's fastball clocked in at 97 mph. Those readings came in after he had elbow ligament replacement surgery following his 2013 campaign, for which he finished fourth in Cy Young balloting.
Such velocity isn't likely to return. Given his age and the arm strength he lost after undergoing procedures to relieve thoracic outlet syndrome in 2016 and repair a stress fracture in his scapula in 2017, Harvey said he knows he can't rely as much on his fastball as he did in the past. He intends to make up for it by throwing more changeups, which accounted for about 11% of his pitches last season, and diversifying his pitch mix.
"Trying to get everything moving in different directions is the key," Harvey said. "That's something big that Doug is working on. Just getting different angles, different things moving in different directions, is how you can get people out. I'm not necessarily throwing 100 anymore, so I'm going to have to work things in a little differently."
Nearly 90 minutes after he left the minor league complex, Harvey stood in the Angels' clubhouse and gestured to his wrist midsentence.
He was not wearing a watch but his point was clear. It was only the second day of March and the Angels don't open the season until March 28.
Harvey has time to figure things out.
"I'm right where I want to be," he said.
Sign up for our daily sports newsletter »
---
Get the latest on L.A.'s teams in the daily Sports Report newsletter.
You may occasionally receive promotional content from the Los Angeles Times.