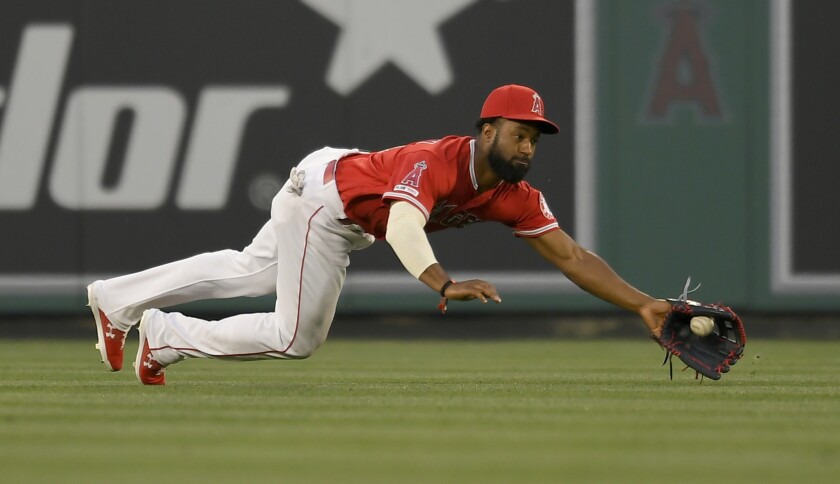 One week you're released by a rebuilding team coming off a 104-loss season, the next you're embraced by the best player in baseball after crashing into a wall to make a highlight-reel catch.
Such is the capricious nature of baseball for those trying to make a living on the margins of the sport, scrappy players who bounce between the minor leagues and big leagues and from one organization to another with no job security.
One of those players is Brian Goodwin, the 28-year-old Angels outfielder whose career took two unexpected turns — one for the worse, one for the better — when he was released by the Kansas City Royals on March 25 and claimed two days later by the Angels.
"You can be in one place one day thinking everything is good and making plans to be there for a while, and the next day things can change," said Goodwin, who has started nine of the team's first 13 games.
"You have to be resilient, to roll with the punches. Take what they give to you and turn a negative into a positive. Keep moving, keep pushing. Don't let anything stop you from doing what you want to do."
Goodwin felt a little sucker punched by the Royals. Acquired in a July 22 trade with the Washington Nationals last season, Goodwin hit .266 with a .732 on-base-plus-slugging percentage, three homers and 13 RBIs in 27 games — 25 of them starts — for Kansas City.
Thinking a roster spot was secured, Goodwin spent this spring experimenting with his swing. The tinkering didn't help. Goodwin batted .116 (five for 42) in 17 exhibitions and was cut as the Royals broke camp.
"I was shocked," Goodwin said. "I had plans to find a place to live in Kansas City … not necessarily buying anything, but being there for the year. They told me they were going another way and I wasn't in the plan. It was short and sweet but to the point. Well … it wasn't very sweet."
Goodwin returned to his North Carolina home but was not there long. Angels left fielder Justin Upton stubbed his left big toe on the wall on March 24 and was diagnosed with turf toe, an injury that will sideline him for two to three months.
Seeking a left-handed bat to platoon in left field with Peter Bourjos, the Angels claimed Goodwin off waivers March 27. Goodwin caught a 6 p.m. flight to the Bay Area and joined the team for its March 28 season opener at Oakland.
He got his first start the next night and had two hits and scored twice in a 6-2 win over the Athletics. He doubled in each of the first three games against the Texas Rangers last week and sent a 453-foot solo homer over the center-field wall in Sunday's 7-2 win over the Rangers.
Goodwin is batting .333 (10 for 30) with a .927 OPS, four RBIs, three walks and eight strikeouts for a team that takes a six-game win streak into a weekend series in wintry Chicago against the Cubs. The only Angel with a higher average and OPS is two-time American League most valuable player Mike Trout.
"He's been great," Angels manager Brad Ausmus said. "Other than Trouty, he's probably swung the bat the best on the team. This was a guy we didn't have [two weeks ago]. He's been a nice addition offensively, for sure."
Though he's had a few minor glitches in the field, letting a bloop hit bounce past him and missing a cutoff man, Goodwin has made several outstanding plays.
Filling in for the injured Trout in center field, Goodwin robbed Brewers catcher Yasmani Grandal of a homer with a leaping catch at the wall Wednesday night, and he robbed Texas first baseman Ronald Guzman of extra bases on Friday.
The Guzman play was the tougher of the two, Goodwin ranging far into the gap in left-center and holding onto the ball as he crashed into the wall. Trout helped Goodwin up and wrapped his left arm around his neck as the two ran off the field.
"It was a big play in the game," Trout said. "He hit the wall pretty hard and got up like nothing happened. I'm happy for him. He's come in and done an unbelievable job. We lose Upton, and that's a big bat in our lineup, and he's come in and just felt like home. He's a part of this family, and we need him going forward."
Goodwin has always been resilient. He starred as a freshman at North Carolina in 2010 but was suspended for the 2011 season because of academic reasons. He transferred to Miami Dade College and played well enough to be selected by Washington with the 34th overall pick of the 2011 draft.
Sign up for our daily sports newsletter »
Goodwin signed for $3 million and reached double-A by 2012, triple-A by 2014 and the big leagues by 2016. But he never established a foothold in the major leagues and was eventually traded to Kansas City.
"I've dealt with a lot of [stuff], you know?" Goodwin said. "I ran into some trouble in college, and even though I brought it on myself, I had to kind of bounce around and put myself in a position to find a way out of it."
He landed in a good spot this spring, playing alongside Trout and for a team that values his athleticism, speed, plate discipline and occasional power.
"It could have been a lot worse, that's for sure," Goodwin said. "I love it out there."
If Goodwin continues to hit, he could remain with the Angels as a fourth outfielder after Upton returns. But he knows he can't get too comfortable or complacent, like he did with the Royals.
"You have to make the best of your opportunity because you never know when the next one will be or if there will be another one," Goodwin said. "So when you get it, you have to take it."
---