Angels' Eric Young Jr. is making the most of an unexpected opportunity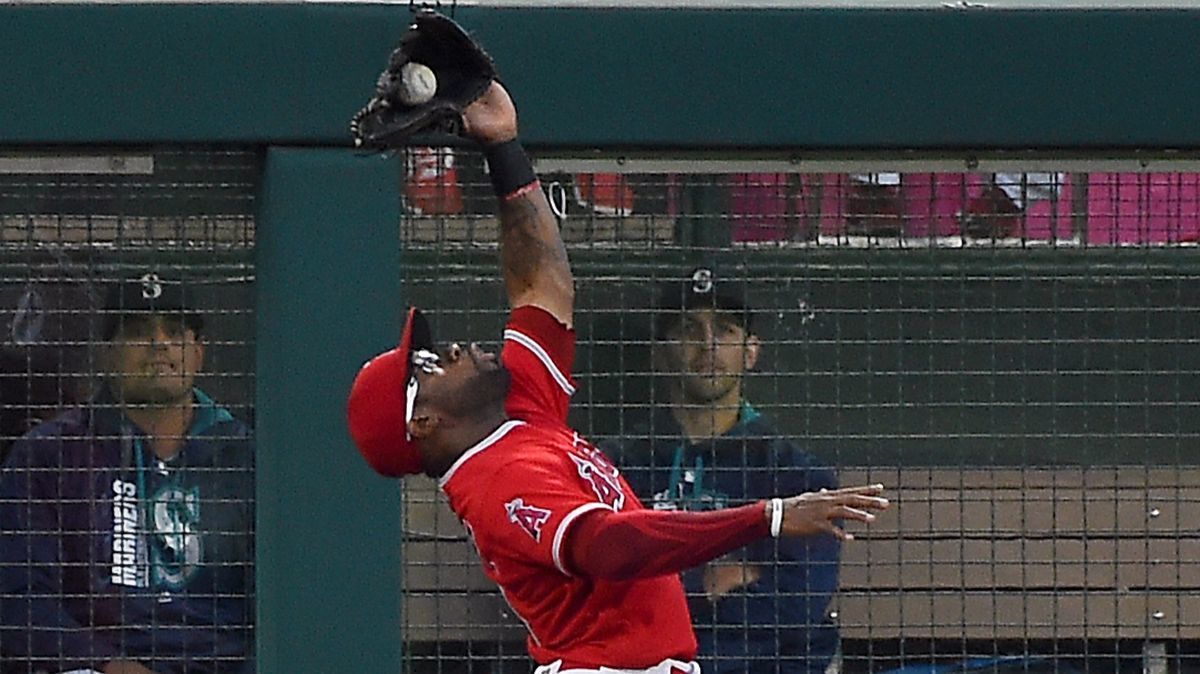 It's tough to hit major league pitching when you're as conflicted as Eric Young Jr. was in the batter's box during his first few years with the Colorado Rockies.
"I wasn't sure if they wanted me to take pitches or be aggressive, to hit the ball on the ground and use my speed or try to hit for power," said Young, who reached the big leagues in 2009.
"At an early age, I was probably trying to impress and conform to the player I thought they wanted me to be. Not to say it didn't work, but I didn't have as much success as I would have had by going out there and being myself."
Young is 32 now, older and wiser than that Rockies rookie, and he's reaping the benefits of the experiences — good and bad, on and off the field — that have shaped him.
After establishing himself as a solid utility player by hitting .254 with 48 doubles and 117 stolen bases for the Rockies and Mets from 2011-2014, Young spent most of the next 2 1/2 seasons in triple A, scrambling to get back to the big leagues.
Then on Jan. 27 this year, three days after he signed a minor league contract with the Angels, Young's first child, a boy he and his wife, Victoria, named Eric Young III, died one day after being born three months premature.
A month later, Young was in spring training with the Angels, encouraging his new teammates to ask about his family's hardship and determined "to turn tragedy into triumph."
Young spent April and May crushing triple-A pitching, batting .354 with a .947 on-base-plus-slugging percentage, five homers, 10 doubles, 26 RBIs, 42 runs and 15 stolen bases in 44 games for Salt Lake.
When two-time American League most valuable player Mike Trout tore a left-thumb ligament on May 29, the Angels called up Young and inserted him into the outfield, hoping he could fill some of the gaping void left by baseball's best player.
The pressure that might accompany such a daunting task paled in comparison to the adversity Young has faced, and it's showed in the way Young has played for a month, his production and passion helping the Angels remain in playoff contention without Trout.
In his third game, Young hit his first homer in three years, a solo shot in the eighth inning to give the Angels a 2-1 win over Atlanta on May 31. He hit a game-tying homer in the eighth inning and a walk-off RBI single in the 11th inning of a 3-2 win over the Yankees on June 13.
Young entered Saturday night's game against Seattle, which ended after this edition of The Times went to press, with a .275 average and .771 OPS, well above career figures of . 246 and .641 entering the season. He had three homers, four doubles, 11 RBIs and seven stolen bases in 28 games.
"I'm not worrying about replacing anyone; I'm just going out there and being myself, bringing my energy and doing my best to help," Young said. "Nothing from a negative standpoint can happen to me on the field that's worse than what I experienced off the field, so why not let it all hang loose and see what happens?"
Trout is taking batting practice and is expected to return around the All-Star break. That could leave the Angels with a difficult decision: Do they keep Young over reserve outfielder Ben Revere, who has a guaranteed $4-million contract?
Young has been far more productive in 104 plate appearances than Revere, who entered Saturday with a .223 average, .548 OPS and seven RBIs in 152 plate appearances.
"The only thing a player can do when he gets an opportunity is put his best foot forward and play his game, and I think Eric has epitomized that," manager Mike Scioscia said. "He's been through a lot, and in the last couple of years, I think he's learned from some experiences.
"He understands his talent. He's never stopped working hard or lost confidence in his ability to play this game. He's a great kid. Even when he's on another team, you're pulling for him. He's been through so much, and through it all, he has handled it with class and humility."
Follow Mike DiGiovanna on Twitter @MikeDiGiovanna
Get the latest on L.A.'s teams in the daily Sports Report newsletter.
You may occasionally receive promotional content from the Los Angeles Times.