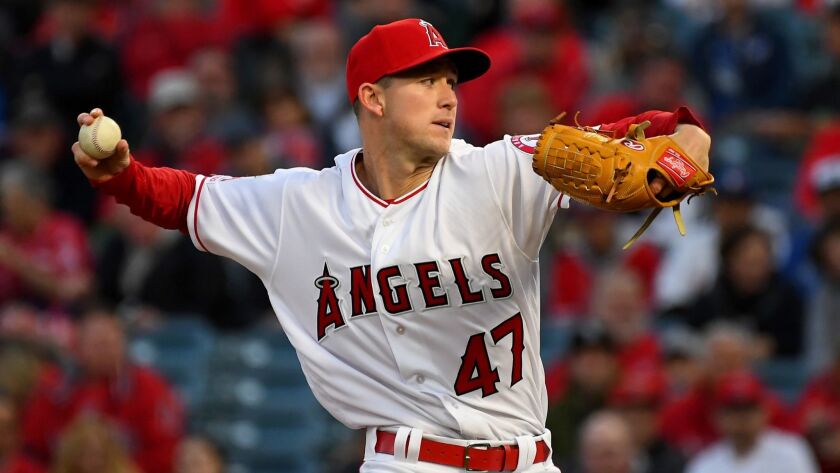 Griffin Canning is expected to make his next start in an Angels uniform.
Manager Brad Ausmus said Wednesday there are no plans to send Canning, who made his debut in the Angels' 4-3 win over the Toronto Blue Jays, back to triple-A Salt Lake. He will start at Detroit next week.
"I think there's some comfort to knowing where you're gonna be and not moving around," Ausmus said. "That can get frustrating for players at times. But you preach to players, control what you can control. And that's pitch and get outs."
Canning impressed many in the Angels clubhouse with his 41/3-inning performance at Angel Stadium on Tuesday. His aggressiveness stood out. At one point, he struck out five batters in a row. He made effective use of his mid-90s fastball, throwing it up in the strike zone to set up his breaking balls, and he induced 18 swings and misses.
Canning gave up three earned runs on four hits, but he rarely gave up hard contact on balls in play. When he got himself in a bases-loaded jam in the fourth, he threw one wild pitch to allow a run but was able to strand the other two runners.
"He gave up some cheap hits and some guys had some good at-bats on him, but other than that, he threw really well," catcher Jonathan Lucroy said. "The kid was really special. He struck out a lot of guys early and put down 10 in a row. That's pretty tough to do in your debut, in front of your home crowd. He probably had 500 people in the stands watching him that he knew."
Oh so sick of questions
One day after the Angels ruled out his return from the injured list for at least another week, Shohei Ohtani admitted he's tired of answering the same questions about his health.
"Hopefully next time I can talk about what happened in the game," Ohtani said through an interpreter.
The Angels have not announced when Ohtani, who was originally expected to get about 40 at-bats in simulated games before being activated, will be placed on the roster. So Ohtani was left to answer, again, if he felt physically ready to return.
"Personally, I feel like I'm ready to go as of right now," Ohtani said. "It's up to Billy [Eppler] and Brad. It's their call."
Through 32 at-bats facing pitchers for the first time since offseason elbow ligament surgery, Ohtani has felt no discomfort. He's been able to improve his timing in the batter's box, which he said was already good when he began to face live pitching, and he's consistently displayed power.
Sign up for our daily sports newsletter »
The progress encouraged Ohtani. He was disappointed to learn he wasn't joining the Angels in Monterrey, Mexico, where they'll play Saturday and Sunday against the Houston Astros. His rehabilitation has gone so smoothly he has almost always been ahead of schedule — but not this time.
"I'm pretty impatient to begin with," Ohtani said. "As I get closer and closer, the more impatient I'm getting."
Short hops
Outfielder Justin Upton, who is on the 60-day injured list recovering from a left big toe sprain, has not begun baseball activities since having his walk boot removed last week. He has been doing strength and cardiovascular work, using a stationary bike and anti-gravity treadmill to rebuild strength. … Andrew Heaney, on the injured list with elbow inflammation, will throw at least one more bullpen session before facing hitters for the first time since spring training. … Trevor Cahill and Matt Harvey will each make a start for the Angels in Monterrey, Mexico.
---