Long Beach pitches Angels on waterfront ballpark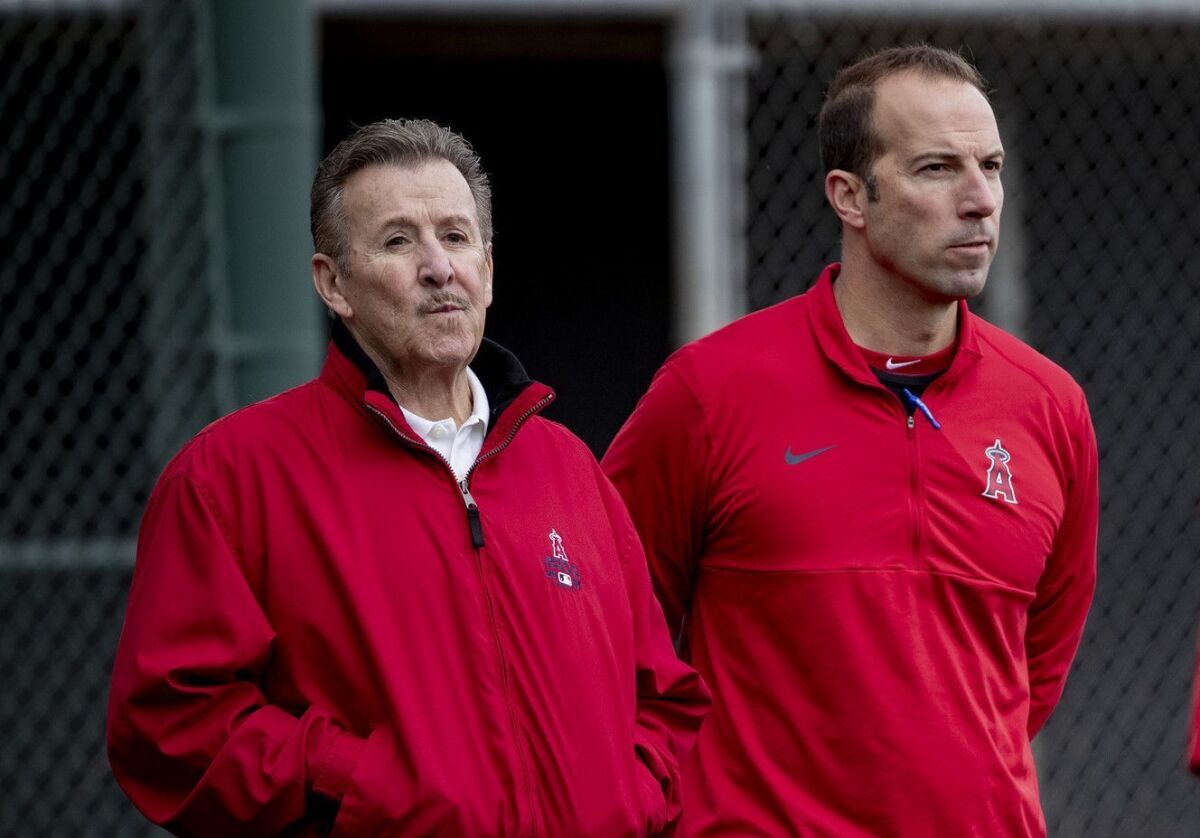 Half a century after the Angels passed on a chance to move to Long Beach, that city is again trying to lure the team.
The city has approached the Angels to see whether the team might be interested in a new ballpark on a waterfront site, city and team officials said Monday.
The city has not determined whether a ballpark would be feasible on the site or the best use for it, let alone whether taxpayers would contribute to a construction cost that could exceed $700 million and could approach $1 billion.
Long Beach Mayor Robert Garcia called the ballpark exploration "very preliminary."
"As part of our efforts to create a downtown waterfront development plan, we are exploring the feasibility of a downtown sports venue on the convention center parking lot," Garcia said in a statement. "We are in the early stages of our due diligence and are exploring a variety of options for this property."
The city reached out to the Angels several months ago, after the team opted out of its lease at Angel Stadium in Anaheim last October. Since then — and since a mayoral election in Anaheim — the team has extended its lease by one year, through the 2020 season.
Angels owner Arte Moreno said last week the team's relationship with the city has been "very positive" since Harry Sidhu replaced Tom Tait as mayor in December. The city and the team have agreed to revive talks on a new or renovated stadium in Anaheim, in a location surrounded by three freeways and a train station, and in a district the city foresees can emerge as what one city official has called an "L.A. Live on steroids."
The Angels have not looked outside the Los Angeles market, and it is believed Anaheim and Long Beach are the only sites the team currently is considering. It is far too soon to know whether Long Beach can deliver a realistic proposal — including where the Angels might play immediately after their lease expires, since new ballparks require several years for environmental approvals, financing and construction.
For now, at least, the Angels are willing to listen.
"As we have stated from the beginning, we must explore all our options to secure a long-term future for the Angels and provide fans with a high-quality experience in a renovated or new ballpark," Angels President John Carpino said in a statement.
The Dodgers could not veto such a move. Under major league rules, the Angels and Dodgers share territorial rights to Los Angeles, Orange, Riverside, San Bernardino and Ventura counties.
Sidhu met last month with Moreno, after Long Beach made its initial overture.
"From that meeting, it is clear the team's priority is to stay in Anaheim if we can work out a deal that benefits our residents, the city and the team," Sidhu said in a statement then. "We need a plan to make that happen, and we need time to make that happen."
On Monday, Sidhu said: "It's no surprise other cities would try to lure the Angels to leave ... We are confident the best place for the Angels is and always will be Anaheim."
In 2013, Tait led a drive that ultimately killed an Angel Stadium renovation agreement between Moreno and city negotiators. The Angels would have renovated the stadium at no cost to the city, but Tait expressed concern that Moreno would lease part of the stadium parking lot for $1 per year without the city sharing in any development profits. The Angels subsequently explored options for a new ballpark in Los Angeles, Carson and Irvine.
They prioritized a proposal for a new stadium in Tustin because of its proximity to their current home and fan base. The team and Tustin officials are believed to have focused on a facility that would have seated about 37,000 and cost about $700 million. Tustin officials said that they would not provide taxpayer funding for stadium construction. Moreno declined to pay for all of it, although team officials say he is amenable to a public-private partnership.
The Angels, born in Los Angeles in 1961, explored a move to Long Beach soon after. Gene Autry, the Angels' founding owner, had bristled at sharing Dodger Stadium and wanted his team to play in its own ballpark.
He first negotiated with Long Beach, but the city demanded that the team be called the Long Beach Angels. Autry declined, then closed a deal in Anaheim, where the city did not insist on affixing its name to the team that would play in Anaheim Stadium.
That stadium opened in 1966, and Autry changed the name of his team from the Los Angeles Angels to the California Angels. Since then, the team name has changed to the Anaheim Angels in 1997 and reverted to the Los Angeles Angels in 2005, but the team has played under all those names in that same stadium.
---
Get the latest on L.A.'s teams in the daily Sports Report newsletter.
You may occasionally receive promotional content from the Los Angeles Times.