Angels reliever Jim Johnson hopes to turn things around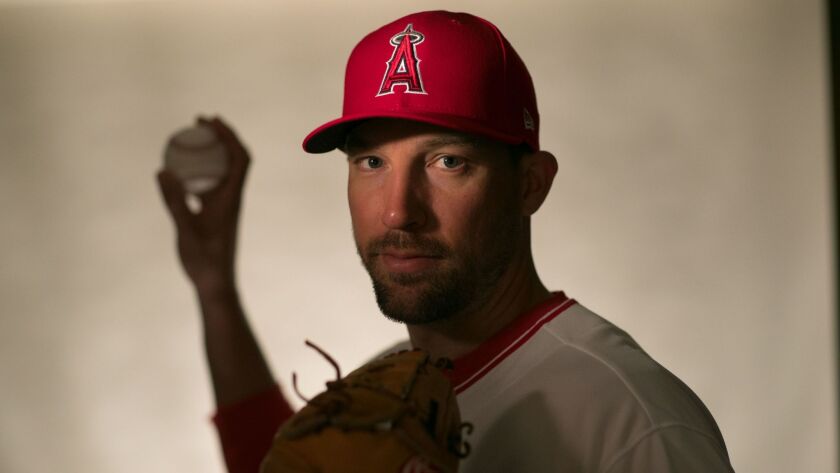 Reporting from Tempe, Ariz. —
Things did not go well for him in Oakland.
Things really did not go well for him in Los Angeles.
In baseball, you get three strikes, and Jim Johnson hopes he can turn this 0-2 count into a happy ending.
"Third time in California's a charm, right?" the reliever said. "I guess we'll see."
The Angels acquired Johnson, a former All-Star closer, from Atlanta in November. He secured a late victory even before he was issued his new red jersey. In the deal, the Angels also received $1.21 million in international bonus pool money, cash the team then used as part of its successful courting of Shohei Ohtani barely a week later.
In that sense, Johnson's tenure with the Angels already has produced one very positive result, regardless of what else he provides this season.
Locally, Johnson is probably best remembered for what he couldn't do for the Dodgers, specifically get the ninth inning to Kenley Jansen.
At the nonwaiver trade deadline in 2015, the right-hander joined the Dodgers as part of a 13-player deal, to become a primary setup man.
"It just never synched up," Johnson, 34, said. "I was still throwing the ball hard. I don't know why that was."
He gave up runs in each of his first four Dodgers appearances, including eight in a particularly brutal 13-6 loss at Pittsburgh.
In 23 games, Johnson went 0-3 with a 10.13 ERA and a 2.04 WHIP.
"When you're traded to a team during a season that's trying to make a run, you know, it's human nature to put that extra pressure on yourself," Johnson said. "It's, 'Hey, I gotta help these guys out,' rather than just getting in that flow."
Those Dodgers eventually made the playoffs, losing in the National League division series to the New York Mets. Johnson, though, didn't pitch after September and was finally released.
"It's a hard thing to explain to someone who hasn't been in that situation," he said. "You're brought in to do a job and you're trying your best and it's just not working out."
The season before, Johnson spent four months with the A's, struggling so badly -- 7.14 ERA in 38 games -- that he was released in August.
Around those low points, he saved 51 and 50 games in back-to-back seasons with Baltimore, and had 20 saves and a 3.06 ERA with the Braves in 2016.
As an Angel, he is part of a spring training bullpen that has not yet begun to sort itself out; this team quite possibility entering a season in which it could use multiple relievers to close games.
"Hopefully, I can be a stabilizing force here," Johnson said. "They have the lineup, the defense up the middle … there are a lot of positives for me."
Bailey reports to camp in new role
Andrew Bailey's playing career ended officially last week. His new career began this weekend.
"Having an impact on the game directly is going to be fun," the former reliever said. "Having this opportunity, I'm very lucky."
Bailey, 33, reported to camp as the Angels' new instant replay coordinator/coaching assistant.
He appeared in 265 games over parts of eight seasons but was forced to retire because of persistent shoulder problems.
Bailey pitched in 16 games for the Angels the past two seasons, his final appearance coming in August. He attempted to train over the winter but eventually had to accept his fate.
"Just different parts of the body aren't working like they used to," Bailey said. "It's part of it. I was very fortunate to play so long and have the career that I did."
Ohtani to start as designated hitter
Ohtani is scheduled to start as the Angels' designated hitter Monday when they travel to Goodyear to face Cincinnati. Manager Mike Scioscia said he'll hit in another game or two this week.
Ohtani's next appearance as a pitcher is set for Friday, either in a "B" game in Tempe, against the Tijuana Toros, a team from the Mexican League, or during the Angels' regular Cactus League game against the Chicago Cubs at Sloan Park in Mesa.
Marte to miss a couple of days
Jefry Marte is expected to miss a couple of days as a precaution after feeling tightness in his groin Saturday. … David Eckstein, an Angel from 2001-04, is the latest guest instructor.
---
Get the latest on L.A.'s teams in the daily Sports Report newsletter.
You may occasionally receive promotional content from the Los Angeles Times.