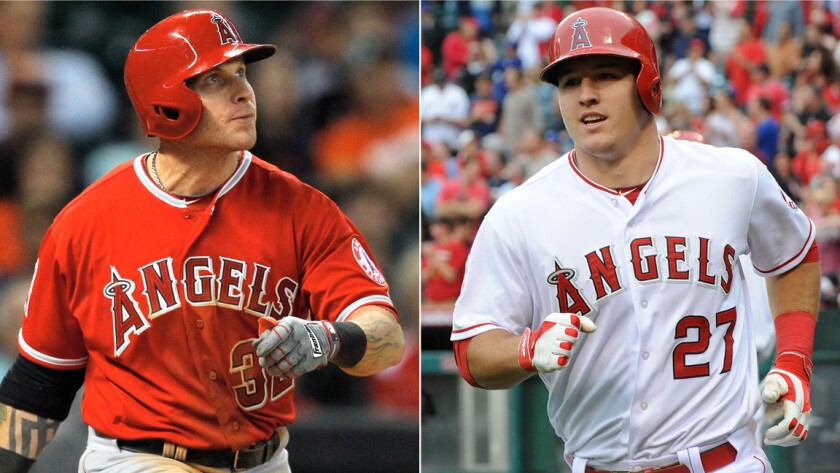 The Angels' lineup is expected to be at full strength for the first time since the opening week of the season when the team begins a three-game series against the Houston Astros at Minute Maid Park on Tuesday night.
Left fielder Josh Hamilton, out since April 9 because of a torn ligament in his left thumb, will be activated, and center fielder Mike Trout is expected back after sitting out two games because of back stiffness.
The cleanup spot, filled mostly by Raul Ibanez, David Freese and Howie Kendrick, has been something of a black hole since Hamilton, who hit .444 with two home runs and six runs batted in over eight games, was injured April 8 on a headfirst slide into first base.
Even with Hamilton's hot start, Angels cleanup batters rank 11th in the American League in batting (.214), eighth in on-base percentage (.327), 12th in slugging (.348), 11th in home runs (five) and 10th in RBIs (25).
But as much as the Angels miss Hamilton's power from the left side and presence behind No. 3 batter Albert Pujols, Manager Mike Scioscia does not expect the slugger to be an elixir for a club coming off a three-game sweep at the hands of the AL West-leading Oakland Athletics.
"Our lineup will get dangerous not just with Josh coming back but with Freese and Ibanez getting into their games," Scioscia said. "By mixing and matching, we've gotten some good looks at some pitchers. Josh will add to that, but it's not like he'll come back and the lineup is there. Some guys are still working into their game."
Ibanez has been mired in a season-long slump, his .147 average, three home runs and 20 RBIs — combined with the emergence of C.J. Cron and Grant Green — putting his job in jeopardy.
Freese, who sat out three weeks in May because of a fracture in his middle finger, is hitting .208 with two home runs, 14 RBIs and 39 strikeouts.
Pujols, who batted .279 with nine home runs and 23 RBIs in April, cooled in May, with a .234 batting average, five home runs and 16 RBIs.
Pujols, a career .329 hitter with runners in scoring position, has struggled in the clutch, batting .169 (11 for 65) with two home runs and 16 RBIs with runners in scoring position and .211 (23 for 109) with men on base.
It would stand to reason that with Hamilton hitting behind him, Pujols might see better pitches, especially with men on base or in scoring position, but the Angels first baseman doesn't see it that way.
"To me, it doesn't matter who's behind me or in front of me, the pitchers are going to be tough against me," Pujols said. "They're not going to give me anything down the middle. I've had great hitters behind me my whole career. I need to execute. That hasn't happened this year, but I look forward to things turning around quickly here."
Rookie move
The Angels will be on hand for the next phase of Houston's youth movement, with highly touted first base prospect Jon Singleton being called up for Tuesday's game.
Singleton, who was batting .267 with 14 home runs and 43 RBIs in 54 games at triple-A Oklahoma City, reportedly agreed Monday to a five-year, $10-million deal with three club options that push it to $35 million.
The 22-year-old slugger, who served a 50-game suspension for marijuana use in 2013, will join outfielder George Springer, who is batting .259 with 10 home runs and 29 RBIs since his April 16 call-up, in the lineup.
All-Star update
Trout remained the leading vote-getter among AL players in balloting for the July 15 All-Star game. Trout has 1,361,649 votes, ahead of Toronto Blue Jays outfielder Jose Bautista (1,351,896) and New York Yankees shortstop Derek Jeter (1,007,968).
Pujols remained third among AL first basemen, and Kendrick fifth among second basemen.
Up next
C.J. Wilson (6-4, 3.05 ERA) will oppose Houston right-hander Collin McHugh (3-3, 2.80 ERA) at Minute Maid Park on Tuesday at 5 p.m. PDT. On the air: TV: FS West; Radio: 830.
---