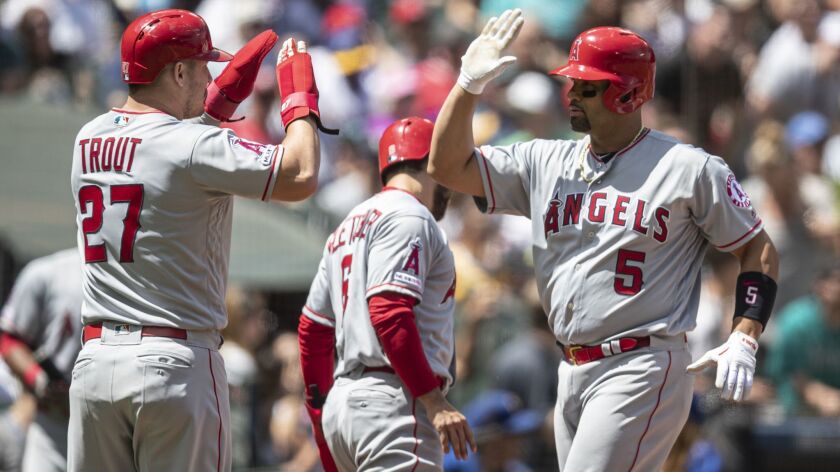 Reporting from SEATTLE —
He's stout and sturdy with a 5-foot-10, 225-pound frame, and with his thick legs, slightly pudgy face, full lips and jet-black curly hair, he looks like a baby-faced Bartolo Colon.
Jose Suarez is 21 and does not look a day over 18 — he said he shaves once or twice a week — but don't let his age and youthful appearance fool you.
The left-hander from Venezuela showed in Sunday's major league debut that he has the stuff and poise to handle the big leagues, mixing a 92-mph fastball with a swing-and-miss changeup that baffled the Seattle Mariners in a 13-3 Angels victory in T-Mobile Park.
Suarez, who signed for $300,000 as a 16-year-old in 2014, gave up three runs and five hits in 5 2/3 innings, striking out four batters — all with a floater of a changeup that he threw between 81-83 mph — and walking three, to help the Angels win for the seventh time in nine games.
"I felt really good — I'm happy with my work," Suarez said through an interpreter. "I stuck with the game plan. I didn't feel as nervous in the bullpen, but once I got out there and saw some of the hitters, it made it more real for me."
Suarez looked relaxed before the game, lounging on a clubhouse couch and sharing laughs with teammates as they watched a golf tournament on television.
If he felt any pressure, it probably disappeared during a seven-run second-inning that was capped by Albert Pujols' three-run home run, part of a 15-hit attack that featured Luis Rengifo's first big league home run and three hits each by David Fletcher and Mike Trout.
"He was awesome," said Pujols, the 39-year-old whose oldest son, A.J., starts college in the fall. "I think the best thing was he was just himself. He was the same as he was in spring training, laughing and making jokes before the game. For a 21-year-old getting called up to the big leagues, he handled it pretty well."
The business of baseball intruded on Suarez's feel-good story after the game. With a makeup game in Chicago against the Cubs on Monday, a full rotation and a short-handed bench, the Angels optioned Suarez back to triple-A Salt Lake.
"We have six starters right now, we're going to a National League park and we need another position player," manager Brad Ausmus said. "We only have three position players on the bench. That's the reason behind it. It's not always the best conversation when a guy just got his first major league win, you know?"
The Angels won't hesitate to recall Suarez, who is considered the organization's No. 2 pitching prospect behind Griffin Canning, the next time they need a starter.
Suarez gave up two runs in the second inning on Domingo Santana's single, Kyle Seager's double and two groundouts. He was pulled with a pitch count of 88 after Seager's two-out home run to right in the sixth.
"After Seager took him deep," Pujols said, "I said, 'Now you're officially in the big leagues.' "
Suarez mixed his fastball with a curve and slider but leaned heavily on his changeup, a pitch he threw 26 times, inducing 10 swinging strikes.
"We tried to establish the slider and the curve a little bit, but the slider wasn't really there today," catcher Dustin Garneau said. "Once we felt that, we kind of went back to the changeup to get him comfortable. The swing and misses kind of tell the whole story. There's some action to it, and he's got some deception."
Sign up for our daily sports newsletter »
The Angels, who have struggled this season against left-handers, pummeled Marco Gonzales (5-6) for 10 runs and nine hits in 4 2/3 innings for their fourth consecutive victory against a left-handed starter after losing 14 of their first 18.
They batted around twice, sending 11 men to the plate in the second inning and a five-run fifth. Brian Goodwin and Fletcher hit run-scoring doubles in the second.
Trout's two-run single and Pujols' two-run double, a ball center fielder Mallex Smith lost in the sun, highlighted the fifth inning. Tommy La Stella sparked both rallies with a one-out single in the second and a one-out double in the fifth.
"We dove into this to see if there was anything behind it," Ausmus said of the team's struggles against left-handers, "but basically what we found was bad luck."
Rengifo capped the scoring with a 424-foot home run off the upper deck in right field in the sixth.
"I knew he had power, and especially for a guy of his stature," Ausmus said of Rengifo. "But that was big-boy neighborhood where he hit that ball."
Sunday was the start of a grueling three-day stretch in which the Angels will travel 3,447 air miles and cross two time zones twice, flying Sunday night to Chicago and back home for Tuesday night's game against Oakland.
"It's not ideal, but we don't get in [to Chicago] horribly late," Ausmus said. "The game is at 3 p.m. CDT, which is better than 1 p.m. It's a lot of travel, but in terms of sleep, it shouldn't be too bad."
---