Angels' Kaleb Cowart returns to pitching, following trend inspired by Shohei Ohtani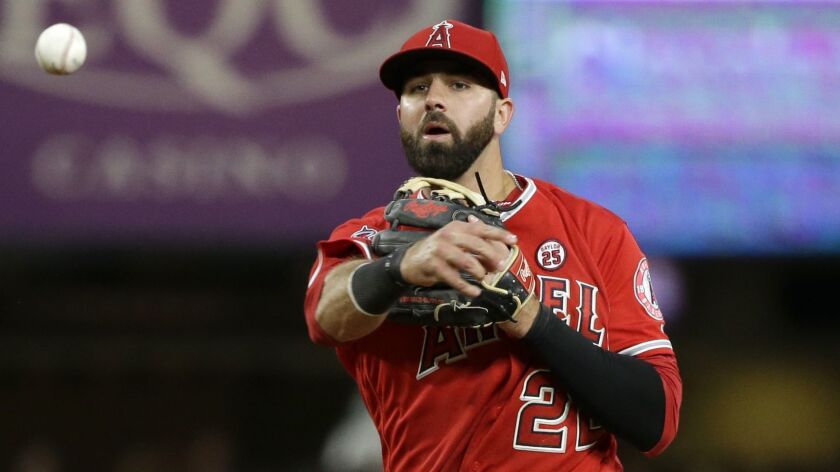 It was a conversation Angels utility player Kaleb Cowart had before.
Coming out of high school, where he starred as a pitcher and a talented switch-hitting infielder in his south Georgia hometown, Cowart wondered if he could be the first two-way major leaguer of his generation. He was Gatorade's national high school baseball player in 2010 and the teams interested in drafting him as a first-rounder were split on which part of his skill set would provide him his best crack at the major leagues. He posited to those who would listen that he could probably do both if he were allowed to be a reliever and a position player.
But this was baseball at the start of the decade, before Shohei Ohtani came over from Japan and inspired a number of two-way experiments across the league. Cowart did not push the subject.
More than eight years have elapsed since the Angels made Cowart their first-round pick of the 2010 draft and asked him to specialize as a hitter who would eventually play six defensive positions. Now Cowart will finally add a seventh. He will spend spring training with the Angels, rediscovering his feel for the mix of plus-grade pitches he used to throw as a prep superstar, while also continuing to hit.
"Shohei kind of opened up some doors for a lot guys that are able to do some things like this," Cowart said Tuesday, standing in front of a portable locker that had to be rolled into the Angels' Tempe Diablo Stadium clubhouse over the weekend.
Cowart was a late addition to the roster. The Angels on Saturday claimed him off waivers from the Detroit Tigers, who claimed him off waivers from the Seattle Mariners, who claimed him off waivers from the Angels in December, only a few months after Cowart indicated to team officials that he wanted to improve his versatility by returning to the mound.
Cowart, 26, made his major league debut in 2015, but offensive struggles felled his stock as a prospect. He batted only .177 with a .241 on-base percentage in 162 games over parts of four major league seasons.
Believing he could add another element to his viability as a major leaguer, Cowart asked to join triple-A teammate Jared Walsh and minor leaguers Bo Way and William English in the Angels' experiment with two-way players. He started a throwing program in November, one month earlier than he usually would, and threw an encouraging bullpen session during the offseason.
The Angels exposed Cowart, who is out of minor league options, to outright waivers in December in hopes he would go undetected. They wanted him to spend 2019 solidifying himself as two-way player in the minor leagues.
The plan almost backfired. Seattle general manager Jerry Dipoto, familiar with Cowart's dormant skills from his time as the Angels' lead baseball operations executive, claimed Cowart for the Mariners.
As originally intended, the Angels will oversee Cowart's progress as a pitcher for the next four weeks. At that point, they'll face a decision on how to handle removing Cowart from the 40-man roster if they proceed with their previous agenda. Given that two other teams wanted to try the same, the Angels will have to act with caution lest they lose him again.
At least for the moment, things are back on track.
"Anytime you can make yourself more versatile, that's a huge opportunity," Cowart said. "Whether it's me coming out of the 'pen or playing some defense and then pitching, whatever it is, I'm looking forward to it."
Sign up for our daily sports newsletter »
---
Get the latest on L.A.'s teams in the daily Sports Report newsletter.
You may occasionally receive promotional content from the Los Angeles Times.