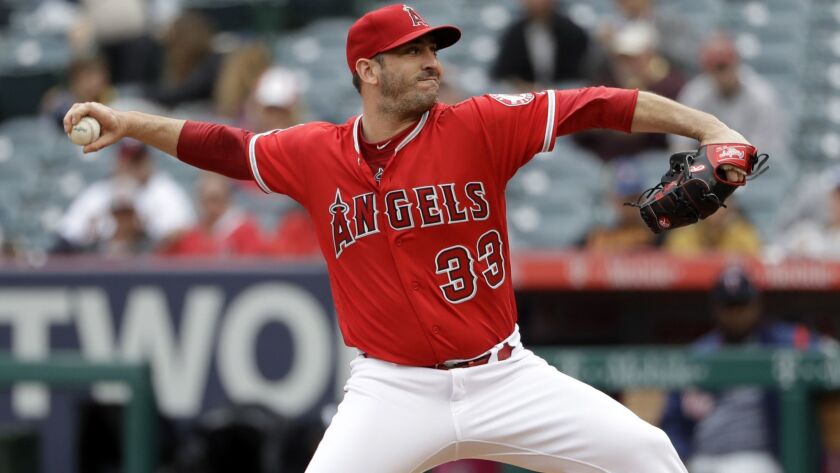 Matt Harvey plans to resume throwing Monday, but there is no timetable for the return of the struggling right-hander, who was placed on the injured list Saturday because of an upper-back strain after giving up eight runs and four homers in 2 2/3 innings Thursday in a loss to Minnesota.
"Whenever I'm ready to come back and whenever they let me come back," said Harvey, who is 2-4 with a 7.50 earned-run average, the highest ERA among American League pitchers with 10 or more starts. "We'll figure that all out."
The Angels, who activated Andrew Heaney on Sunday and sent Jaime Barria to triple-A, will give Harvey all the time he needs to regain the form that allowed him to go 7-7 with a 4.50 ERA in 24 starts for the Cincinnati Reds after a May 8 trade from the New York Mets last season.
Harvey has struggled with location and putting hitters away, yielding a .277 average and .949 on-base-plus-slugging percentage in two-strike counts. He's given up 11 homers in 48 innings.
"It'll be nice to have a little bit of time off and get working on my mechanics so when I do come back it's all hashed out and ready to go," Harvey said. "I have a responsibility to these guys in the clubhouse. I have to do everything I can to get back to where I want to be and where I know I can be."
Harvey said he doesn't know when or how he hurt his back on Thursday. He retired the side in order in the first inning before giving up six runs in the second. He said he "felt fine" physically afterward, but he was not.
"I didn't want to tell anybody about it," Harvey said. "It's me being stubborn and trying to fight through things. The last thing I wanted to do was be on the DL again, but clearly, it wasn't something I could work through. It was kind of hurting my performance."
Well-placed hit
The ball left Jared Walsh's bat at 75 mph with a launch angle of 54 degrees and traveled 203 feet in the ninth inning Saturday night, a popup so feeble that Statcast attached an expected batting average of .060 to it.
You couldn't beat the location, though. Walsh's bloop fell between Rangers shortstop Elvis Andrus and left fielder Hunter Pence for a run-scoring single that gave the Angels a 3-2 come-from-behind win.
Sign up for our daily sports newsletter »
Angels closer Hansel Robles gave up two runs in the top of the ninth, but his teammates came back on Luis Rengifo's single, Kole Calhoun's RBI double and Walsh's two-out hit.
"It's the best exit velocity I've had this year, no question," Walsh said with a grin. "But all jokes aside, I'll take all the hits I can get. Beggars can't be choosers."
Gentle reminder
Ty Buttrey replaced starter Tyler Skaggs with two on and two outs in the sixth inning Saturday night and threw six straight balls, four to Logan Forsythe to load the bases and two to fall behind Asdrubal Cabrera.
A visit from pitching coach Doug White snapped Buttrey out of his funk. The right-hander threw three fastballs, the first at 96 mph and two at 98 mph, resulting in a called strike, a swinging strike and an inning-ending popout.
"He told me to stop nit-picking and go right at the hitters," Buttrey said of White.
But isn't that always the objective?
"Yeah," Buttrey said, "but sometimes it takes somebody to tell you to throw the ball down the middle, and that's what I did."
Thrown for a curve
Skaggs was sharp Saturday night, allowing three hits, striking out seven and walking two in 5 2/3 scoreless innings. The velocity of his fastball, which touched 94 mph, was up, and his command of the pitch was excellent.
The left-hander changed speeds on a curveball that ranged from 68-78 mph, throwing some for strikes and some in the dirt for strikeouts.
"I thought my curve was the best it's been all season," Skaggs said. "Throwing one at 70 mph for a strike and then another at 78 mph is perfect. Basically, I have two curveballs."
---