Mike Trout is not ruling out contract talks with the Angels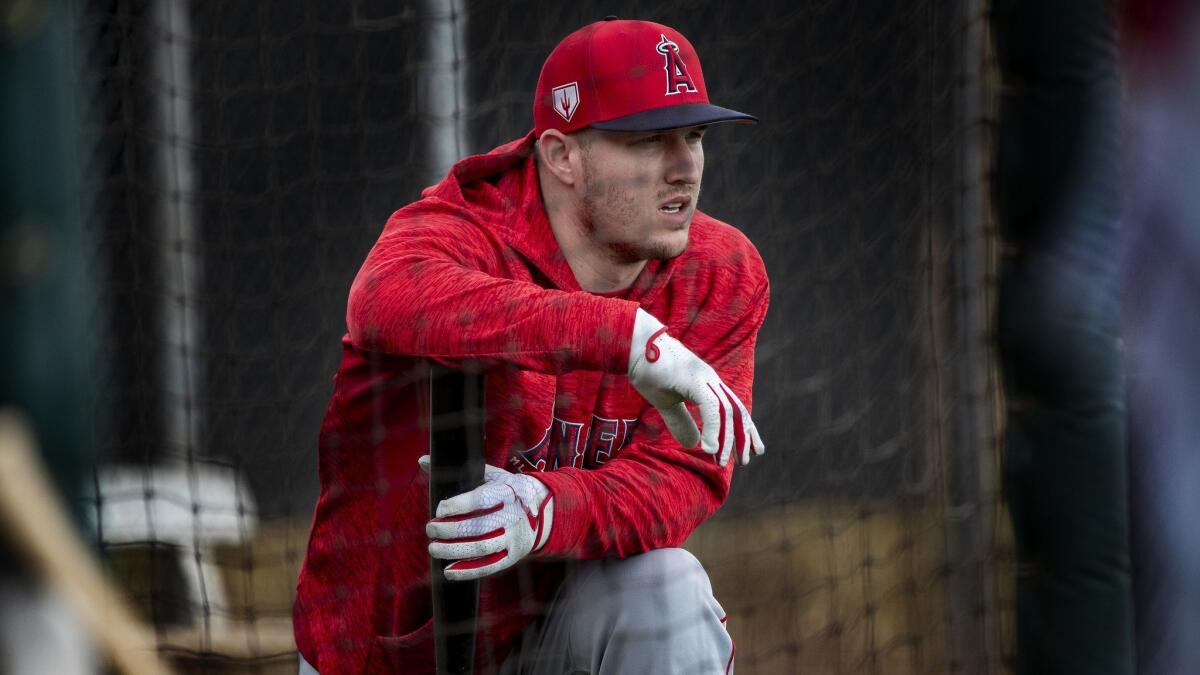 Reporting from TEMPE, ARIZ. —
Mike Trout is not setting parameters for any potential negotiations between himself and the Angels, with whom he is signed through 2020.
The All-Star outfielder said Friday morning, some 18 hours after the Philadelphia Phillies agreed to sign free agent Bryce Harper to a 13-year, $330-million contract, that, in an ideal world, he would like to avoid his own contract talks during spring training. He spoke from experience; he signed his first extension with the Angels two days before the start of the 2014 season.
"It's spring training," he said. "You try to get ready for the season. You don't worry about anything else. That's the mindset right now."
But Trout did not rule out the possibility of discussing an extension with the Angels at any point before his contract expires.
Trout has two seasons remaining on the six-year, $144.5-million extension that went into effect in 2015. He is owed $33.25 million each of the next two seasons. Although he could become a free agent if he and the Angels do not reach another agreement, he has never indicated toward which decision he is leaning.
The Angels have made it a priority to keep Trout in Anaheim long-term. Owner Arte Moreno said in October, "That's one of those things that's always on the front of your mind." He reiterated the sentiment when he spoke to reporters last month, adding that internal discussions about Trout's import to the organization had taken place.
Sign up for our daily sports newsletter »
Yet speculation about Trout, a native of Millville, N.J., following Harper to Philadelphia began to crop up as soon as the news broke Thursday — and even before Harper committed to the Phillies.
Trout addressed those rumors when he arrived at Tempe Diablo Stadium for spring training last month. He said fans he ran into back home peppered him with questions about when he was signing with the Phillies on a regular basis.
He declined to comment about his future in an Angels uniform then. He remained mum on the issue Friday.
Get the latest on L.A.'s teams in the daily Sports Report newsletter.
You may occasionally receive promotional content from the Los Angeles Times.