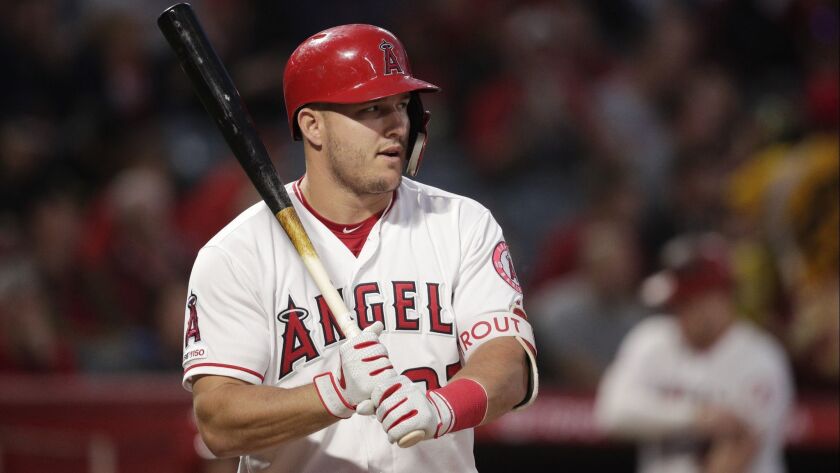 Reporting from Chicago —
The snow fell steadily for hours Sunday in Chicago, coating the tarp-less infield at Wrigley Field where the Angels were supposed to face the Cubs for the rubber match of a three-game series. They never did. The game was postponed.
The Angels traveled to Texas, where they will wrap up a two-city trip with a three-game series against the Rangers. The Angels are 8-7 after beginning the season with one win in seven games.
Some things have gone wrong in the early goings of this 162-game campaign — injuries to outfielders Justin Upton and Mike Trout and left-handed pitcher Andrew Heaney and the pending return of Shohei Ohtani have left the team short-handed — but plenty have gone right.
Trout is hitting balls as hard as ever
Trout signed a record-shattering contract days before the season began in part because he is recognized as perhaps the best player in baseball. But the Angels were also compelled to make a long-term investment in the two-time most valuable player and seven-time All-Star because he always finds ways to improve his game.
Trout sought to improve his defense last year and became a Gold Glove Award finalist. He didn't narrow his goal down so specifically this year. He said in February that he wanted to "just try to get better at everything."
Now 27 years old and in his eighth full season, Trout seems to have found a new level in the batter's box.
According to MLB's Statcast system, balls are jumping off Trout's bat at an average speed of 95 mph. That exit velocity is nearly 4 mph better than what Trout averaged last year (91.2).
Trout has never hit baseballs this hard in his career.
He is also making contact on the sweet spot of his bat at a clip nearly double of last year: He has a 31% barrel rate through 49 plate appearances this season. The results are sweeter: He hit five home runs in four games April 4-7 at Angel Stadium.
Of course, there is reason to believe Trout's hot start won't last throughout the season. He has seen only 199 pitches. Pitchers adjust.
Sign up for our daily sports newsletter »
Trout also hasn't played in nearly a week because he has been recovering from a minor groin strain. He missed the series in Chicago and will join the team in Texas. A drop-off in production is possible.
It's still worth noting. Trout has always been a slugger, but even his prodigious numbers have trailed the hard-hit rates of the Rangers' Joey Gallo, New York Yankees' Aaron Judge and Dodgers' Cody Bellinger.
"Everyone can improve somewhere," Angels manager Brad Ausmus said when asked in spring training about Trout's goal for the year. "Even the best players on the planet can improve. Then they become 'best-er.'"
Relievers aren't bad
It seemed on the surface like a ragtag collection of fallen prospects and on-the-way-out veterans. Angels general manager Billy Eppler believed he had something better. In his view, he had assembled a relief corps that boasted powerful arms and bat-missing ability.
So far, he has proved himself right.
Entering Sunday, the 2.08 earned-run average of the Angels' bullpen ranked third best in the major leagues. Promising trends have developed.
Cam Bedrosian, a much maligned veteran who had a career-worst 8.0 strikeouts-per-nine-innings rate last season, is hurling a slider that draws 48% swings-and-misses. That's better than last year.
Luis Garcia, a 32-year-old acquired via trade, was already good at suppressing home runs. He ranked sixth in the National League with a rate of 0.54 home runs given up per nine innings. Now he has reduced the amount of hard contact he allows on batted balls.
The promising Ty Buttrey has built on his success down the stretch last year. He has stranded six of the seven runners he has inherited over seven outings.
Hansel Robles, a waiver pickup last June, has struck out a bullpen-leading 11 in 7 1/3 innings.
"I don't think talent is lacking with the relievers," said Los Angeles native Noe Ramirez, who has given up only one earned run in 6 2/3 innings over four games. "I think we got a really good chance of being really good. We have a bunch of guys who can do a few things. We've got a long man in myself, different roles that guys can do. I think we're going to surprise a lot of people."
La Stella shows pop
Tommy La Stella was acquired from the Cubs in a November swap. A career-long backup, he was expected to provide coverage in the infield at three positions and offer modest offense. With the Angels, his role has morphed.
La Stella has started at second base in 12 of the Angels' 15 games. The regularity has allowed him to find a better groove at the plate. Some unexpected power even emerged last week. He hit three home runs in two games. The home run balls were all crushed. They combined for 1,213 feet of distance. In back-to-back at-bats, he hit the longest homers of his career — one traveling 403 feet and the second 413.
La Stella is batting only .184, but three of his seven hits have left the yard. He rarely showed such pop in a Cubs uniform. So when he arrived at Wrigley and held court with members of the Chicago media corps, he couldn't avoid the topic. They wanted to know whether the 30-year-old, who hit nine homers total from 2015 to 2018, had reinvented himself as a slugger.
"I don't think so, but I'll take it for the time being," La Stella said. "It's going to be cool while it lasts. It's something I'm working to drive the ball a little more."
Short hops
Albert Pujols has a .345 on-base percentage in 15 games. That's a 56-point improvement over last year. ... Despite a continued decline in fastball velocity, veteran reliever Cody Allen hasn't given up a hit on his four-seam fastball. In fact, he has given up only one hit overall in 61/3 innings. It came off his curveball.
---