Mike Trout's contract doesn't mean the end of cheap beer at Angels games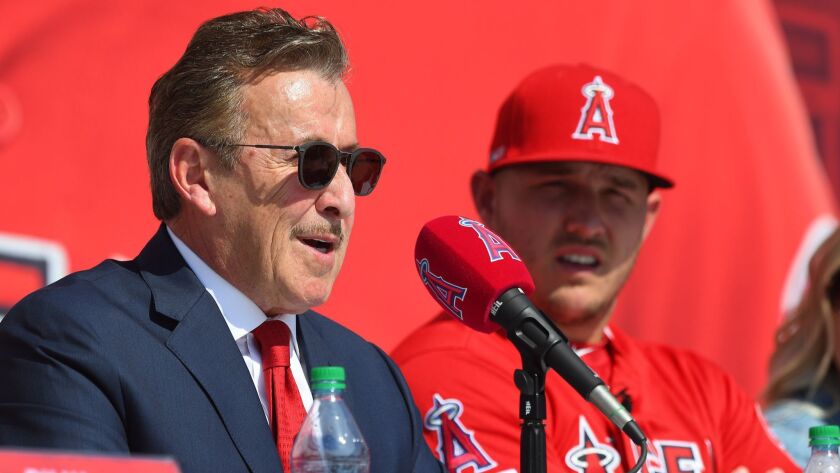 On his first day as owner of the Angels in 2003, Arte Moreno cut the price of beer. A decade and a half later, a beer still can be bought at Angel Stadium for $4.50.
The Angels committed $426.5 million to Mike Trout last week, but that contract does not mean the end of cheap beer at the ballpark, a point Moreno made clear Sunday during festivities surrounding Trout's signing.
The Angels are in robust financial health, as are many teams. Major League Baseball now generates $11 billion per year, even as teams hide behind the luxury tax in spending on major leaguers and impose limits on spending on amateur players. The Trout deal is less than a week old, but discussions of its economic implications have been heavy on myth and light on reality.
The bottom line: The Angels believe keeping the best player in baseball will help them become the best team in baseball.
No one player can win a championship. By spending so much on Trout, aren't the Angels limiting their ability to spend on the rest of their team?
The idea that the richest contract in sports history might put the Angels in financial handcuffs is nonsense. The Angels have only three players under contract through 2021: Trout, Albert Pujols and Justin Upton.
The Pujols contract, onerous as it may be, did not preclude the Angels from signing Josh Hamilton ahead of the 2013 season, or from twice extending Trout. Pujols' contract expires in 2021. Upton's contract expires in 2022.
"We're going to have all kinds of financial flexibility," Moreno said. "We've never put ourselves in a situation where we're losing money.
"It's not always just straight financial. If you want to be competitive long term, you really have to make good decisions on the people you bring in."
The Trout and Vladimir Guerrero and Bartolo Colon contracts reflect well on the Angels' decisions. The Hamilton and Vernon Wells and C.J. Wilson contracts do not.
But the Angels still can spend to win, according to Moreno.
"There's no economic restraints, where we are right now," Moreno said.
No team can win on free agents alone. The Dodgers win without playing at the top of the free-agent market, in part because of a vibrant minor league system. The Angels have revitalized theirs, and Trout during his press conference defended his decision to stay in Anaheim in part by rattling off names of their top prospects: outfielders Jo Adell and Brandon Marsh, and pitcher Griffin Canning.
Are the Angels positioning themselves for a better television deal, with the star of the show signed for 12 more years?
No. Trout has been the star of the show, and the Angels did not get better ratings than the Dodgers last year, even with the Dodgers blacked out in a majority of Southern California homes. Besides, the Angels' current television deal outlasts even Trout's 12-year contract.
"We have a very good TV deal," Moreno said.
Can the Angels recoup some of Trout's contract in merchandise sales?
Not much. There was no shortage of Trout merchandise inside the Angels' team store during the Freeway Series, from the $34.99 T-shirt to the $374.99 authentic game jersey, but all 30 major league teams split revenue from all merchandise sold outside the stadium.
MLB sold more Shohei Ohtani jerseys than Trout jerseys last year. And, Moreno said, the costs of producing, shipping, marketing and displaying an item are significant.
"Believe it or not, there's not a lot of profit in souvenirs," he said.
How about attendance? Do the Angels believe Trout can attract more fans to the ballpark?
The Angels have sold at least three million tickets for 16 consecutive seasons — including every season of Trout's career, even without a postseason victory to show for it. In the week since the announcement of his new deal, the Angels sold about 80,000 tickets — good, but still less than three percent of annual sales.
Trout's contract could help bolster the Angels' ticket prices, and more broadly their long-term relevance in a region where two MLB teams, two NFL teams, two NBA teams, two NHL teams, two MLS teams and two Pac-12 teams compete for fan dollars.
Can the Angels dangle Trout before the cities of Anaheim and Long Beach to get a more favorable stadium deal?
No city approves a ballpark for one particular player, even if he just might turn out to be the greatest in baseball history. The ballpark should last at least two to three times as long as Trout's contract.
In 2005, Washington happily welcomed the Montreal Expos and gifted them a new ballpark, even though their best player that first year — as measured by wins above replacement — was journeyman pitcher John Patterson.
So what is the business rationale for the Trout deal?
"To me," said Andy Dolich, a consultant who has run marketing operations for teams in each of the five major North American sports, "it always comes down to the owner's chief motivation: Do I want parades, hardware and rings, or do I want asset appreciation?"
But wouldn't the value of the Angels go up with Trout locked up?
Not necessarily. A team is worth whatever a buyer wants to pay. When Frank McCourt put the Dodgers up for sale in 2011, Forbes estimated their value at $850 million, based on the team's revenues and expenses at the time. The Guggenheim Baseball Management group paid $2 billion because it could see a massive television deal on the horizon. When Donald Sterling put the Clippers up for sale in 2014, Forbes estimated their value at $575 million, but Steve Ballmer paid $2 billion because he really, really, really wanted an NBA team.
Moreno paid $183.5 million to buy the Angels. He already could sell them for more than 10 times as much. And, if a potential buyer had to assume almost half a billion dollars in Trout's contract, he might offer that much less for the team.
"For us, it's the person and the player," Moreno said. "Fans are going to get to see one of the best players to date that has put on spikes. That's the way I look at it."
As Moreno told the Angel Stadium crowd Sunday, the ring is the thing.
"We need some jewelry," he said.
---
Get the latest on L.A.'s teams in the daily Sports Report newsletter.
You may occasionally receive promotional content from the Los Angeles Times.