Tucker Davidson showcases plenty of improvement to earn his first Angels win
Tucker Davidson's home debut as an Angel was completely different from his first game in the uniform.
On Sunday, under an unforgivable sun on a 91-degree afternoon, Davidson pitched six innings of two-run baseball, scattering four hits, walking one batter and striking out three.
"Today was fun," Davidson said. "I think my slider was really good today. ... I felt like I had better direction today in my mechanics."
The performance earned him his first win with his new team, a 4-2 Angels victory over the Minnesota Twins to take the series.
Davidson came to the Angels in the trade that sent closer Raisel Iglesias to the Atlanta Braves at the beginning of the month. His first start, on Aug. 7 against the Seattle Mariners, was a mess. He gave up six runs, all earned, six hits and five walks in just four innings.
Mike Trout will play for the U.S. in the World Baseball Classic and Angels teammate Jose Quijada might represent Venezuela. Will Shohei Ohtani play for Japan?
Before Sunday's game, interim manager Phil Nevin said since that last start Davidson had been working with pitching coach Matt Wise on different pitching grips and that command was the biggest improvement needed.
After the game, Davidson explained he previously struggled with his arm movement toward the plate on his delivery. It was an issue he said was corrected in the offseason, but he drifted away from that progress toward the middle of the season.
"This week, I really just focused on keeping the front arm towards home plate and then allowing myself to just fall over into the delivery," he said.
Davidson, a left-hander, said the issue was that his front-facing arm would go too far toward first base and that he would try to course correct to pull his arm back toward third base while delivering a pitch.
The adjustments made to avoid that paid dividends minus one mistake.
Davidson walked Carlos Correa, his second batter of the game, then gave up a two-run homer to Byron Buxton to make it 2-0.
Buxton's hit, which came on a 1-and-0 curveball, went right to the digital billboards atop the right-center-field wall. Right fielder Taylor Ward positioned himself under the ball's trajectory, leaping up in hopes of robbing Buxton of the hit, but the ball hit the billboards too high up from Ward's reach.
"It was one of those, 'OK, let's go back out there and let's continue to throw it,' " Davidson said. "You got to continue to go out there and pitch."
The Angels rallied to force extra innings before Taylor Ward hit a walk-off home run in the 11th inning of a 5-3 win over the Minnesota Twins.
The Angels came through with some run support and Davidson was able to walk off the mound for the day with his team in the lead.
After tying the score at 2-2 in the third inning, the Angels pulled ahead on a Kurt Suzuki sacrifice fly in the fourth. Shohei Ohtani provided some insurance in the seventh with an RBI single.
David Fletcher extended his hitting streak to eight games with a two-out single off Chris Archer in the third inning with the bases empty.
Ohtani came up next and worked a five-pitch walk, putting the tying run on first for Luis Rengifo, whose double into the left field corner scored two.
Jo Adell and Suzuki got the Angels the lead in the next inning. Adell had a leadoff double and advanced to third on Jared Walsh's groundout. Suzuki followed with his sacrifice fly.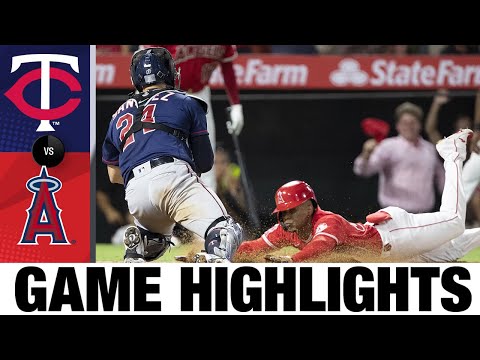 "I just felt a lot more comfortable," Davidson said of the go-ahead run in the fourth, explaining that he actually started to settle in more after the first inning.
"I was like, 'OK, I'm feeling good within my mechanics, let's just start delivering strikes,' " he said. "And then we got up and I was like, 'All right, they're rolling right now. Let's just continue to go. Let's have quick innings. Let's get them back and start hitting.' "
Ohtani made it 4-2 with a single off Michael Fullmer, who gave up back-to-back singles to Andrew Velazquez and Fletcher to start the seventh.
Jaime Barría and José Quijada combined to pitch three scoreless innings, securing the Angels' fifth win in six games.
Nevin finds some redemption
The Angels' walk-off win in extra innings against the Twins on Saturday might have been remembered for a different reason if the team had not completed its comeback.
The score was tied 3-3 in the 10th inning, with Magneuris Sierra on third and Ohtani on first, one out and Rengifo — who bats .230 with runners in scoring position — at the plate.
Rengifo lined out to center fielder Buxton, who launched himself a few extra feet to catch the ball. But before Buxton even caught it, Ohtani was a foot from second base, having attempted to steal.
Ohtani then had to try to hustle back to first to prevent a double play. He wasn't fast enough and the Twins closed out the inning, forcing another inning.
Nevin said after the game that he instructed Ohtani to run in that instance.
"I'll be honest, I screwed up in the 10th," Nevin said Saturday. "Looked at their defense and I thought [Carlos] Correa was a little closer to second. … I thought if Ohtani did get to second and they walk Rengifo, then we have the bases loaded with [Ward] up.
"That was on me. I'm glad they picked me up."
The point was to get Ward up against Twins reliever Emilio Pagan in the 10th, a matchup Nevin explained Sunday that he had a good feeling about.
He was right.
When Ward faced Pagan to start the 11th, he took his 3-and-2 four-seam fastball to the center-field seats for the win.
Mike Trout update
Mike Trout, as scheduled, had a second day of on-field hitting and running work Sunday. He took more soft-toss pitches and even participated in a full batting practice with the rest of the team. There is still no date for his return.
"He's ramping up pretty good, so it was nice to see," Nevin said. "Eventually he's gotta get into seeing some live pitches somehow. So we'll progress as we can on how he feels. So far, everything's gone well, no setbacks and he feels great."
Trout has not played since July 12 because of a back and rib injury.
Get the latest on L.A.'s teams in the daily Sports Report newsletter.
You may occasionally receive promotional content from the Los Angeles Times.