'It's all of us.' Perry Minasian says Phil Nevin isn't only to blame for Angels' woes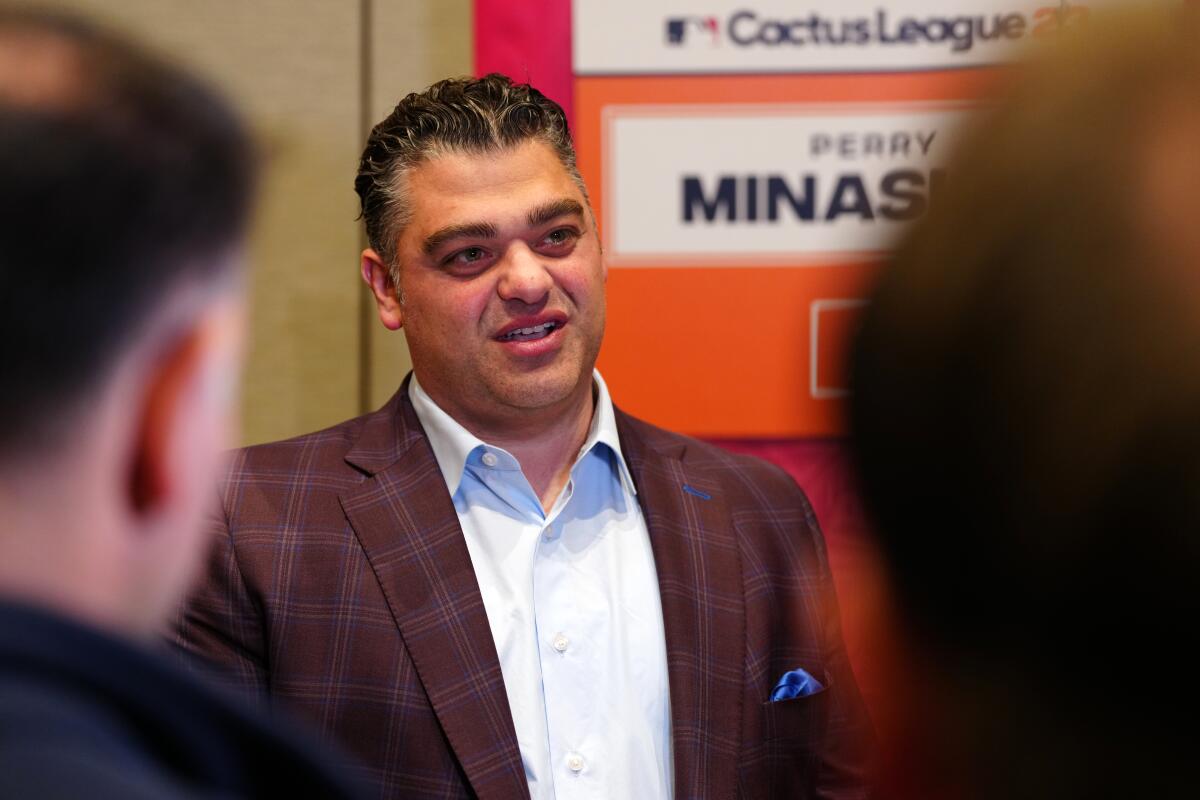 The Angels entered their offseason in a state of flux after a second straight 73-89 finish.
Their manager was informed he would not be brought back next season. Their fan base was left frustrated and exhausted by the blunders of the last several years. And their two-way star, Shohei Ohtani, is on an expiring deal, a member of the Angels until the day after the World Series.
General manager Perry Minasian, speaking to members of the media over Zoom on Tuesday, answered a number of questions. Here are some of the main topics that were discussed:
Minasian confirmed that for now, only Phil Nevin would not be returning. Minasian spoke to the other coaches, letting them know about the decision and that he would speak to them again this week, after a full examination of the organization to determine what next changes to make.
Minasian spoke highly of Nevin. He said that although the Angels did not win enough games, it was not Nevin's fault and the decision not to bring him back made Monday a tough day.
"In sports, when you have certain expectations and you don't meet those expectations, there are changes," Minasian said. "By no means does that mean Phil is to blame. … It's all of us.
"The GM-manager position is such an important relationship. This year was not an easy year … it was really really challenging and there's not many other people I'd rather go through it with than Phil."
The Angels will not pick up an option on Phil Nevin's contract for the 2024 season following another year outside the postseason for the franchise.
Asked whether it was his decision or owner Arte Moreno's, Minasian offered that it was a collaborative one and decided after conversations following the final game of the season Sunday and again Monday morning.
Minasian did not have a timeline for filling the position or say what type of manager he would look for. He expected there would be "a large amount of candidates" but did not have a list yet.
Very little offseason planning has happened with the Angels two days removed from their eighth consecutive losing season. For now, though, it seems a rebuild is not on the horizon, and the Angels will continue to try to compete for the playoffs.
"That's always been the goal," said Minasian, who has one more year on his contract. "We haven't had those conversations as far as payroll goes and where we're going and who we're going to go after and so on.
"But with that being said, since I've walked in the door, it's always been about winning here and trying to find a way to win and put a competitive team on the field for the fan base and that's something that I don't believe will change."
Among the items on Minasian's list is reviewing the roster to see who fits and how. Another will be evaluating the medical and training staff. The Angels suffered a number of freak injuries this season — like Taylor Ward's facial fractures after taking a pitch to the face and Gio Urshela fracturing his pelvis while trying to outrun a throw to first base. But they will see what they can do to prevent the muscle and soft-tissue injuries that also plagued the club.
Minasian also put an emphasis on the returns to health of injured stars Mike Trout and Anthony Rendon.
"When we were healthy we were a pretty competitive club," Minasian said. "There's no secret there. We need Mike Trout, we need Anthony Rendon, we need those guys to play more and they know that.
"It's something that we've talked about and they're gonna go into the offseason and they're going to do everything they can in their power to be ready to go for next year."
Minasian said it was "pretty safe to say" the Angels plan to make Ohtani a qualifying offer and seemed to imply that they would pursue him if he enters free agency.
"It's pretty safe to say we love Shohei Ohtani and we'll just see where everything goes," Minasian said.
If Ohtani were to reject the Angels' qualifying offer and sign with another team, they would be awarded a compensatory draft pick for next year. How high that pick could be would depend on the team getting back under the luxury tax threshold, which it exceeded after the trade deadline and tried to get back under in a salary dump at the end of August. Minasian said he did not know whether the Angels were back under the tax threshold.
Shohei Ohtani posts to Instagram that he's "looking forward to seeing everyone next season," but will he still be playing with the Angels in 2024?
Ohtani had a premature end to his season because of injuries. He tore the ulnar collateral ligament in his right elbow while pitching in August and sustained an oblique injury during batting practice in September.
After his season was over, Ohtani decided to get an undisclosed surgery on his elbow. He returned to the team for the final two games, watching from the dugout while wearing a thick cast around his arm. Since Ohtani is approaching free agency, he is handling his recovery and will navigate his rehabilitation without the Angels.
Asked how confident he felt in the Angels' chances of re-signing Ohtani, Minasian said: "Shohei has had an outstanding three years here. Watching him play day in and day out has been a privilege. The relationship we have, I cherish.
"I talked to him the second-to-last day of the season, we had a one-on-one conversation. I believe this is a place that he's enjoyed playing. … We'll just have to see what happens over the course of the offseason."

Get the latest on L.A.'s teams in the daily Sports Report newsletter.
You may occasionally receive promotional content from the Los Angeles Times.