Angels, Shohei Ohtani reach $30-million contract for 2023; José Suarez excels in win
The Angels and two-way star Shohei Ohtani have agreed to a one-year contract for next season worth $30 million, the team announced Saturday afternoon.
Ohtani was going to be eligible for salary arbitration after this season. This deal means he and the Angels will avoid the process.
"Well deserved," CAA's Nez Balelo, Ohtani's agent, said of the contract.
The reigning American League MVP will become a free agent after the 2023 season.
Reid Detmers, who pitched a no-hitter this season, threw six strong innings as the Angels defeated the Texas Rangers 4-1 for their fifth win in a row.
Angels general manager Perry Minasian was not immediately available for comment.
Ohtani's $30-million contract is a record for an arbitration-eligible player, a contract worth $3 million more than what Dodgers star Mookie Betts received from the Red Sox in 2019 (one-year, $27 million).
Mets pitcher Jacob deGrom's 2019 arbitration contract featured a $9.6 million year-over-year raise, and Betts' 2019 arbitration deal with the Red Sox included a $9.6 million raise. Ohtani's contract gives him a raise of $24.5 million for 2023, the largest year-to-year increase in MLB history.
The Angels now have about $103 million committed to the 2023 payroll between Ohtani, Mike Trout and Anthony Rendon.
"We knew we were gonna have him back next year, but I think the comfort level going into the offseason for everybody involved, probably a good thing," interim manager Phil Nevin said. "It's not really my department.
"Getting to manage him has been truly a pleasure," Nevin added, "and hopefully we get to stay together for a while."
Ohtani this season has continued to re-write the history books in the first season of MLB's designated hitter rule change, which allows a starting pitcher to bat for himself on days they also pitch — affectionately nicknamed the "Ohtani rule."
Baseball is an entertainment business and few are better at that than Shohei Ohtani. It would be foolish for Angels to trade him.
In 2022, he became the only player in MLB history with 10 or more wins as a pitcher and 30 or more home runs hit in the same season. At 15-8 through 27 starts and 34 home runs hit over 152 games, he well surpassed Babe Ruth's single-season mark, set in 1918, as a two-way player with 10+ wins and 10+ home runs hit.
He is on pace to be the only player in MLB history to qualify as a league leader as both a hitter and a pitcher in the same season — he is one inning shy of the minimum innings required for a pitcher. Ohtani's final start of the season will come in the Angels' last game on Wednesday in Oakland.
This season, Ohtani has flirted with a perfect game, taking a bid into the sixth inning April 20 at Houston, and a no-hitter, taking a bid into the eighth inning Thursday night against the Athletics.
He also had eight RBIs in a game June 21 against Kansas City, then struck out 13 in his start against the Royals the next day.
"It's good to see your friends succeed and get what they deserve," fellow starting pitcher Patrick Sandoval said of Ohtani's new contract. "He's worked, what, five years for this? It's awesome to see him get what he's deserved."
Added infielder David Fletcher, "I don't think it's surprising. I think we all kind of knew it was coming. Hopefully we can get a 10-year deal done soon."
Overall, Ohtani in 2022 has pitched to a 2.35 earned-run average, limiting opposing batters to a .207 batting average. He's batting .276 with 29 doubles, six triples, those 34 home runs, 94 RBIs and 88 runs.
Before the Angels' game against the Texas Rangers on Saturday night — a game in which Ohtani extended his hitting streak to 16 games as he went one for four — the team also voted him its most valuable player of the year and its Nick Adenhart pitcher of the year.
José Suarez can't stay perfect, but Angels win
José Suarez kept the Rangers and the Angel Stadium crowd on their toes in his final start of the season.
On Saturday night, Suarez turned a seemingly meaningless October game into a career highlight, taking a perfect game bid against the Rangers into the seventh inning. That bid ended when the leadoff batter in the seventh, Marcus Semien, singled, but the Angels beat Texas 3-2 for their sixth consecutive victory.
"At first, I didn't think about that or anything, just to finish this game strong and end the year strong," Suarez said in Spanish after the game. "I did notice they didn't have any hits on me, but my mind was to get through seven innings because I made a bet with the pitching coach [Matt Wise] that I was going to pitch seven innings."
Suarez explained that although the bet was for $400, the intent was motivation to pitch well and deep into the game, something he has struggled to do this season. Saturday's game marked the third time this season he pitched into the seventh inning.
Semien hit Suarez's first pitch, a changeup, for a single that rolled into left field. The home crowd saluted Suarez's efforts with a round of applause.
Suarez also gave up a towering, two-run home run to Nathaniel Lowe before the top of the seventh was over, allowing the Rangers to pull ahead 2-1.
Anaheim plans to build a fire station in the Angel Stadium parking lot, which the Angels say the city has no unilateral right to do and are planning to sue.
The Angels got both of those runs back for him in the bottom of the seventh. David Fletcher hit a single, then Kurt Suzuki — the starting catcher for his final Angels home game — was hit by a pitch.
Livan Soto then doubled, making his way to third as Rangers center fielder Leody Taveras threw home. Fletcher scored easily, but Suzuki was tagged out in the back of the head by Rangers catcher Jonah Heim.
Matt Thaiss pinch-hit and reached on a fielder's choice, with a hustling Soto beating the throw to the plate to score.
"It feels good helping the pitcher," Soto said in Spanish after the game. "Today, it was José's turn to pitch, and he did an amazing job. I'm very happy to have helped him win today."
Suzuki drove in the Angels' first run in the second inning on a run-scoring single for his 730th career RBI.
Suarez was relieved by Zack Weiss, who pitched a clean eighth, and Ryan Tepera closed out the game. Suarez gave up two hits, struck out six and walked none in his seven-inning effort.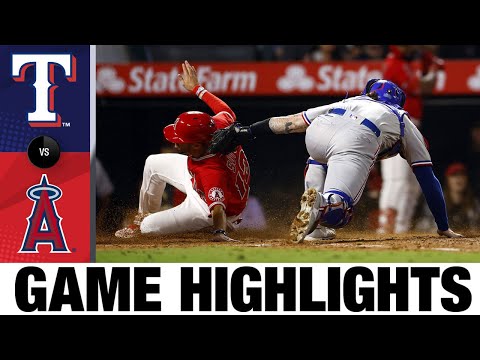 "He had a focus about him today that I'm not sure I've seen before," Nevin said of Suarez after the game. "After the sixth inning, we started having that [perfect game thought] in our minds again. He's had some hiccups through the third time [through a batting order this season]. He made a bad pitch, just one he left in the middle of the plate."
Suarez has played with the Angels since 2019 but has been optioned back to triple A at times in that span, including this season.
"I helped the team win," Suarez, who finished the year 8-8 with a 3.96 ERA, said in evaluation of his final game of the season. "I am happy with the way my year went."
Asked how he plans to build from this season to 2023, he said, "Work to improve my body and work hard at everything the team tells me to do."
Get the latest on L.A.'s teams in the daily Sports Report newsletter.
You may occasionally receive promotional content from the Los Angeles Times.