Andrew Cancio balances world championship boxing and a SoCal Gas job. It's not easy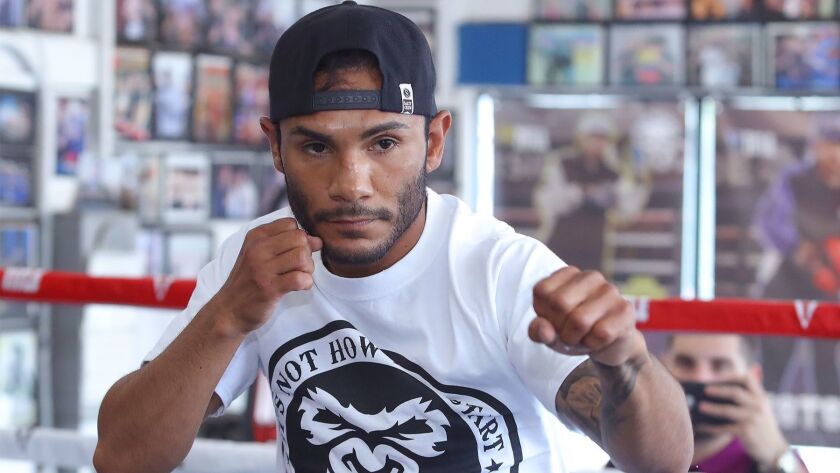 Marvin Hagler once delivered a marvelous quote on the cerebral approach and psyche of a pugilist: "It's tough to get out of bed to do roadwork at 5 a.m. when you've been sleeping in silk pajamas."
Andrew Cancio, a recently crowned WBA super featherweight titleholder born in Blythe, Calif., is a world champion cut from a different cloth — not made of luxurious fabric. The 30-year-old Mexican boxer is a previously retired career journeyman (20-4-2, 15 KOs) ) who can't be said to have enjoyed the spoils of the sport in terms of opulence.
Like many boxers, the 130-pound fighter endures grueling roadwork in the wee hours of the morning. But after his pre-dawn run concludes, he changes from his nylon sweat suit to coveralls and steel-toe boots because, 40 hours a week, Cancio works as a construction technician for the Southern California Gas Co., toiling on local streets, wielding a jackhammer on pavement and fixing gas leaks. His day job leaves him sweaty, tired and sore, but it provides him with security and benefits to take care of his family while he pursues a resurgence as a boxer.
In February, the blue-collar Cancio's life changed radically when he overcame monstrous odds to defeat Alberto Machado, an unbeaten Puerto Rican champion two years his junior who walked into the ring with a 4-inch reach advantage, 3½-inch height advantage and devastating knockout power.
The fight unfolded in almost cinematic fashion. Cancio first had to shake off pre-fight anxiety. He was dealing with a wave of emotions stemming from the enormity of his first world-title shot in front of a sold-out crowd mostly there to see him. As soon as he stepped into the ring, he promptly got caught with a left uppercut and was knocked down in the first round. He bounced back off of the canvas, survived a deep gash over his left eyelid and then went on to knock down Machado three times in the fourth round en route to a technical knockout victory.
"It was the fight of my life," said Cancio, who was crowned champion in front of his family and friends, as well as his boss and about 40 co-workers from the gas company. "It's still surreal because I've never had this before. I've been on this grind for a while. My life has not changed too much. I still have my job and go to work every day. I'm just getting more recognition now."
On Friday, Cancio, a professional boxer since 2006, will return to the site of his career-defining performance to make the first defense of his belt in a rematch with Machado (21-1, 17 KOs) at the Fantasy Springs Resort Casino in Indio, Calif. The fight will be streamed on DAZN.
"I don't expect anything different for this fight. I think he just went up against a guy that can get hit, get knocked down and come back to fight even harder," said Cancio. "My nerves got the best of me that night. I didn't get over it until I got dropped. That was my wake-up call, and it reminded me it was time to get to work."
After Cancio's convincing performance, the Freddie Roach-trained and Miguel Cotto-promoted Machado said he'd had issues preparing to make weight for his third title defense. He was distracted by a surgery for his 1-year-old son.
"Instead of being a gentleman of the sport and saying it was my night, he made excuses discrediting my victory," said Cancio, who was surprised himself how quickly he turned the first fight around in his favor. "My style was difficult for him to handle. I'm surprised he wanted a rematch. I'm going to show him that it was no fluke. I'm a better fighter than he is. I have a chip on my shoulder to annihilate him again."
"Cancio is a great fighter, but I'm ready to come back on Friday," said the southpaw Machado, who contemplated passing up on a rematch and moving up in weight because, at 5-foot-10, he had a hard time cutting down to 130 pounds. "I never underestimated my opponent. I knew he was good because that's how he earned the opportunity to fight for a world title. It was just a situation and it ended in his favor that night."
The rematch will mark the 11th time Cancio is fighting at Fantasy Springs, which is 100 miles away from Blythe, the small truck-stop town on the California-Arizona border. The venue has always provided Cancio, who is 9-1 in his previous appearances there, a chance to please the partisan crowd.
He's even more beloved back home in Blythe as the 20,000 desert community can now claim to have its first-ever world champion — with a feel-good story to boot. In April, Cancio was given the keys to the city by Mayor Dale Reynolds and presented his championship belt by Oscar De La Hoya, his promoter, in front of nearly 1,000 people at the Joe Wine recreation center as Cancio spent the day signing autographs and taking pictures.
"There's been a big change in his attitude. He feels like a champion now," said trainer Joseph Janik. "He feels like he belongs with the best in the world."
Cancio is enjoying the newfound limelight and fanfare and relishing the underdog role for now, but his day job is not some kind of promotional gimmick. He's not yet earning enough money solely from boxing. Still, Cancio made $75,000 for his first scrap against Machado, and he'll earn $125,000 for the rematch before everyone gets their cut, plus taxes. His previous earnings, aside from one $50,000 purse, did not come close to the figures he's now enjoying.
Nicknamed "El Chango" because by the age of 14 he already had a beard, Cancio quit the sport in 2016 after a TKO loss to Joseph Diaz on the Canelo Alvarez-Liam Smith pay-per-view undercard. He'd lost three of his last six bouts, so he decided to retire, frustrated with the uncertainty of the sport. After a 19-month break, however, the itch returned. He picked up the gloves again for one more run in 2018, and it's proven to be successful.
Providing for his family is largely the reason he still pulls double duty. Leading up to the fight, he conducted interviews with media while sitting in his truck during lunch breaks. This week, to fully focus on the upcoming rematch, he's using accrued vacation days to take time off.
When he was juggling training for the Machado fight and his gas company job, Cancio's typical weekday went as follows: Up at 4:30 a.m. for a five-mile run, navigating the asphalt streets that he'd be soon be pounding again at work. Change into work clothes by 5:50 a.m. Leave home in Oxnard and drive to the Southern California Gas Co. branch in Simi Valley. At 6:30 a.m., start work.
"I'm always tired between work and training. Both are hard work in its own right, but I have to do it," said Cancia. "I can't slack. My goal is to remain world champion. That's how I find my strive. I love boxing. I wouldn't say I love my day job. I'd rather wake up and just box."
---
Get our high school sports newsletter
Prep Rally is devoted to the SoCal high school sports experience, bringing you scores, stories and a behind-the-scenes look at what makes prep sports so popular.
You may occasionally receive promotional content from the Los Angeles Times.