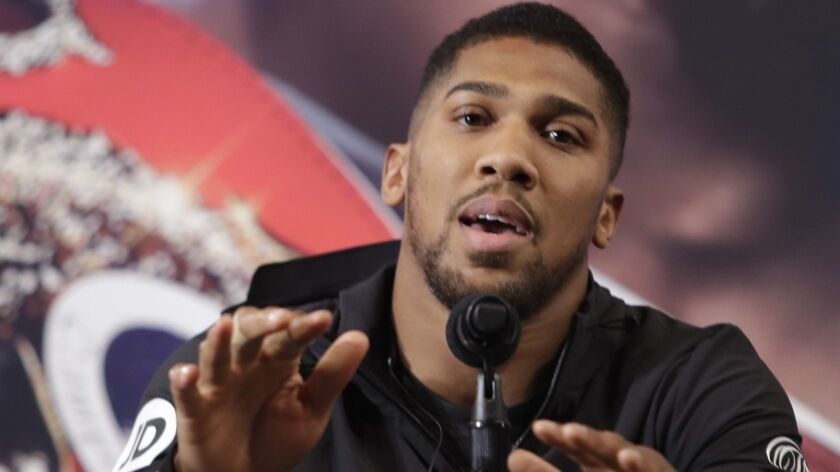 Anthony Joshua's June 1 U.S. debut fight against Brooklyn's Jarrell "Big Baby" Miller at Madison Square Garden is an opportunity to further the revival of boxing's heavyweight division.
The unbeaten three-belt champion from England said he was in awe of the "iconic" venue where Ali-Frazier I was staged when he first visited it in December to watch Canelo Alvarez fight. So when talks crumbled for a bout against countryman Dillian Whyte April 13 at Wembley Stadium, Joshua's promoter, Eddie Hearn, told him, "We're going to the USA."
Yet, in the same week that Miller shoved Joshua and the pair exchanged unpleasantries at their New York media tour, Joshua's countryman and unbeaten lineal heavyweight champion Tyson Fury stepped back from what was described as an impending rematch deal with World Boxing Council champion Deontay Wilder on Showtime pay-per-view to align with rival promoter Top Rank and its broadcast partner, ESPN.
Now, with a WBC deadline looming for Fury-Wilder, and all three glamour heavyweights linked to rival promoters and alternate networks, each of these fights that would continue the positive momentum of the heavyweight division now look uncertain.
"I agree with you … Fury went to sign with another broadcaster … the broadcasters are a vehicle to showcase the talent stream, not to hold the talent back," Joshua (22-0, 21 knockouts) said. "It all can still happen, but you can just see now how it takes a little more negotiating for the broadcasters to come to an agreement."
That's no small task, as seen by ESPN's Thursday move to cancel Joshua's scheduled three-hour commitment to ESPN shows in New York. That move was first reported Friday by Richard Deitsch of the Athletic. Joshua did provide one interview to an ESPN print reporter on Thursday.
"It would've been easier," to make a circle of fights between Joshua, Wilder and Fury, "if we were all on one network, but that doesn't work for everyone," Joshua said. "That's why, sooner or later, broadcasters will have to set aside their differences and make the fights happen for the fans and for the fighters' dreams."
The WBC on Friday distributed letters of notification to the Wilder and Fury camps. After each side requested additional time as a purse-bid deadline loomed, to regroup and assess if the rematch of the thrilling Dec. 1 Wilder-Fury draw at Staples Center would occur next, WBC President Mauricio Sulaiman gave the sides until Tuesday to inform him if they are still pursuing the rematch.
Joshua, meanwhile, called his bout against Miller (23-0-1, 20 KOS) "scary … because it's unknown territory, and there's a lot of pressure riding on this for both fighters. The opportunity that he has," for an upset, "and the opportunity I have — stamping my name in U.S. territory — it makes for a big fight."
Miller has done his part, shoving Joshua and showing the champion little respect. Is it real animosity or promotional work?
"There's nothing in the contract that says 'build this fight up or it doesn't happen,'" Joshua said. "You don't need to oversell the fight. It's booked. It's done. We need to train and get it on. But there's a lot of testosterone and a lot of tension because both fighters know what's at stake, and it's two guys coming together who literally want to take each others' heads off in 14 weeks.
"I have to weather the storm. He's going to have a lot of supporters there. His family is quite vocal. I've just got to make sure I don't get wrapped up into an emotional fight. I'm at my best when I stay in control of my emotions. I know there's going to be some tough times. I believe I'll probably hit him with a couple good shots, though."
Sign up for our daily sports newsletter »
Joshua said he expects to return to New York in two weeks to commence training. By that time, he'll know what became of Wilder-Fury — which has been pointed toward May 18 in either Las Vegas or New York.
Joshua said he remains convinced that he will fight both Wilder and Fury in short order, setting an expectation to fight one of them after Miller.
"Yes, 100%. There's no two ways about it. I don't see why not. There's no reason it wouldn't be," Joshua said. "If they want to fight me, I want to fight them. I don't know how much more time can be wasted in getting these fights done. If it's a broadcasting issue, they've got to come to an agreement. If it's a promoter issue, those guys have got to come to an agreement.
"But the underlying issue is that we both want the fight and we both want to get [financially] represented properly."
Twitter: @latimespugmire
---