Newsletter: The Fight Corner: Oscar Valdez has some thoughts on a border wall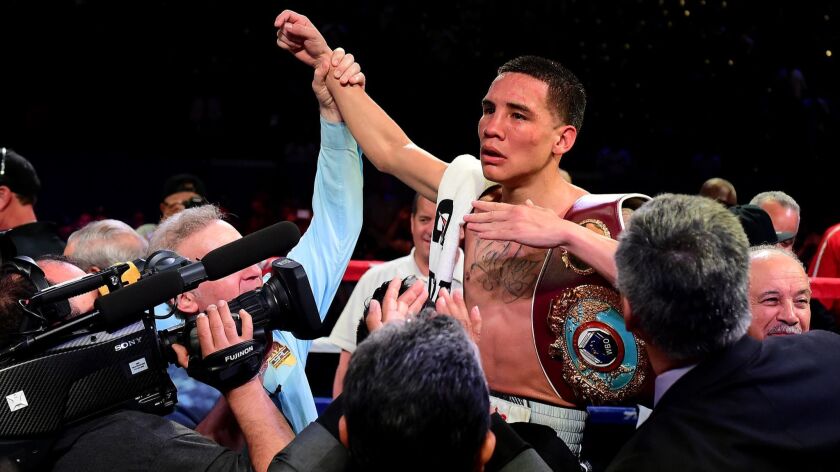 Hi, my name is Lance Pugmire, and welcome to our weekly boxing/MMA newsletter. This newsletter will be delivered right to your inbox every week if you sign up here. Let's get right to the news.
Oscar Valdez's reign as featherweight boxing champion during the Trump administration has served as a continued counterpoint to the fear the president attempts to perpetuate.
In 2016, promoter Bob Arum packaged Valdez in a pay-per-view group of fighters he labeled the "No Trump" undercard that stood as a reminder of the desire of many Mexicans to achieve greatness in the U.S.
Valdez has spent his life traversing the U.S.-Mexico borderline that separates his parents' home in Nogales, Ariz., and his grandmother's residence in the Mexican state of Sonora stretching down toward familiar stomping grounds in Hermosillo.
To Valdez and the many friends and family members he knows north and south of the border, walking across the line is a casual event that's done to temporarily visit loved ones for a weekend dinner, or to search for a better life.
"It wasn't like [the security seen in] Tijuana. It was nothing, we'd just come across the border," said Valdez, 28, a former Mexican Olympic boxer who has dual citizenship and has spent several years training in Southern California.
As he was working toward completing training in San Diego this week for his ESPN Plus-streamed Saturday night World Boxing Organization title defense in Frisco, Texas, against Italy's Carmine Tommasone, Valdez (24-0, 19 knockouts) learned of the government shutdown over Trump's desire for more than $5 billion in funding for the border wall.
"I'm not a big expert in politics, but stopping people from getting paid to build a wall? It seems like you'd be wasting a lot of the taxpayers' money for a wall when you can spend it on other things," Valdez said. "We don't agree with what he's trying to do, and hopefully it doesn't proceed."
Valdez has resided exclusively in San Diego for months, focusing on his fight while training under his new lead cornerman, Canelo Alvarez's trainer Eddy Reynoso, but he paused last week to consider how the shutdown-driven focus on the border may change his life.
"Now that I think about it, I know my family is OK, and I can't wait to go back after this fight to see them, but I don't know how the wall would affect us. No longer crossing the border like we've always done … how would that be?" he asked.
The uplifting contrast from Trump's push, Valdez said, is the fierceness of political and public opposition to the wall.
"Being born at the borderline, my people have always seen a great relationship with both sides. This just doesn't make sense when so many people are only coming to this country to work, to do good things and try to make a better life," he said.
"Being accused by those trying to make the wall of being terrorists or drug lords — it's not that as much as it's people having the American dream and wanting to do it right. I don't see why you'd put up a wall and limit those people from trying to come to this great country."
A win is a win
Getting rocked by Riverside's Josesito Lopez in the seventh round Saturday was a stunning sight for unbeaten welterweight champion Keith Thurman.
But after a 22-month layoff in which he suffered and recovered from three separate injuries, World Boxing Assn. primary champion Thurman took heart in gaining a unanimous-decision victory that leaves him positioned either for a shot at secondary champion Manny Pacquiao or a rematch with World Boxing Council champion Shawn Porter should Porter win his March 9 title defense in Carson.
"I've seen this enough times where people say it wasn't a great performance, and then the fighter comes back in a big fight and performs unbelievably," Premier Boxing Champions promoter Tom Brown said. "Keith said there was going to be ring rust, and that was a tough kid he was fighting in Josesito.
"It's a good victory, and at the end of the day, he got 12 rounds in after 22 months off."
Stand-up man
While mixed martial arts legend Fedor Emelianenko vacated the Forum on Saturday night without even speaking to Bellator MMA President Scott Coker, 22-year-old Whittier featherweight Aaron Pico put on a suit and spent more than 10 minutes addressing his first-round knockout loss to Henry Corrales.
Pico said his father raised him to be accountable, to bask in the rewards of accomplishment, but to also be present for the scrutiny when difficult moments arrive.
Pico explained that after knocking down his Whittier neighbor Corrales with a punch, he got overexuberant about the idea of finishing him, getting rocked and finished by a Corrales flurry.
"It's a hard night, no excuses to make," said Pico, a decorated amateur wrestler who trains under Freddie Roach at Wild Card Boxing Club. "I made a mistake by staying in the pocket too long. I'm 22 years old. I don't have this all figured out just yet."
He later tweeted that he'd made "a rookie mistake and should've executed my wrestling."
Heavyweight Emelianenko, meanwhile, ultimately reached out to Coker after getting knocked out by new two-division champion Ryan Bader in 35 seconds.
"He apologized for his performance and said he will go home [to Russia] and rest up to think about his future," Coker said.
Embrace the process
Saturday night's unanimous-decision victory by Tijuana's WBO light-middleweight champion Jaime Munguia (32-0, 26 KOs) over Japan's Takeshi Inoue was quite a test as Inoue exposed some defensive flaws in the young champion and presented pressure.
"It was a tough fight, but I thought it was a solid showing against a rugged, strong opponent and this is part of the process," Golden Boy Promotions President Eric Gomez said of Munguia.
"If he wants to fight guys like [middleweight champions Daniel] Jacobs and Canelo [Alvarez], he's going to need these fights. These are the fights — this is the fire — you have to go through to get better. It just can't be all knockout wins. Fights like that will make him stronger."
Munguia avoided any cuts or injuries in the bout, and his Mexico-based promoter Fernando Beltran told Gomez he's eyeing a return fight in April for Munguia, who fought five times last year.
Until next time
Stay tuned for future newsletters. Subscribe here, and I'll come right to your inbox. Something else you'd like to see? Email me. Or follow me on Twitter: @latimespugmire
---
Get our high school sports newsletter
Prep Rally is devoted to the SoCal high school sports experience, bringing you scores, stories and a behind-the-scenes look at what makes prep sports so popular.
You may occasionally receive promotional content from the Los Angeles Times.