Hi, my name is Lance Pugmire, and welcome to our weekly boxing/MMA newsletter. This newsletter will be delivered right to your inbox every week if you sign up here. Let's get right to it.
Gennady Golovkin's hard sell to legitimize his June 8 return opponent didn't start well Tuesday when he appeared at L.A. Live to promote his DAZN debut, which will be staged at Madison Square Garden.
Asked if he's watched Toronto's Steve Rolls, a 35-year-old fitness coach, fight before, Golovkin said, "No, I don't know," and then considered if he has even viewed a Rolls fight since their bout was announced earlier this month.
"I don't know right now, too," he said. When reporters laughed heartily, he sought to improve upon his point by correcting, "It's not funny …."
"Rolls was not really my decision," Golovkin clarified in a later conversation. "There was a list of all the boxers who I might be able to box, and, to be honest, nobody agreed except [Rolls]. This guy agreed," Golovkin said. "Interesting to me that nobody wanted to fight me .… I've had a good long break, and I didn't want to wait until August, so let's go, guys."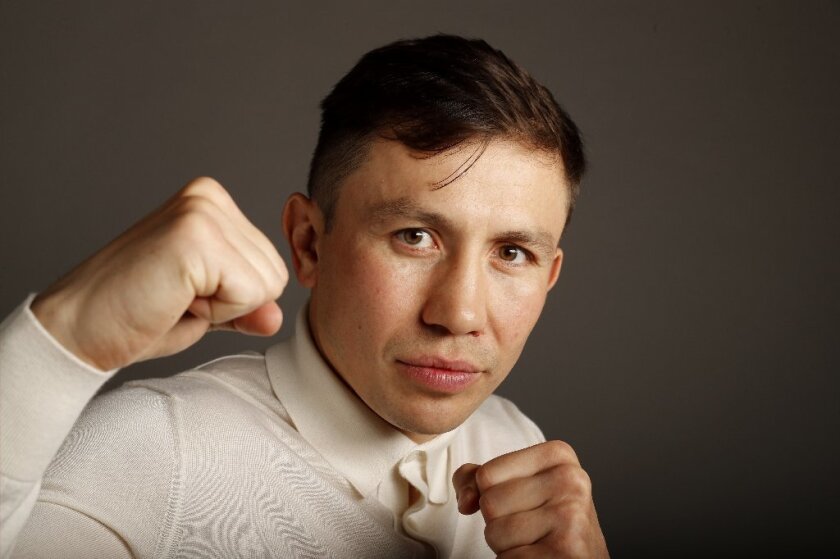 Golovkin (38-1-1, 34 knockoutss) said he related to being an unknown, since he was one himself when he made his U.S. debut in 2012. He noted that while Rolls (19-0, 10 KOs) has an opponent list of no-names, he has sparred with former middleweight champion Billy Joe Saunders and former light-heavyweight champion Adonis Stevenson.
"I'm somebody who's very determined. I work very hard, and I'm very confident in myself. I can box. I can fight. I have skills and I've been flying under the radar for a long time," Rolls said. "I'm the guy to do this. [Golovkin's] just a man, just like I am.
"It's not about the money. It's about how hard I've worked for this. I was determined to have a fight like this … I was just telling a friend a few months ago, 'How am I going to get my name out there?' … and look where I'm at."
Some would assess that where Rolls is at is in an execution line, given how fiercely Golovkin wants a third crack at Canelo Alvarez.
And waiting until August for someone else would be too late, considering many expect Golovkin and Alvarez, who fights Daniel Jacobs in a middleweight title unification for three belts on May 4, will meet for a third time in September after their 2017 draw and Alvarez's majority decision victory in the September sequel.
"It's not bad that, after all, that we will be able to do that," Golovkin said of the trilogy match.
Golovkin didn't want to revisit too much of the anger that he's devoted toward Alvarez in the past over a positive drug test and judges' scoring that he has viewed suspiciously. He said he's taken great joy in being home in Los Angeles for the recent birth of his son.
"I'm not upset," he said Tuesday. "I understand everything. I think correctly. I understand how it works. It's clear for me right now how things are working in this business and who are the priorities."
So must he train for a knockout and be a more powerful version of a fighter who previously knocked out 23 consecutive foes?
"I'm not the one who makes the decision [when it comes to scoring a fight]. I did not lose the last fight," Golovkin said. "I just have to start boxing and you will see the result of those changes on June 8."
No-chase mode
Manny Pacquiao took it all in over the weekend — Danny Garcia's welterweight victory in Carson, the combat sports show in Japan he was paid to attend — and from his place of leisure in an arena suite fit for a king, he speaks freely and easily of what he'll do next.
With a likely July date looming for Pacquiao's next fight, the senator from the Philippines and eight-division world champion has been linked to former two-division champion Garcia and World Boxing Assn. primary welterweight champion Keith Thurman for his next bout.
Some in Pacquiao's camp believe Garcia is the choice, to maximize pay-per-view revenues, but don't be surprised if it's Thurman in Pacquiao's final bout in his existing contract with Premier Boxing Champions' Al Haymon, possibly allowing Garcia to receive an offer from Terence Crawford promoter Bob Arum.
Despite the obvious interest in a Crawford-Errol Spence Jr. unification bout between two unbeatens, the business expectation is that Spence will unify against WBC champion Shawn Porter, and Crawford will go with Garcia or England's Kell Brook — who attended Crawford's victory in New York on Saturday and is an easier negotiation for Arum.
Who does Pacquiao want most?
"Senator does not care one way or another … [he's a] hall-of-fame, eight-division champion!" wrote Pacquiao's manager, Sean Gibbons, in a Monday text message to the Los Angeles Times.
What about the possibility of a Floyd Mayweather Jr. return and rematch of their most lucrative event in boxing history?
"The Senator is not concerned with Floyd Mayweather right now. Floyd said he is retired," Gibbons wrote. "If he decides to fight again, of course the Senator would love a chance to fight again, 100 percent healthy now and fighting at well at [age] 40 as he has in years.
"The Senator feels 40 is the new 20 and age is in the mind of the athlete. He loved seeing Tom Brady win another Super Bowl and the amazing comeback of Tiger Woods winning the Masters, and feels he has a few good years left in boxing. And if that one day includes Mayweather? Great!"
Loaded weekend
In addition to a Friday night Forum card headlined by the World Boxing Council super-flyweight title rematch between Thailand's Srisaket Sor Rungvisai and Mexico's Juan Francisco Estrada and a bantamweight-title unification between Los Angeles' Danny Roman and TJ Doheny on DAZN (coverage starts at 4:30 p.m. Pacific), the fight schedule is packed this weekend.
On Saturday in Lafayette, La., on DAZN (coverage begins at 5 p.m. Pacific), unbeaten 140-pound fighter Regis Prograis (23-0, 19 KOs) of New Orleans meets WBA champion Kiryl Relikh in the semifinals of the World Boxing Super Series tournament while eight-time world champion Nonito Donaire meets South Africa's Zolani Tete in the semis of the WBSS bantamweight tournament.
At the Cosmopolitan Las Vegas on Showtime (7 p.m. Pacific), former lightweight champion Robert Easter Jr. returns to the ring after losing his belt to Mikey Garcia in July at Staples Center to meet Cuba's Rances Barthelemy for the secondary WBA belt.
And in San Jose on DAZN (7 p.m. Pacific), Bellator MMA welterweight champion Rory MacDonald meets local veteran Jon Fitch in the final opening-round match of the organization's eight-fighter welterweight grand prix. Hawaii's Ilima-Lei MacFarlane defends her flyweight belt against Veta Arteaga.
Taking turns
Golden Boy Promotions gave its lightweight prospect Ryan Garcia a main event last month in Indio, and now it's showcasing its other top youngster, Vergil Ortiz Jr., on a prominent stage by placing him in the co-main event to the May 4 Alvarez-Jacobs bout.
The Riverside-trained Ortiz (12-0, 12 KOs) will meet Riverside's former 140-pound title challenger Mauricio Herrera (24-8, 7 KOs) in a replacement bout after planned co-main event fighter and former middleweight champion David Lemieux injured his hand in training.
Although Ortiz typically fights at 140 pounds, he will meet Herrera at the welterweight limit of 147 pounds.
Ortiz, 21, like Victorville's Garcia, hails from Dallas and has impressed with his power since his 2016 pro debut.
Until next time
Stay tuned for future newsletters. Subscribe here, and I'll come right to your inbox. Something else you'd like to see? Email me. Or follow me on Twitter: @latimespugmire
---