Newsletter: The Fight Corner: Will Gennady Golovkin leave HBO? Canelo Alvarez bout is last on current deal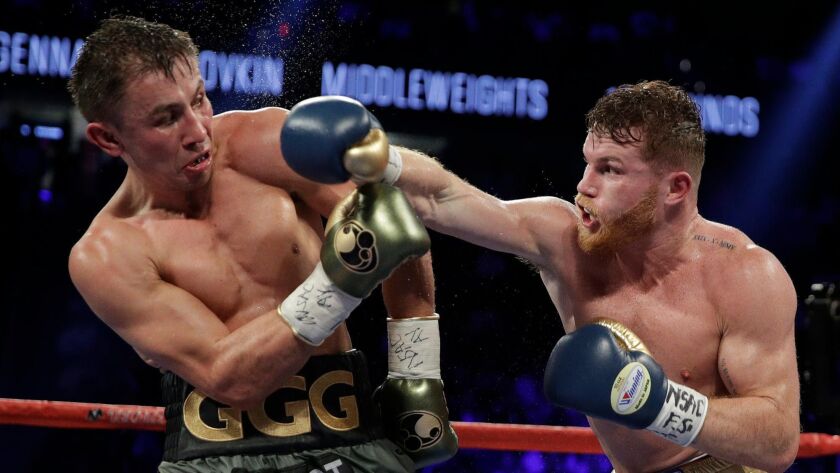 Hi, my name is Lance Pugmire, and welcome to our first boxing/MMA newsletter. We will come to your inbox weekly. Because this is a big fight week, with the Canelo Alvarez-Gennady Golovkin rematch on Saturday, let's get right to the news.
Golovkin's Saturday night pay-per-view rematch with Alvarez marks the final fight in Golovkin's current alliance with HBO.
In a climate in which powerful new options have emerged to broadcast and stream high-profile bouts, it will be compelling to see if the middleweight champion turns away from a network that is increasingly turning its back on boxing.
Sign up for our free boxing/MMA newsletter here »
Six years after HBO helped launch Golovkin's rise by televising his U.S. debut in New York, he was irked that HBO seemed unsupportive of his plan to fight a replacement opponent in May after Alvarez was suspended for six months for submitting two positive tests for clenbuterol.
It rubbed Golovkin as preferential treatment by the premium network toward Mexico's popular Alvarez.
Golovkin ultimately landed an HBO date on Cinco de Mayo at StubHub Center against Vanes Martirosyan, but his $1-million guarantee was 20 times less than what he's expected to earn Saturday.
"We would've liked a bigger license fee," Golovkin promoter Tom Loeffler said.
Asked about the situation, HBO noted that since his September 2012 debut, no other fighter has been on the premium network more than Golovkin, with 14 appearances.
"GGG is a spectacular prizefighter. All of our focus this week is on the showdown at T-Mobile Arena Saturday night and providing the two fighters with the biggest stage possible," HBO executive vice president Peter Nelson said. "We don't comment on contracts."
Golovkin has expressed interest in a multitude of other opponents, including unbeaten Jermall Charlo, who's tied to Premier Boxing Champions. PBC announced a deal with Fox last week to stage bouts on pay-per-view and network television, and it also recently extended its union with Showtime.
Golovkin also is interested in meeting Japan's World Boxing Assn. secondary middleweight champion Ryoto Murata, who is tied to Top Rank and ESPN.
"If Gennady wins [Saturday], he has a lot of options," Loeffler said.
Trust issues
Golovkin harbors deep distrust in the shadiness of boxing, and much of that is connected to two of the scorecards from his first fight against Alvarez.
Although respected veteran judge Dave Moretti awarded Golovkin a 115-113 score in that September 2017 meeting, judge Adalaide Byrd turned in what has become perhaps the most notorious card of the generation by giving Alvarez 10 of the 12 rounds, and judge Don Trella went against both Moretti and Byrd by awarding Alvarez the seventh round in his 114-114 card to blemish Golovkin's otherwise perfect record with a draw.
Asked his greatest regret over that bout, Golovkin trainer Abel Sanchez said, "I wasn't persistent enough in not allowing Adalaide Byrd to be a judge."
The Nevada Athletic Commission sought to quell Golovkin's and the public's doubts by assigning Moretti and veteran judges Glenn Feldman and Steve Weisfeld to score the HBO pay-per-view middleweight-title bout at T-Mobile Arena.
Even with that, Golovkin (38-0-1, 34 knockouts) expressed apprehension over allowing the outcome to be determined by any man other than himself.
"Really, it's a very interesting situation for me, them changing judges," Golovkin told the Los Angeles Times recently. "This is better for boxing and I believe it's better for fans. Still, I don't believe in it 100%."
Asked if he trusts the judges to score the bout purely, Golovkin said, "No, because this is business. I believe that in my heart."
While Feldman and Weisfeld have each previously worked three Golovkin bouts — Weisfeld gave Golovkin a 115-112 nod in last year's competitive bout against Daniel Jacobs — Alvarez maintains he's not considering any conspiracy theory that this panel might favor Golovkin in any narrow rounds due to the flawed judgments of the first meeting.
"I don't worry about that. I don't spend my time crying about the decisions that are made, the judges," Alvarez said.
Sanchez said, "I believe we have three of the best judges going for this fight. We'll get a fair decision. It hurts boxing more than it hurts us to continue to have judging the way it has been in Nevada.
"What I'd like to see is the judges judge the fight as they see it. If a guy's trying to win the fight, then I think he should be given credit for it, and if a guy's trying to survive a round, then I don't think he should be given credit for that.
"The judges have to look at who's pressing the fight, who's throwing and landing punches and trying to make a fight out of it. It's not a dance."
Lomachenko-Pedraza move from Forum to N.Y. is a possibility
WBA lightweight champion Vasiliy Lomachenko was originally targeted by his promoter for a Dec. 1 first title defense at the Forum against Puerto Rico's new World Boxing Organization champion, Jose Pedraza, but the bout might be shifted to Dec. 8 at Madison Square Garden's Hulu Theater.
The decision is connected to the thinking that moving the fight from the ESPN-Plus streaming service on Dec. 1 to regular ESPN on Dec. 8 will maximize viewership for the elite three-division champion with pay-per-view aspirations. The Dec. 8 bout would be preceded by ESPN's popular coverage of the Heisman Trophy presentation.
"Coming out of the Heisman is a great showcase, and we want to make sure he'll capitalize on it," said Carl Moretti, an executive for Lomachenko promoter Top Rank.
A final decision is expected this week when ESPN President Todd duBoef meets with ESPN officials in New York.
Sugar Shane Mosley gives his thoughts on Golovkin-Alvarez
There may be no better person to assess the Golovkin-Alvarez rematch than former three-division champion Shane Mosley.
Mosley has sparred with middleweight champion Golovkin (38-0-1, 34 knockouts) and former two-division champion Alvarez (49-1-2, 34 KOs) in Big Bear, and dropped a unanimous decision to Alvarez in 2012.
Mosley told me his thoughts on the match last month in a story you can read here.
Until next time
Stay tuned for future newsletters. Subscribe here, and I'll come right to your inbox. Something else you'd like to see? Email me. Or follow me on Twitter @latimespugmire
---
Get the latest on L.A.'s teams in the daily Sports Report newsletter.
You may occasionally receive promotional content from the Los Angeles Times.