Who is the next face of boxing?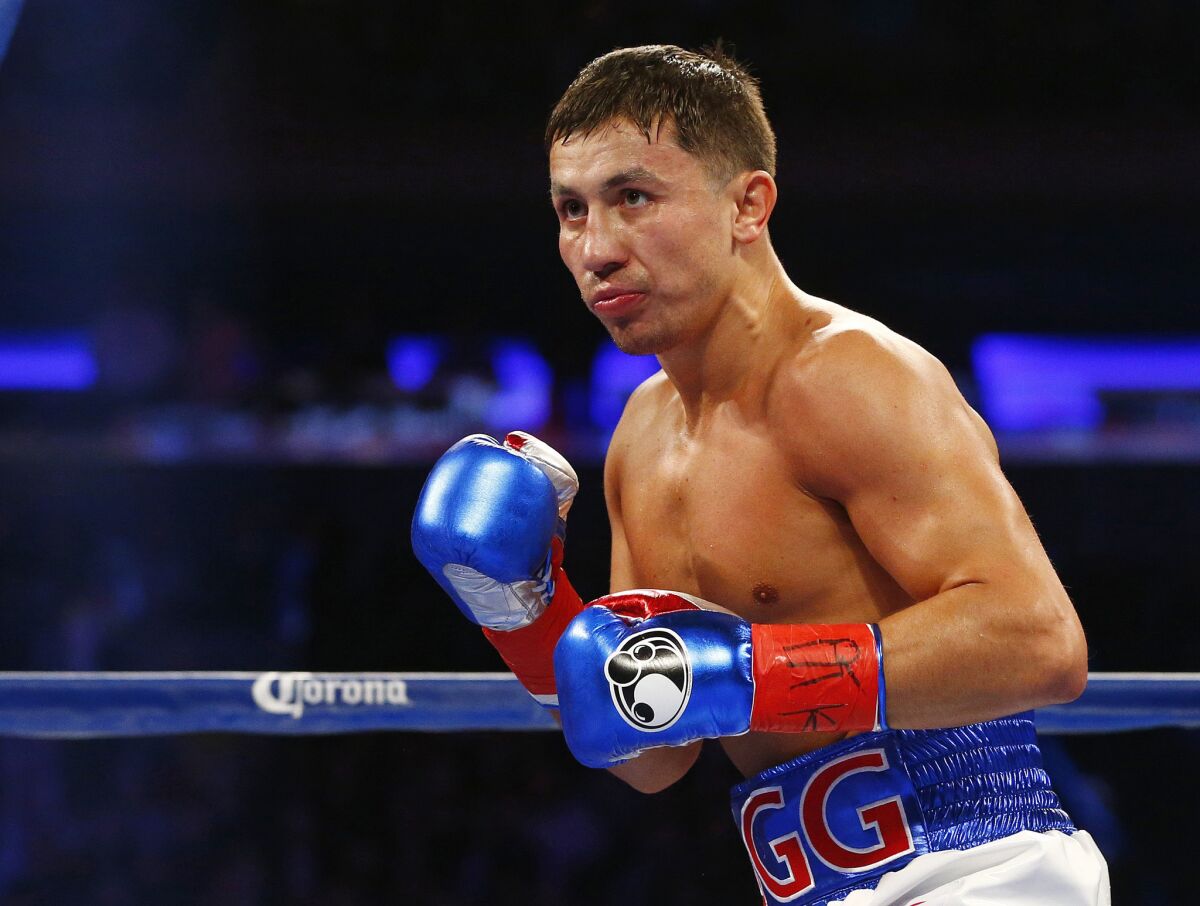 Boxing has entered a summer of opportunity for the new faces of the sport to establish themselves as the successors to the retired Floyd Mayweather Jr. and aging Philippines Senator Manny Pacquiao.
Every potential heir to the pound-for-pound throne has or will fight between June 1 and the end of September. But the criteria for The Times' top 10 boxing power rankings extends beyond pure talent.
Charisma and popularity, seen in Canelo Alvarez's standing as the top pay-per-view fighter, counts. Avoiding a fight everyone wants, as Alvarez did by delaying his showdown against middleweight champ Gennady Golovkin, draws a penalty.
Depth of division ensures a series of competitive, fan-pleasing bouts, so the jam-packed welterweight and featherweight fields are worth watching.
And skills, of course, are essential. So the fighting gifts, wisdom and aggressiveness of the unbeaten Golovkin, four-division champion Roman "Chocolatito" Gonzalez and super-featherweight Vasyl Lomachenko clinch their inclusion in this list.
The Times will staff many of their fights and provide updated, bi-monthly, power rankings as the next faces of boxing reveal themselves inside the ring and out of it.
1. Gennady Golovkin
Home: Kazakhstan. Weight: Middleweight. Record: 35-0, 32 KOs.
The dominant 160-pounder, with 22 consecutive knockouts and 16 consecutive WBA title victories, has proven that everyday contenders like Dominic Wade — a second-round knockout victim in April — don't stand a chance.
Next fight: Unbeaten welterweight world champion Kell Brook on Sept. 10 in London.
2. Roman "Chocolatito" Gonzalez
Home: Nicaragua. Weight: Super-flyweight. Record: 45-0, 38 KOs.
The unbeaten WBC flyweight champion is a knockout-seeking, mini-Alexis Arguello who's more active with a stronger chin than the Nicaragua legend.
Next fight: He wins points by moving up in weight to test unbeaten super-flyweight champion Carlos Cuadras Sept. 10 at the Forum.
3. Sergey Kovalev
Home: Russia. Weight: Light-heavyweight. Record: 30-0-1, 26 KOs. His brute strength and merciless attitude in the ring make the Eastern European an interesting study. How he might deal with the talented Andre Ward in the fall is truly compelling.
Next fight: Nov. 19 in Las Vegas against Ward, pending outcome of Ward's Aug. 6 fight.
4. Andre Ward
Home: Oakland. Weight: Light-heavyweight. Record: 29-0, 15 KOs.
He's been inactive, only two fights in three years. And his results have been so one-sided for so long, his brilliance has been obscured. But don't be mistaken, he's a sensational performer who fights on HBO next week.
Next fight: Aug. 6 versus Alexander Brand (25-1) in Oakland.
5. Vasyl Lomachenko
Home: Ukraine. Weight: Super-featherweight. Record: 6-1, 4 KOs.
The two-time Olympic champion's knockout triumph, while stepping up in weight, against ex-super-featherweight world champion Rocky Martinez on June 11 is the front-runner for knockout of the year.
Next Fight: Negotiations for an October date against Orlando Salido, possibly at StubHub Center.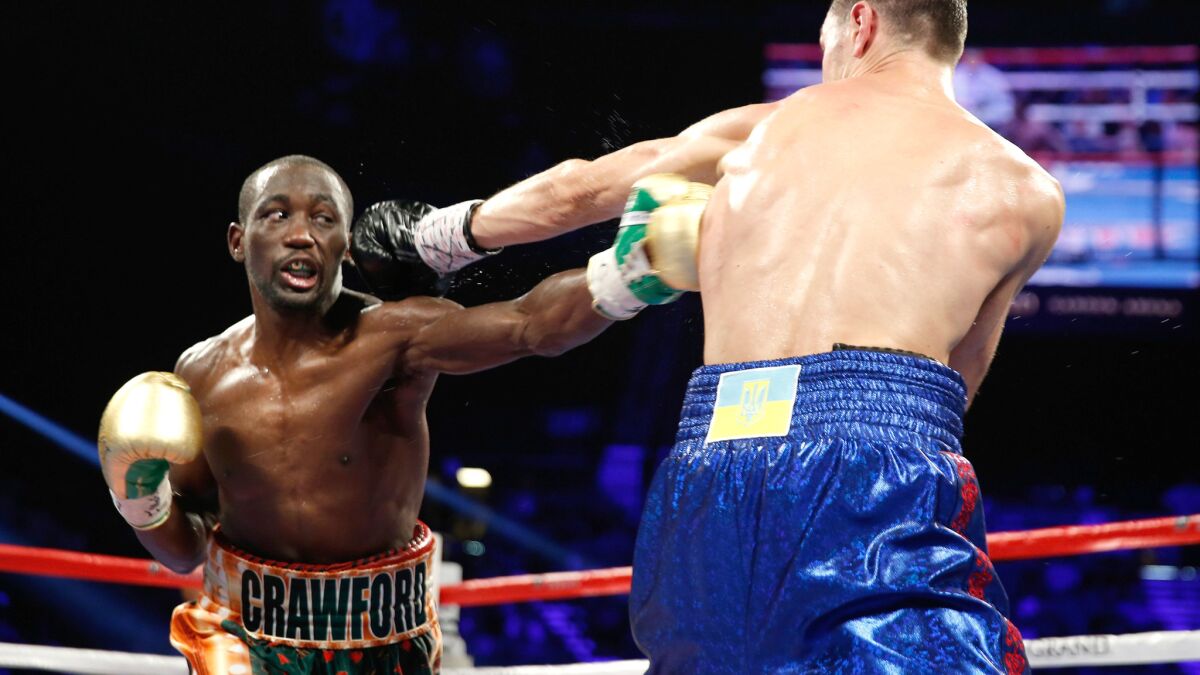 6. Terence Crawford
Home: Omaha. Weight: Junior-welterweight. Record: 29-0, 20 KOs.
The 28-year-old continued cruising through his 140-pound competition last Saturday in his first pay-per-view bout by dominating previously unbeaten champion Viktor Postol.
Next fight: Front-runner for possible Nov. 5 date against Pacquiao.
7. Canelo Alvarez
Home: Mexico. Weight: Junior-middleweight. Record: 47-1-1, 33 KOs.
The mantle of Mexico's best fighter is a heavy crown, particularly when his post-fight show of summoning Golovkin rings hollow now that Alvarez's promoter, who promised to make the best fights possible, steps away from that vow.
Next fight: Sept. 17 against unheralded WBO junior-middleweight champion Liam Smith in Dallas.
8. Danny Garcia
Home: Philadelphia. Weight: Welterweight. Record: 32-0, 18 KOs.
The unbeaten WBC welterweight champion has tended to fight down to his competition in some cases, but he was impressive in defeating veteran Robert Guerrero in February and is poised for a string of big fights in his division.
Next fight: Unbeaten welterweight champion Keith Thurman, or Andre Berto, in October.
9. Leo Santa Cruz
Home: Los Angeles. Weight: Featherweight. Record: 32-0-1, 18 KOs.
Former longtime Olympic Auditorium matchmaker Don Chargin says WBA featherweight champion Santa Cruz is the best body puncher in the game; that praise, and his belts in three divisions, have deep meaning.
Next fight: Saturday at Brooklyn against unbeaten super-bantamweight champion Carl Frampton.
10. Deontay Wilder
Home: Tuscaloosa, Ala. Weight: Heavyweight. Record: 37-0, 36 KOs.
The unbeaten fighter understands his legacy, his weaknesses and the importance of his voice and charm as WBC heavyweight champion. Critics keep piling on, but the choice here is to appreciate the journey.
Next fight: Sidelined for a while after a broken hand and torn biceps in TKO over Chris Arreola last month.
OTHERS TO WATCH: 11. Keith Thurman, welterweight; 12. Francisco Vargas, super-featherweight; 13. Anthony Joshua, heavyweight; 14. Tyson Fury, heavyweight; 15.Oscar Valdez, featherweight.
lance.pugmire@latimes.com
---
Get our high school sports newsletter
Prep Rally is devoted to the SoCal high school sports experience, bringing you scores, stories and a behind-the-scenes look at what makes prep sports so popular.
You may occasionally receive promotional content from the Los Angeles Times.