Golovkin and Alvarez will be taking it to the streets in their next fight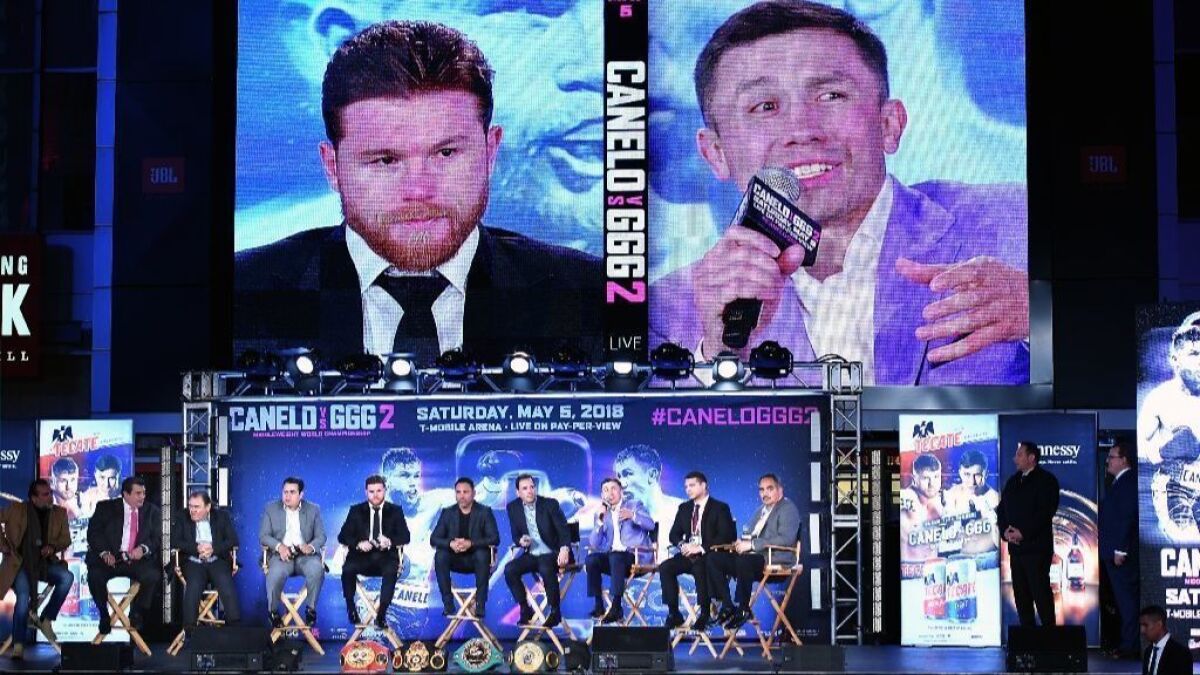 One year removed from jointly participating in a promotional fight film that accentuated their classic, gentlemanly qualities, Canelo Alvarez and Gennady Golovkin have literally taken their gloves off for a rematch sequel that draws upon their street-fighting pasts.
Mexico's former two-division champion Alvarez (49-1-2, 34 knockouts) and Kazakhstan's unbeaten, long-reigning middleweight champion Golovkin (38-0-1, 34 KOs) battled to a draw last September, and they return to T-Mobile Arena in Las Vegas on Sept. 15 for part two.
Fight promoter Oscar De La Hoya, who served as executive producer of "Countdown to Canelo vs. GGG 2," said after he and director-producer Leigh Simons plotted a bare-knuckle fighting theme for the 30-minute rematch show, they discovered that both Alvarez and Golovkin have extensive street-fight histories.
Alvarez, teased for his red hair as a boy, told of beating up an older neighborhood kid who bullied him, detailing, "They had to go through the beating I was going to give them."
Longtime trainer Chepo Reynoso said Alvarez was motivated by his "character."
"When you have character, you must fight everyone, and since childhood, he has shown character," Reynoso said.
Golovkin reported how he roughed up a drunk driver in a hard section of Kazakhstan who was swerving recklessly near his family. What kind of brutality existed in that first "big drama show"? Golovkin answered, "It's not legal."
As these stories unraveled in separate dressing rooms, De La Hoya said he knew his promotional piece had risen to a piece of filmmaking that compares favorably to the recent work on HBO's "24/7."
"My lightbulb went up and I said, 'Hey, let's make this fight all about something that will impress the fans: a street fight,' " De La Hoya said.
Although many heavy punches were landed in the first fight, no one hit the canvas en route to the draw.
Now, after Alvarez submitted two positive tests for the banned substance clenbuterol to scrap their originally scheduled May 5 meeting and Golovkin has labeled the challenger a cheater, the intensity has risen to a vitriolic level in which both men are vowing to keep the outcome out of the judges' hands.
"Countdown" also refreshingly lays out all the critical facts and claims connected to Alvarez's six-month drug suspension, including Golovkin's accusation that De La Hoya is "dirty," too.
"You have to," air the full back story, De La Hoya said. "As a storyteller, you have to be real, you have to be truthful. Boxing fans are no dummies. They know what went down and it's only added more fuel to the fire … the consumer deserves to be treated with respect. We delivered the truth."
He foresees the truth of this version closing with a knockout.
"All this controversy is revealing the toughness of both guys," De La Hoya said. "It's made Canelo a fighter who has no fear, and that's who he has to be on Sept. 15. He has to go out there with no worries. Go out there and rough him up, bully him, knock him out."
Simons is proud of the finished product.
"From the first session, Oscar and [Golden Boy Promotions] President Eric Gomez were clear when we discussed this campaign that they wanted to convey the raw hatred and animosity that authentically existed between these fighters," Simons said.
"You have trash talking and a rivalry that has blown out of control because of what both fighters perceive as an unfair draw at a time when bare-knuckle fighting is becoming popular. If you like that, this is the fight for you because you have the best middleweights in the world who are going to slug it out.
"It begins with them as street fighters in the desert — bare-knuckled and bloodied — but they end up in the ring, and the reason they do is to exploit the idea that this may look like a boxing match, but in their mind it's a bare-knuckle street fight."
Quite a transformation considering that the first meeting was previewed with a vintage 1930s-style piece that closed with each fighter throwing a punch, stopping it an inch before their foe's nose, then lightly embracing because their film work was complete.
"It was intriguing to see the difference in the feelings the fighters had for each other just a year apart," 'Countdown' writer Martin Rogers said. "All the gentlemanly stuff is out the window now."
De La Hoya basks in it, projecting the rematch will exceed more than 2 million pay-per-view buys after the first bout had 1.3 million.
"The fact Canelo has a chip on his shoulder is a great thing. From the start, he wants to work on getting a knockout, and I've never heard him say that. It's music to my ears," De La Hoya said.
"This fight can solidify both fighters' careers. They need each other. While everyone talks of a trilogy, I'm saying five fights. … This style of fight will make each other, and cement their legacy."
Twitter: @latimespugmire
Get our high school sports newsletter
Prep Rally is devoted to the SoCal high school sports experience, bringing you scores, stories and a behind-the-scenes look at what makes prep sports so popular.
You may occasionally receive promotional content from the Los Angeles Times.