Light-heavyweight champion Oleksandr Gvozdyk knows the risks and rewards of boxing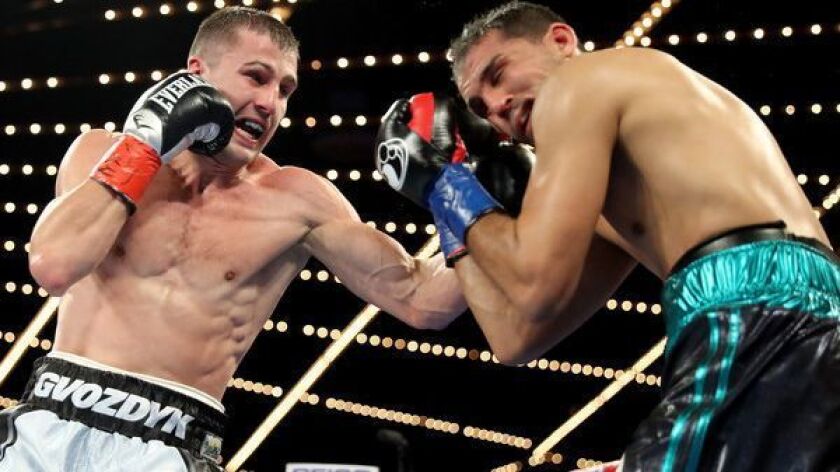 What Oleksandr Gvozdyk wanted most was to win a world championship. The last thing he wanted was to hurt a man.
So imagine how the Oxnard-based Ukrainian must have felt on the Sunday morning he awoke in Quebec City, eyeing his World Boxing Council light-heavyweight belt, then quickly learning that his opponent Adonis Stevenson was hospitalized, comatose with a brain injury.
"What can we do? As fighters, we know it's a rough sport," Gvozdyk, 31, said. "I knew I could have been in his place. It's unpleasant. I'm not in this sport to hurt anyone."
Gvozdyk (16-0, 13 knockouts) knew the deal he'd made by stepping in the ring Dec. 1 with the Canadian, a power-punching champion who'd reigned since 2013 and had knocked out 24 of his prior 31 foes.
It is boxing's brutal dichotomy. It only takes minutes around Gvozdyk to sense kindness, but his good nature is set aside when he enters the ring, where brute force and a destructive mindset prevail for the sake of a career.
That night in Quebec City, Gvozdyk nearly succumbed to Stevenson's mightiest punch in the 10th round. The challenger trailed on two scorecards, and the referee had deprived him of what appeared to be a knockdown earlier in the fight.
So he desperately went on the attack in the 11th round, backing Stevenson and finishing him with a final power blow to the head, winning the belt.
Gvozdyk's trainer, Teddy Atlas, instructed during fight preparation, "If this guy hits you, he hurts you."
"Stevenson was such an experienced guy, he can wait the whole night for his one punch. He almost accomplished that in Round 10. He looks at you, he's very attentive," Gvozdyk said. "So I knew to never trade with him. Look at those who did. They were knocked out. The key was not to play his game. And we were fortunate. It was a close fight. But I stuck with my plan and won."
The brief celebration was overcome by the consequence, as Stevenson, nicknamed "Superman," spent several weeks hospitalized in Quebec City before emerging from the coma and being transferred to a care facility near his home in Montreal, with his fiancée by his side and his infant daughter making occasional visits while Premier Boxing Champions lawyer Lamont Jones remained close by.
"It's a miracle he's doing what he's doing. It's why they call him 'Superman,' " PBC official Sam Watson said.
Gvozdyk has been left to confront a fighter's guilt. In the cases of some fighters, that guilt has proved insurmountable.
"I remember Gabriel Ruelas after the fatality" of Colombia's Jimmy Garcia in 1995, "saying he saw the ghost of the Colombian every time he walked to the ring afterward, and Ray Mancini was never the same" following the 1982 death of South Korea's Duk Koo Kim, said Bob Arum, Gvozdyk's promoter.
"Of all the fighters we promote, Gvozdyk is one of the most mature and down to earth, a very well-grounded young man. So unlike others who might get rattled by it — it's never good, and thank God it wasn't a death — I'm very impressed with him as a person, and I believe he has a chance to go on without it causing a blip."
The challenge of the aftermath commences Saturday night in Philadelphia when Gvozdyk meets France's Doudou Ngumbu (38-8, 14 KOs) on an ESPN-televised card.
Victory could take Gvozdyk to some significant fights since unbeaten Gilberto "Zurdo" Ramirez has moved to the 175-pound division, and Arum has unbeaten International Boxing Federation light-heavyweight champion Artur Beterbiev of Russia in his stable.
"Every boxer has a dream to be an undisputed champion. I'm not the exception," said Gvozdyk, who has close friends for counsel in unified cruiserweight champion Oleksandr Usyk and three-division champion Vasiliy Lomachenko. "Right now, the best fighter is the one standing in front of me. We'll talk about the future once I get done with him."
Restarting a career following an opponent's injury is something Gvozdyk manager Egis Klimas understands. His other light-heavyweight champion, Sergey Kovalev, knocked out Roman Simakov in a 2011 bout; Simakov died of head injuries sustained in the match.
Klimas agreed, when discussing the situation in January, that the situation was a strain for Gvozdyk but said of the fighter: "He's going to be all right. He's tough."
Asked about moving on, Gvozdyk paused and said, "I don't want to sound selfish. I'm not too guilty, because I know I could have been in [Stevenson's] place, too, and I would know it's nobody's fault. It's not the referee's fault. It wasn't a bad stoppage. I don't know why it happened. It just happened.
"It wasn't because of one punch. Maybe he dropped too much weight. Maybe something happened before the fight. Honestly, I don't feel guilty. I'm a fighter. What am I supposed to do? What would someone do in my place?"
Gvozdyk has sought to pass on encouraging words to Stevenson, to express happiness with the former champion's progress, but he's stopped short of paying a personal visit, cognizant there's no handbook on how to navigate the situation.
"I sent a message that I supported him. I never contacted him because I don't believe I'm a person they want to hear from," Gvozdyk said.
He might be right. A spokeswoman for Stevenson declined to comment to the Los Angeles Times about the Stevenson camp's opinion of Gvozdyk.
"I look forward to living my life, and I'm happy to hear he's in better condition," Gvozdyk said. "I'm trying to forget about what happened. ...
"I'm glad he's doing good and I don't feel like I need help."
Sign up for our boxing and MMA newsletter »
Twitter: @latimespugmire
---
Get the latest on L.A.'s teams in the daily Sports Report newsletter.
You may occasionally receive promotional content from the Los Angeles Times.