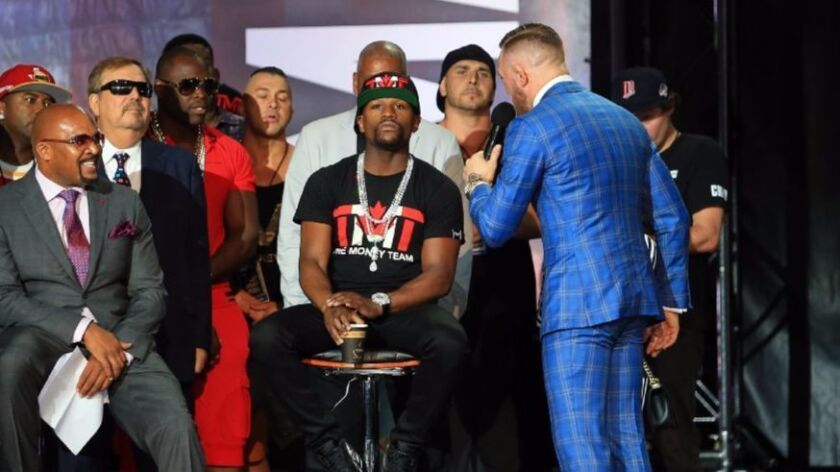 Conor McGregor came back to convincingly win the second round of his war of words with Floyd Mayweather Jr. Wednesday in Toronto.
Torching Mayweather for his cautious boxing style, his dress, lifestyle and finances, McGregor basked in the MMA-crazed city and shrugged off his opening act in Los Angeles, which was minimized by a cut-off microphone and Mayweather's blistering performance.
"Is this mic on?" McGregor said while starting the session. "On the count of three, I want everyone in this arena to scream at the top of their lungs, '— the Mayweathers!'"
McGregor, the UFC lightweight champion boldly attempting to defeat Mayweather (49-0) in his pro boxing debut Aug. 26 at T-Mobile Arena in Las Vegas, told Mayweather he won't reach 50-0.
He also blasted Showtime Executive Vice President Stephen Espinoza for cutting the microphone Tuesday.
"You … little weasel. Look at you, you little weasel, I can see it in your eyes," McGregor said to Espinoza as cheers roared. "Cut the champ's mic off? Hell no! They're trying to set me up, catch me off guard, get me in an awkward position, but I thrive in awkward positions. There's nothing these guys can do to faze me.
"I'm getting checks … when Floyd was 28 years old, he was on Oscar De La Hoya's undercard. And that's just facts. Floyd is an old, weak [expletive]."
McGregor reminded the Toronto crowd of his previous visit to the city on a world tour to promote his 2015 fight against then-featherweight champion Jose Aldo, who also stood as a favorite against the talkative Irishman.
"I was also facing an unconquerable quest, the then-pound-for-pound No. 1 fighter in Jose Aldo. They said the same things then that they say now, they said I have no chance, I'm in over my head, that he kicks too hard, has too many weapons" McGregor said. "It took me 13 seconds" to win by knockout.
He then turned back to Mayweather to chide his investment in a Las Vegas strip club, Girl Collection.
"Fifty strippers on his payroll … what the [heck] is he doing at that strip club?" McGregor said. "Shout out to all the stripper … on his payroll!"
He also said all the "boxing … supposed experts [are] … crazy if you think this man stands a chance. One shot is all it takes me. I bounce heads off the canvas and dribble that … . He tiptoes to a decision. He's never fought a day in his life. He's a runner, boxing's biggest…."
Mayweather found himself overwhelmed by support for McGregor. The appearance was delayed as the massive crowd at Budweiser Arena, in excess of 16,000, filed in. Rapper Drake was in attendance, and McGregor noted he, too, "Started from the bottom, now I'm here."
McGregor, dressed in a blue shirt, blasted Mayweather for sporting a black "The Money Tea" T-shirt with gold chains.
"What … is he wearing? He looks like a little 12-year-old break dancer," McGregor said. "You're 40! Dress your age."
Mayweather later answered by inspecting UFC President Dana White's Zuffa Boxing T-shirt and said after White cashed out $400 million on the UFC sale last year, "Dana White, you and me got money. We know who got the money. We don't got to wear suits."
McGregor repeated the suggestion that Mayweather can't read.
"We're not talking about being on the top for four years — 21 years," Mayweather, a 1996 U.S. Olympic boxer, said. "And they say I can't read. I do numbers, I make money. And if you believe in yourself like you say you believe in yourself, bet your whole fight check."
McGregor said he would: "No … problem."
Mayweather reminded McGregor he has a boss in White, and scolded the crowd for rooting for a fighter who tapped out versus Nate Diaz last year.
After Mayweather grabbed an Irish flag from the crowd, McGregor urged him not to harm it and swiped Mayweather's backpack with an estimated $5,000 inside. Mayweather returned the flag to McGregor, who tossed it back at him.
"Yeah, I'm running," said Mayweather, who's expecting a purse beyond $200 million for the novelty bout after a nearly two-year retirement, "into the … bank."
McGregor told Mayweather to shut up, telling him the crowd "wants you off this stage."
The tour resumes Thursday in New York at 2:30 p.m. PDT.
Highlights from the Floyd Mayweather Jr. and Conor McGregor press tour in Los Angeles promoting their Aug. 26 fight.
Twitter: @latimespugmire
---