Nate Diaz calls out UFC for placing him 'on the shelf'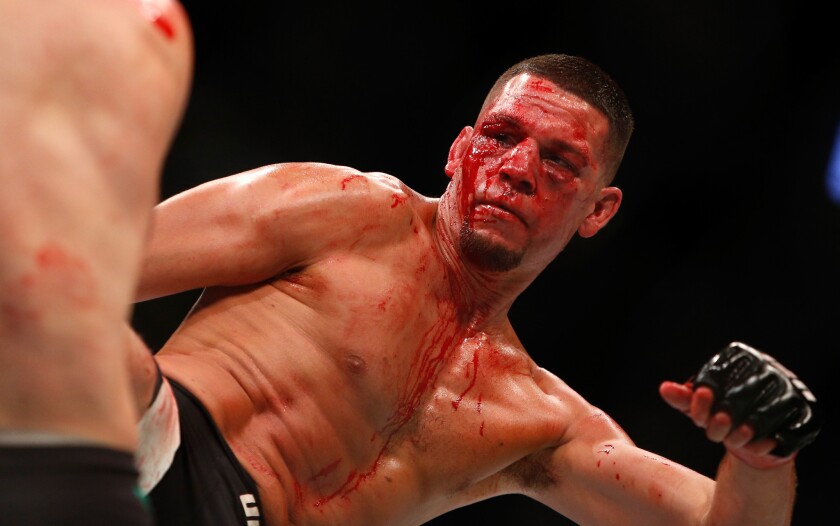 Just because Conor McGregor is taking a self-imposed hiatus to await the May birth of his first child doesn't mean McGregor's top adversary, Nate Diaz, wants to join him at the hip on the sideline.
"I know what this is: I'm being put on the shelf," Diaz told the Los Angeles Times on Saturday night while attending the Bellator event at the Forum.
"That's why I'm trying to get a boxing license," in Nevada.
UFC President Dana White told The Times in a text message Monday that "Nate said the only fight he wants is Conor … I haven't heard a word from him [since August]. Usually when guys want a fight, they call."
When White was told Diaz might like to hear first from the UFC president, White texted back an emoji of a face with rolled eyes.
Diaz (20-11) is emboldened in the cat-and-mouse game because he and McGregor headlined two of the most lucrative pay-per-view bouts in UFC history last year. Diaz beat the then-featherweight champion in a March welterweight fight by second-round submission, then lost in a riveting split-decision in the August rematch.
Stockton's Diaz is bringing the audiences without as much marketing support as others in the company attract.
The UFC on its subscription Fight Pass network has labeled the McGregor-Diaz classics as two of the best three fights of 2016.
The rebellious Diaz, who was disciplined for throwing water bottles toward McGregor before their UFC 202 fight, paid his $50,000 fine to Nevada in applying to the commission for the boxing license.
While Diaz did say immediately after the McGregor loss that he'd only next fight to complete their trilogy, the popular Irishman and the UFC struck a deal to allow McGregor to fight for the lightweight belt at the UFC's debut New York card in November. By defeating Eddie Alvarez by second-round knockout, McGregor became the first fighter to organization history to simultaneously wear two belts.
Afterward, McGregor announced his girlfriend Dee Devlin's pregnancy and White said because Devlin needs to avoid stressors connected to McGregor's fight preparation as the birth looms, McGregor won't fight again until September.
That would mean more than a year out of the octagon for Diaz, 31 — something the fighter's not comfortable with.
Floyd Mayweather Jr., who owns a boxing promotion company, has said he has spoken to Diaz about boxing and his discontent with the UFC.
Stockton's Diaz has sparred previously against current three-belt light-heavyweight boxing champion Andre Ward in the Bay Area.
White last year complained to The Times that Diaz and his older brother, Nick, a former welterweight title contender, are problematic to strike a deal with because they "want too much money."
Diaz notably haggled with White for an increased purse after a planned rematch with McGregor for UFC 200 was postponed. Diaz told The Times he just wants to be paid fairly given the success of his past two pay-per-views.
He went further, contending there's little interest from others in fighting him.
"No one in MMA wants it," he said. "No one says they want a big-deal fight against me. If someone wants to fight, then let's make a big deal."
One possibility is to meet the March 4 winner of the lightweight bout between top contenders Khabib Nurmagomedov of Russia and Southern California's Tony Ferguson.
Diaz declined to specify beyond who he's eyeing, but he's adamant he does want to remain active.
Since his last bout was at welterweight, he could also be in position to meet the winner of the March 4 welterweight title fight between champion Tyron Woodley and top contender Stephen "Wonderboy" Thompson.
Nick Diaz has also been mentioned by Woodley as a possible future opponent. Nick Diaz said Saturday that he would return to fighting "pretty soon" following a lengthy suspension for marijuana use, but did not specify when or against whom.
White texted Monday that Nick Diaz recently rejected a fight against former welterweight champion Robbie Lawler.
---