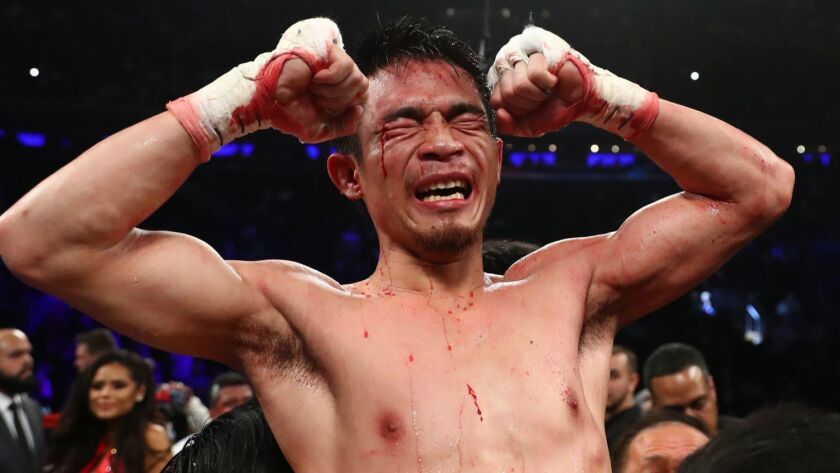 Srisaket Sor Rungvisai rocketed into boxing's top-10 pound-for-pound rankings, surging from the despair of a garbageman job in Thailand to a meeting with that nation's king.
Then, just like that, right after World Boxing Council super-flyweight champion Rungvisai posted a majority decision victory over Mexico's Juan Francisco Estrada on Feb. 24, 2018, at the Forum, he vanished from the consciousness of most American fight fans.
Struck by the heartbreak of an ended relationship, Rungvisai (47-4-1, 41 knockouts) retreated to his home country for two obscure bouts before ultimately landing a new deal with the streaming service DAZN that brings him back to the Forum on Friday night for a t rematch against Estrada (38-3, 26 KOs).
"There's no problem now. Everything is sorted out. I'm very happy," Rungvisai, 32, said at Wednesday's news conference at the L.A. Live J.W. Marriott Hotel. "I'm very happy to be here for my fourth fight in the U.S. I'm very confident. I've prepared very well — more than 100%."
He left the U.S. fight fans wanting more after stunning former pound-for-pound No. 1 Roman "Chocolatito" Gonzalez by a narrow decision, and then repeating that triumph more convincingly with a fourth-round knockout of Gonzalez at Carson's Dignity Health Sports Park in 2017.
Sign up for our boxing and MMA newsletter »
He remains on The Times' pound-for-pound list at No. 10, behind the likes of multi-division champions Terence Crawford, Vasiliy Lomachenko and Canelo Alvarez, and Rungvisai said he understands rising on that list requires fighting in the U.S.
"I would like to continue coming back to the U.S. I would like to stay at 115 [pounds] and face all the champions," including Jerwin Ancajas and Khalid Yafai, Rungvisai said. "I think about that, and I hope that with those unification victories, I can climb back up that list."
Estrada, meanwhile, is seeking to become a two-division champion after the prior narrow loss.
"I'm happy to be going back to the ring with him," Estrada said. "It's hard after the training and the sacrifice, because when you lose, you feel like everything has gone into the wastebasket. So I'm prepared for this next chapter, to win and bring the title back to Mexico."
Does he expect the same formidable champion in Rungvisai or a diminished version?
"I expect the same, tough fighter I met last time," Estrada said. "I won't lose this fight, and I'm prepared for the next big thing to come. I'll give everything I have to give."
Twitter: @latimespugmire
---