Reporting from Las Vegas —
Boxing news conferences, like most planned activities in Las Vegas, never start on time. In a city notoriously devoid of clocks and windows, they kind of just begin when everyone shows up.
That's not the way Tyson Fury operates. If there's a stage, a camera and a microphone, he's going to squeeze every last drop out of the spotlight. That's why Fury found himself on stage by himself 10 minutes before the start of the final news conferencefor his fight Saturday against Tom Schwarz, as if he was hosting a Vegas lounge act.
"Let's get this mic going," he said as he turned on the microphone. "Who's ready for a [expletive] good press conference?"
A shirtless Fury (27-0-1, 19 KOs), wearing a blazer and slacks lined with the pictures of former boxing champions, looked out into the room for his opponent. He didn't want a face off. He simply wanted a singing partner.
"Where's Tom at?" he said. "Tom, get you ass up here! ... Should we sing a song, Tom? Any requests?"
Boxing's showman finally had arrived in the city famous for entertainers. The significance of his first fight in Las Vegas wasn't lost on Fury, who always said he wouldn't come to the city unless it was for a fight.
"It's quite humbling, to be honest," the English former champion said. "It's a very great experience to be here in Las Vegas at the MGM Grand. It's where all the great fights happen. Seeing your face on all the movie screens and posters is great. It's what I was born to do. I believe the fight with [Deontay] Wilder only helped my profile here in the United States, and here we are again, only a few days away from the biggest fight of my life."
Saturday's fight against Schwarz (24-0, 16 KOs) is the biggest of Fury's career because a victory not only allows him to retain the title of lineal heavyweight champion, but also sets up a rematch with Wilder early next year, which is shaping up to be the most anticipated heavyweight boxing match in nearly two decades. Wilder and Fury's draw last year at Staples Center was one of the most exciting boxing matches in recent history and breathed new life into a heavyweight division that has been uninspiring for years.
When Fury recovered from a vicious knockdown by Wilder in the 12th round, he not only saved his unblemished record, but also added a new star to the heavyweight division. For the first time in years, casual fans can name more than one or two heavyweight fighters and by next year, there might not be a bigger name in the division than Fury.
Top Rank promoter Bob Arum couldn't help but smile when Fury asked him to come up to the stage at the MGM Grand's David Copperfield Theater. "Press conferences will never ever be the same after Tyson Fury," Arum said. "This is the takeover."
Arum, 87, has been promoting many of the sports' biggest fights for more than 50 years and wasn't shy when asked who Fury reminded him of as he commanded the attention of everyone in the room.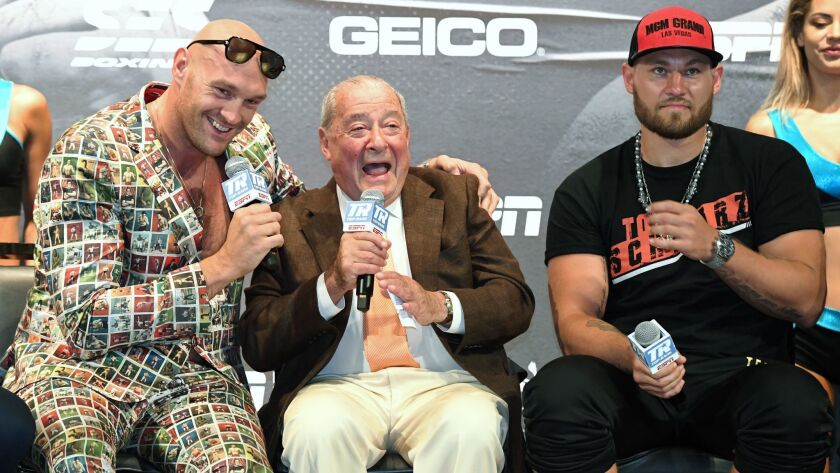 "The two guys Tyson Fury reminds me of are Muhammad Ali and George Foreman," he said. "They were people persons first. They'd talk directly to the people over the head of the writers and right to the people... He's the guy who's going to lead this sport into a new dimension just the way Ali did in his time, and then later George. Tyson Fury is a people person and everybody around him is going to pay attention."
Fury's nickname is the "Gypsy King" and he comes from a family of fighters with roots as Irish Travellers, but he feels at home in Vegas, a city known for long shots looking to make it big. No one would even take odds on Fury's comeback two years ago when he weighed 400 pounds, tested positive for cocaine and had suicidal thoughts while dealing with severe depression. Fury now promotes mental health almost as much as his next fight whenever he does an interview.
"I talk about mental health a lot because it's very important to me," Fury said. "Only 18 months ago, I was in a very, very dark place. I just wanted to prove to people that there is a way back. You can come back from anything. Nothing is impossible. I love to inspire people to get better and change their lives as I did mine. I'm living proof that anyone can change. Anyone can come back from anything. If I can do it, you can do it. I'm nobody special. Just a normal human being."
Without missing a beat Fury began to sing Rag'n'Bone Man's "Human," serenading Arum with, "I'm only human after all. Don't put the blame on me." It was reminiscent of Fury's post-fight press conference after the Wilder fight when he got the entire room to sing "American Pie."
"I am living the dream," Fury said. "That's why I'm so happy and so positive all the time. I'm one of the only people who is living what they want to do. There is nothing else that I wanted to do. As a kid, I wanted to be heavyweight champion of the world. So now, everything is a bonus. I wake up every day, enjoy life, and take life as it comes."
---