Rousey-like reign at UFC: Jedrzejczyk aims for record-tying 6th title defense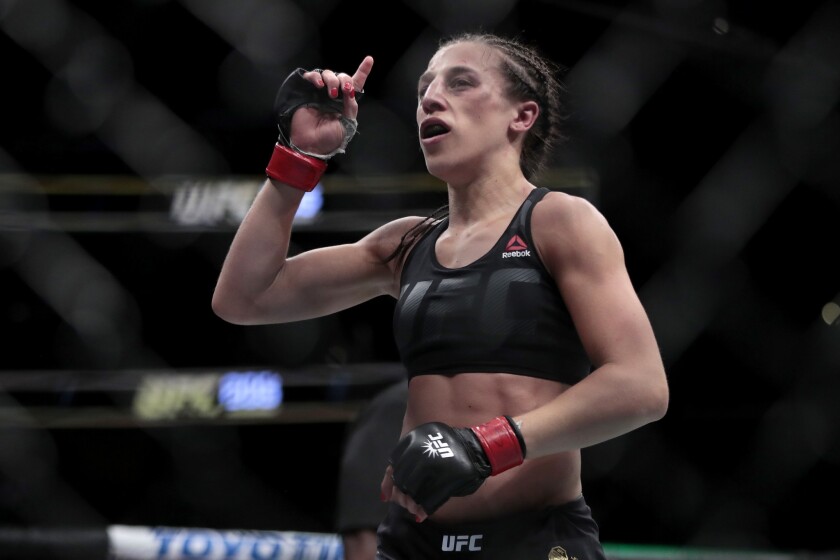 Joanna Jedrzejczyk was beaming last month following her first face-to-face meeting with former welterweight champion Georges St-Pierre.
The backstage chat following a UFC 217 news conference in Las Vegas was mostly an exchange of pleasantries for two of the big draws on Saturday's pay-per-view card at New York's Madison Square Garden.
There's much to bond over, starting with how a champion maintains competitive fire in the face of a dominating stretch of title defenses, although there is one major difference.
"In my next life, I'll come back as a man," Jedrzejczyk, 30, cracked of maintaining the strawweight division's 115 pound limit for so long. "It's not easy to be a female athlete, to continue to diet like this, to have all the emotions and keep an easy life."
The reward for such discipline is that Poland's Jedrzejczyk (14-0) can tie Ronda Rousey's UFC female record of six consecutive title defenses Saturday by defeating fourth-ranked strawweight challenger Rose Namajunas (7-3) of Denver.
"I've been doing this 14 years now and I can tell you this game is not easy. It's tough," Jedrzejczyk said. "Every fight, there's new prospects, new talent, new things coming … .
"It's more difficult to keep the title than to win the belt. People who have money can easily find people around them who only say yes to them. I keep my family around. I fight for my country. I stay hungry and stay humble because it's all about working hard and proving to myself that I can be better. I challenge myself every day and I learn.
In Namajunas, 25, Jedrzejczyk will meet a skilled Brazilian jiujitsu specialist who has exposed and submitted two of the UFC's more highly promoted fighters, Paige VanZant of "Dancing With the Stars" fame and Michelle Waterson of ESPN's body issue.
"I do what I do to everybody: Shut down their strength, attack their weakness, take their back and choke them out," said Namajunas, who shaves her head and goes by the nickname "Thug."
"I've been born with a special talent. Sometimes it takes a while to figure it all out, but I'm comfortable in my own skin now, and I'm about to do it."
That confidence was reached through extended "turmoil," Namajunas said, some that continued into recent years with the admitted abuse of alcohol and prescription pain pills by her fiancée, former UFC heavyweight Pat Barry, 38.
"In my childhood, I was abused. I grew up with lots of anger, frustration and violence in my heart. There were a lot of drugs and violence around me," Namajunas said. "Martial arts has helped me because it kept me busy, kept me off the street and here I am in the biggest stage ever. That's what life is all about: overcoming challenges. It'd be boring if it was all easy-peasy."
Part of Jedrzejczyk's arsenal beyond supreme punching power is her verbal assault, and a jab last week on a conference call that Namajunas is "mentally unstable" touched a nerve that the challenger found unnecessary considering her late father suffered with schizophrenia.
"My goal is to bring my sport back to respect and honor," Namajunas told The Times. "There's a lot of [smack] talking and dumb [stuff] going on, especially with all of the tragedy going on in the world. This is an opportunity to show we can be nice to each other even if we're martial artists. We shouldn't hurt each other for entertainment."
Jedrzejczyk previously praised Namajunas, calling her "very tricky and sneaky" in her ability to get opponents to the canvas.
"I keep it in my mind what she has done. She's tiny, super skinny and nice, but on the mat, she's so good … and I know anything can happen in a fight," Jedrzejczyk said.
"My striking and takedown defense are something else, though. If she wants to take me down, she has to pass my striking. I'm the ultimate MMA fighter and I'm the champion for a reason."
Should she tie Rousey's title-defenses record, Jedrzejczyk said she plans to try to break the mark by May, then move to the UFC's new 125-pound division, where she could meet her former Muay Thai opponent, former bantamweight title challenger Valentina Shevchenko.
"Every time Joanna opens her mouth, you feel how hungry she is being the best and being the champion," UFC president Dana White said. "She embodies everything it takes to stay a UFC champion."
UFC 217
Main Event: Michael Bisping (31-7) vs. Georges St-Pierre (25-2) for Bisping's middleweight belt
When: Saturday, 7 p.m. PDT
Where: Madison Square Garden
Television: Pay-per-view, $59.95; preliminaries begin at 5 p.m. on Fox Sports 1
Undercard: Cody Garbrandt (11-0) vs. T.J. Dillashaw (15-3), for Garbrandt's bantamweight belt; Joanna Jedrzejczyk (14-0) vs. Rose Namajunas (7-3) for Jedrzejczyk's women's straw-weight belt; No. 2-rated Stephen Thompson (13-1-1) vs. No. 4 Jorge Masvidal (32-12), welterweights; Johny Hendricks (18-7) vs. Paulo Borrachinha (10-0), middleweights
---
Get the latest on L.A.'s teams in the daily Sports Report newsletter.
You may occasionally receive promotional content from the Los Angeles Times.