Dana White raves about Conor McGregor and compares him to Muhammad Ali
Reporting from Las Vegas —
UFC President Dana White, in the strongest endorsement yet that Conor McGregor retains the passion for fighting that made him the organization's most prominent athlete, said Thursday , "there hasn't been anything like this since Ali."
White spoke to the Los Angeles Times hours before the final UFC 229 news conference as former champion McGregor ends his almost two-year layoff from the octagon to fight lightweight champion Khabib Nurmagomedov Saturday at T-Mobile Arena.
In daring to end his hiatus and selecting Nurmagomedov as the foe, McGregor (21-3) risks a defeat like the one that sent former UFC star Ronda Rousey to retirement two years ago.
McGregor is confident in his decision of an opponent, White says. "He is one of the all-time greats, the best in the world," White said.
A returning UFC champion can't afford to come back against someone perceived as a softer touch, White contends.
"You don't do that," White said. "You guys are all soft from years of boxing. You think that because you took time off that you should be thrown in with a lesser opponent? What if you get beat by that lesser opponent? What does that do to your credibility and your stock and everything else? Just don't do it. That's not what we do here. That's not the business that we have built, and that's not the way we operate.
"Conor would never express that desire to me. The reason this guy is the most famous … athlete on Earth is because he's a stud. This guy goes out of the gates and he wants only the best. He goes after the best. He only wants to fight the best. He boxed … Floyd Mayweather for Christ's sakes. He is not a boxer and he doesn't box. That's Conor McGregor. That's who he is. And that's why he's a gazillionaire.
Indeed, McGregor has created with Nurmagomedov, both 30, an event that White went as far as predicting could challenge the 4.4 million pay-per-view buys that McGregor's loss to Mayweather generated, with live-gate sales near $20 million.
The intensity of the showdown was fueled by McGregor throwing a hand truck at the window of a bus occupied by Nurmagomedov in April before a fight at Brooklyn's Barclays Center. The incident was precipitated by Nurmagomedov slapping a McGregor stablemate, Artem Lobov. ,
McGregor was arrested and jailed one night, but avoided further incarceration from felony charges with a plea bargain.
"He loaded a G650 full of goons and flew over here to do what he did," White said. "That's the way he is built. You attack my friend, we attack you. That's some Dublin street [stuff] right there, that's what that is. For guys who didn't grow up that way, you can't wrap your head around that. You've never been slapped, and had one of your friends bring an army to come and get the guy that slapped you. That's the way these guys grew up. That's real [stuff]. I saw that [stuff] in Boston. Normal people can't wrap their head around that. But for a guy like Conor, where he comes from, that's how you retaliate."
White has fumed at the suggestion that McGregor's bus tirade was staged for promotional reasons now that the UFC is poised to collect massive riches while re-playing the Brooklyn bus attack on the UFC promotional "Bad Blood" video.
"If we staged this, how do we get Khabib to slap Artem? This whole thing starts with Khabib slapping Artem, so how could it be a conspiracy?" White asked.
"It could have hurt. If Conor ended up getting in deeper trouble with the state of New York … what if all the other commissions followed New York and said we don't want him to fight or whatever else?
"That's why anybody who thinks this is staged, it is the dumbest … thing I have ever heard. It definitely doesn't hurt [now] because it all worked out and it is definitely part of the storyline … every weekend, we do a fight and there is a reason why the two people are fighting. This one is pretty … good."
It centers around what White identifies as the genius of McGregor.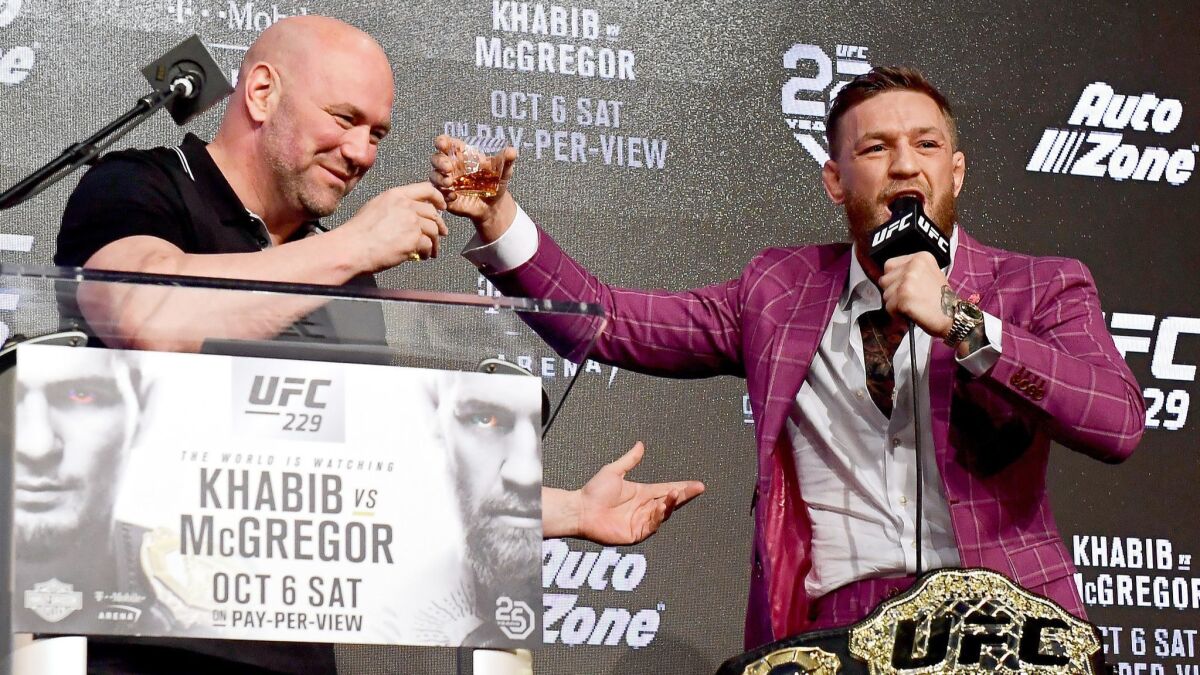 "I can't tell you how much I like Conor McGregor. For a guy in my position, he is a … dream. There are so many other things I could tell you about this guy. Some day I will say it, but the way this guy is built and made up, there is nobody else like him," White said.
"I talk to these other fighters on the phone – 'this is sore,' 'that hurts,' 'I can't take this fight because I didn't have enough time,' – he's off for two years and I didn't have none of that [stuff]. This is what the people see. They get it. They love real fighters, and this guy is the realest."
As for the fear of what a McGregor loss could mean for the UFC, White said, "I don't worry about anything. This is what happens. Two of the best in the world fight and this is what happens. People say, 'Oh my God, what are you going to do? What about the money Conor is going to make, is he going to disappear for two years again?' Maybe. How much is he going to make on his [new] whiskey [brand]? He is going to make a billion dollars. I hope he makes 10 billion dollars.
"This is sport. Whatever is going to happen on Saturday night has nothing to do with me. It is between them. It is going to play out however it is going to play out and the UFC goes on."
Twitter: @latimespugmire
Get our high school sports newsletter
Prep Rally is devoted to the SoCal high school sports experience, bringing you scores, stories and a behind-the-scenes look at what makes prep sports so popular.
You may occasionally receive promotional content from the Los Angeles Times.