Exceptional UFC card at Honda Center features Cormier-Jones rematch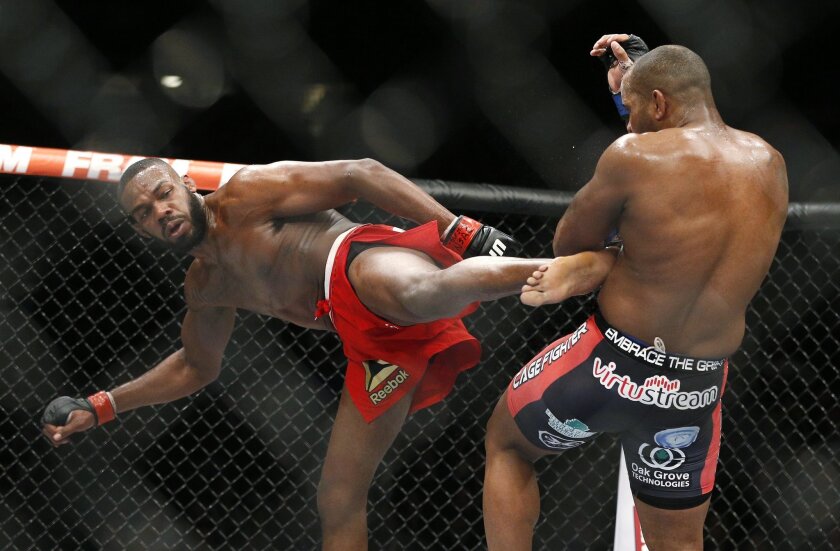 Sandwiched before and after the coming craziness of Conor McGregor versus Floyd Mayweather Jr. in a boxing ring are fight cards that both UFC and boxing enthusiasts believe best define their sports.
Saturday at Honda Center, UFC 214 is so packed with quality mixed martial arts fighters, UFC President Dana White called the card, "One of the best in the history of the company and obviously the best of the year."
In addition to the long-awaited rematch between light-heavyweight champion Daniel Cormier (19-1) and former champion Jon Jones (22-1), the card includes a welterweight title bout between hard-hitting champion Tyron Woodley and submission specialist Demian Maia, and Cris "Cyborg" Justino's anticipated union with a UFC belt against Tonya Evinger.
The entertainment value of the McGregor-Mayweather novelty is expected to threaten the record of 4.6 million pay-per-view buys set by Mayweather and Manny Pacquiao in 2015. But combat-sports purists understand Saturday's card and the Sept. 16 middleweight boxing match between unbeaten, three-belt champion Gennady Golovkin and Mexico's former two-division champion Canelo Alvarez will likely produce far more competitive action.
Cormier-Jones has been a long-festering battle that dates to the pair meeting backstage in 2010 when Cormier's close friend and stablemate, Cain Velasquez, defeated Brock Lesnar for the heavyweight belt. The pair exchanged words over who was the better wrestler, leading to a news conference fight in 2014, Jones' unanimous-decision victory in January 2015 and then a series of Jones missteps leading to this rematch.
Jones, 30, has staggered through a positive test for cocaine, a car crash that injured a pregnant woman and a year-long suspension for a positive test for a banned performance-enhancing substance last July. In his absence, Cormier, 38, stepped in as champion and has performed impressively.
Cormier stripped down fully to make weight Friday at 205 pounds after struggling to do so in April. He has criticized Jones over each of his transgressions and has grown visibly agitated in confronting Jones when they're face to face.
"I won't take any of this animosity into the fight," Cormier said, with the expectation that he'll seek to turn the fight, scheduled for five rounds, into a wrestling match.
Jones weighed in at 204.5 pounds Friday morning, the final obstacle to the showdown that he says will serve as his redemption to more than two years of drama.
"My talent and brand grew faster than me as a person," Jones said. "I didn't take anything seriously. I was winning fights while partying. I was taking everything for granted and started making mistakes. It's been great to take a step back and realize how much this position means to me. I identify myself as a champion."
Jones said he anticipates a victory will close the feud with Cormier, and allow him to graduate to better paying pay-per-views than he got when he defended his belt eight times after becoming the youngest-ever UFC champion at 23.
He said Thursday that Cormier "is a great fighter … he can beat 98% of the guys. He just can't beat me."
Among the top reasons for that, Jones said, is age.
"It gives me added motivation to do the things I know he's not doing," Jones said. "I know for a fact [he] cannot keep up with [me]. So I know when I'm doing that fourth workout every day, this injury-prone guy is not because he's probably believing in the power of recovery."
Woodley (17-3-1), in his third title defense, meets Brazilian Maia (25-6), a former middleweight title challenger who gained his title shot by winning seven consecutive fights. White has said the winner will next meet former long-reigning welterweight champion Georges St-Pierre, who will return from being retired since 2013.
The Costa Mesa-trained "Cyborg" Justino (16-1) has endured an extended wait for her title shot. When champion Germaine de Randamie balked at fighting her, the UFC stripped De Randamie and matched Justino against the Invicta organization's 135-pound champion Tonya Evinger in the 145-pound bout.
The card also includes an expected brawl between former welterweight champion Robbie Lawler and former lightweight title challenger Donald "Cowboy" Cerrone.
"If I was a fan, I'd be … 'I'm tuning in [for] that … these two [guys] meeting in the middle,'" Cerrone said. "You know that's how it's going to end up."
As for the expected quality of McGregor's affair with Mayweather on Aug. 26 at T-Mobile Arena in Las Vegas, Cerrone said, "Who cares? … Good for [McGregor], he's going to make more than $100 million … he's getting paid."
UFC 214
Main event: Daniel Cormier (19-1) vs. Jon Jones (22-1) for Cormier's light-heavyweight belt
Where: Honda Center
When: Saturday, first fight at 3:30 p.m.
Television: Pay-per-view, 7 p.m., $59.95; FXX (preliminaries), 5 p.m.
Tickets: $179-$2,250
Undercard: Tyron Woodley (16-3-1) vs. Demian Maia (25-6), for Woodley's welterweight belt; Cris "Cyborg" Justino (16-1) vs. Tonya Evinger (19-5), for vacant women's featherweight belt; Robbie Lawler (27-11) vs. Donald "Cowboy" Cerrone (32-8), welterweights; Jimi Manuwa (17-2) vs. Volkan Oezdemir (14-1), light-heavyweights
Twitter: @latimespugmire
---
Get the latest on L.A.'s teams in the daily Sports Report newsletter.
You may occasionally receive promotional content from the Los Angeles Times.