Daniel Cormier doesn't let a hurt hand and a busy schedule interfere with his goals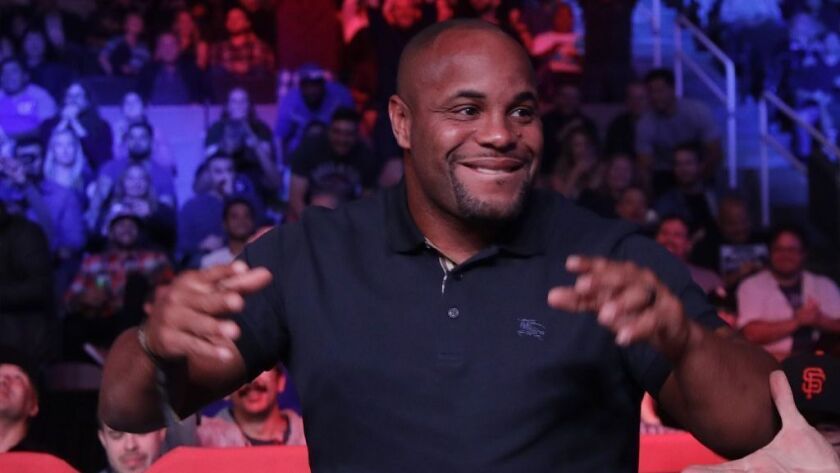 Reporting from New York —
The excruciating pain that invaded Daniel Cormier's right hand during the therapy treatments had eased slightly when the company called.
Cormier had injured his hand following his July knockout victory over Stipe Miocic to win the UFC heavyweight title.
Would the 39-year-old workhorse consider making his first defense with less than a month's preparation, against the second-ranked challenger, Derrick Lewis, who'd won nine of his past 10 fights and knocked out 18 of 21 foes?
Cormier would have to set aside his duties as a UFC television analyst at Fox, and find a way to balance his training regimen with the duties he'd committed to as head coach of a Gilroy, Calif. high school wrestling team ranked in the top 10 nationally.
Cormier, as he typically does when work overflows, flashed back to the influence of the man who raised him in Lafayette, La., his late father, Joseph.
"I grew up in a place where there wasn't much, but I watched my dad … [he] did it for the city of Lafayette, my dad did it for a pizza parlor, Alesi Pizza House. He'd get up at 8 in the morning and go to work – he'd cut and line the baseball fields for the kids, clean the bathrooms at the parks. Then he'd come home, take a bath and go to the pizza parlor, where he'd wash dishes from 6:30 until 11," Cormier said Thursday at the UFC 230 media day as his Saturday main-event meeting looms.
"When my dad wasn't at the pizza parlor, he was at the cemetery, closing the graveyard or working on cars. He just always hustled. I'm like, man, 'If I can watch this man over the entirety of my life spend these days and days and days just working, why can't I do the same thing for my children?' He was making very little money and because of that, he was doing more to provide for us, and that's the same I want to do for my children -- just on a different level, with more people seeing it."
All of Madison Square Garden and a pay-per-view audience will be watching the UFC's two-division champion pay homage -- not only to his father, but to the spirit of working men across the land.
"My dad's not abnormal, so many men work like this. And so many black men work like this," Cormier said. "Black men might have a reputation of not working for their families. My father killed himself for us, to give us these opportunities, and there are a lot of men like me and like my dad who are out there doing that.
"So if he can do that, break his back under people's cars, cut graves, wash dishes and work for the city, then I can go sit at a desk in a fancy suit to talk about fights and go and give back to the community and teach wrestling, as someone did for me. Watching my dad was inspiring. I knew he was tired, knew he didn't feel like doing that, but he always did it and still made time to watch me play football and wrestle. Having a strong role model is very important."
That's why Cormier coaches the high schoolers, why he's paused this week to express appreciation for Lewis' ability to rise above a past prison incarceration to become a solid family man with a title shot.
"What I've done in my career, the way I've tried to carry myself, is truly a blueprint that fighters should try to follow," Cormier (21-1) said. "You can have success and do things the correct way. I've accomplished things I never could've dreamed of, achieved financial security for my family, provided a life I never would've thought. I've done it in ways I can be proud of when I walk."
The few exceptions are connected to Cormier's fierce rivalry with former light-heavyweight champion Jon Jones, who defeated Cormier in 2015, then had a subsequent victory last year at Honda Center overturned by a positive performance-enhancing drug test.
They fought onstage at an MGM Grand press event before, and Cormier said his choice of words in criticizing a man he disdains haven't always been "a good look."
But Cormier is near the end of his career now, with time remaining to express words that may shape the behavior of champions who'll follow.
A Saturday victory will likely move him to a March meeting with former heavyweight champion and current WWE performer Brock Lesnar, and from there he'll have to decide if he wants to fight one more time -- past his 40th birthday that month -- should Jones win the light-heavyweight belt that currently belongs to Cormier by defeating Alexander Gustafsson on Dec. 29 in Las Vegas.
"When I see Jones, will I want to cuss him? Probably so. We'll never be friends, never be cordial. It's Jon Jones and Daniel Cormier, two different people," Cormier said.
"I'll only fight Jones at [the light-heavyweight limit of] 205 [pounds]. That's where he beat me. There's something about a fighter … a true martial artist wants to make it right. You don't want to stack the odds in your favor. Did he, with [performance-enhancing drugs]? That's something only he knows at night.
"But the reality is to be the greatest fighter of all time, I still need to beat him."
Twitter: @latimespugmire
---
Get our high school sports newsletter
Prep Rally is devoted to the SoCal high school sports experience, bringing you scores, stories and a behind-the-scenes look at what makes prep sports so popular.
You may occasionally receive promotional content from the Los Angeles Times.